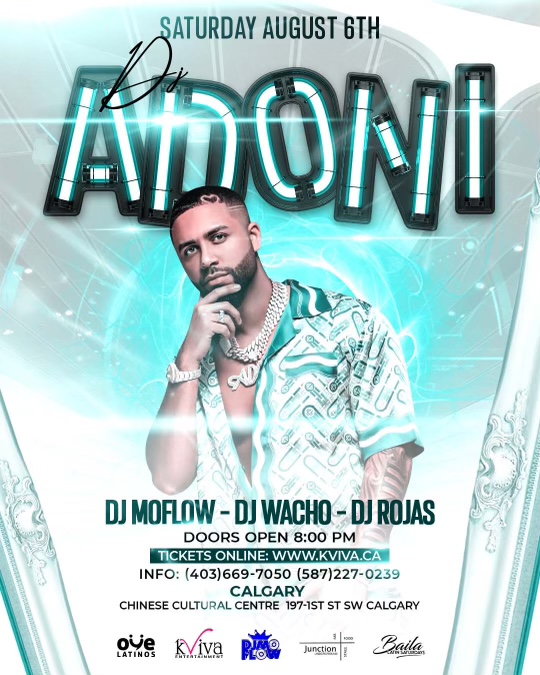 Dj Adoni
Dj Adoni -Live in Calgary
Saturday, August 6, 2022 | 8:00pm
Calgary Chinese Cultural Centre
Booths 1-15 are VIP. VIP ticket price is for all 8 seats at the booth ($800.00/booth) Bootle service is available in the VIP area (bottles not included)
General Admission Standing - For General Admission Tickets click the green button.
KViva Entertainment presents:
***DJ ADONI Live in Calgary***

Calgary Chinese Cultural Centre
Puertas abren/Doors open: 8:00 p.m.

Para más info/For more info: (403) 669-7050

Bio
DJ Adoni has been in his profession for more than seven years and thanks to the pandemic he has had a great impact today
His passion for being DeeJay started putting music at family parties. He used to play music on the computer when he was still living in her neighborhood "Los Minas" in Santo Domingo. He later emigrated to the United States and began to work in a factory where there were many Dominicans, who made house parties on days off.
With more than seven years of playing, now he is surprised by the support that the public has given him. It was precisely during the Covid 19 pandemic when people began to consume his work, especially through YouTube.
At the beginning of his boom, he was not aware of what began to happen regarding his importance in the digital media of music consumption and believed that those who expressed their support were a simple minority until one day in an airport he heard his mix and he began to perceive very surprised that it was being heard en masse.
DJ Adoni, now lives in Lawrence Massachusetts. In a month he managed to hold approximately 70 parties when his fame had not yet gained much momentum. He is one of the most listened to Dominican DeeJays on YouTube, currently. He enjoys great respect and admiration from important artists and other figures in the Dominican Republic and the international music industry.