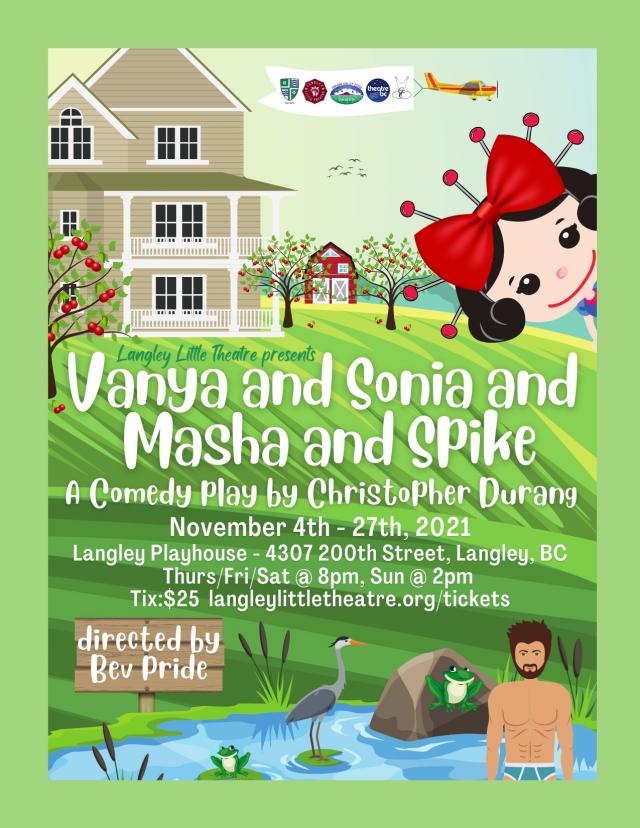 Langley Little Theatre Presents - Vanya & Sonia & Masha & Sp
Langley Little Theatre Presents - Vanya & Sonia & Masha & Spike
Friday, November 26, 2021 | 8:00pm
Langley Playhouse
Langley Little Theatre Presents
Vanya & Sonia & Masha & Spike
November 26th 2021 / Show time 8:00 pm
Tickets $25.00 each
Chekhov is alive and well in Bucks County, Pennsylvania, where adult siblings Vanya and Sonia reside in their family home. They have lived there all their lives, taking care of their now deceased parents, finally supported by their movie star sister. Vanya and Sonia often spend their days mourning their lost dreams and missed opportunities.
When their fortune-telling maid warns of impending dangers, and their movie-star sister, Masha, arrives unexpectedly with young, sexy, boy toy Spike to attend a costume party in the neighbourhood, the family is launched into a rollicking weekend of one-upmanship, exposed nerves, and lamented lost lives.
Please note:
As per current health mandates, for those 12 years and older, both masks and proof of two doses of vaccination will be required for entry into the theatre.
If you would like to reserve a wheelchair space, please call us at +1 888-961-6111