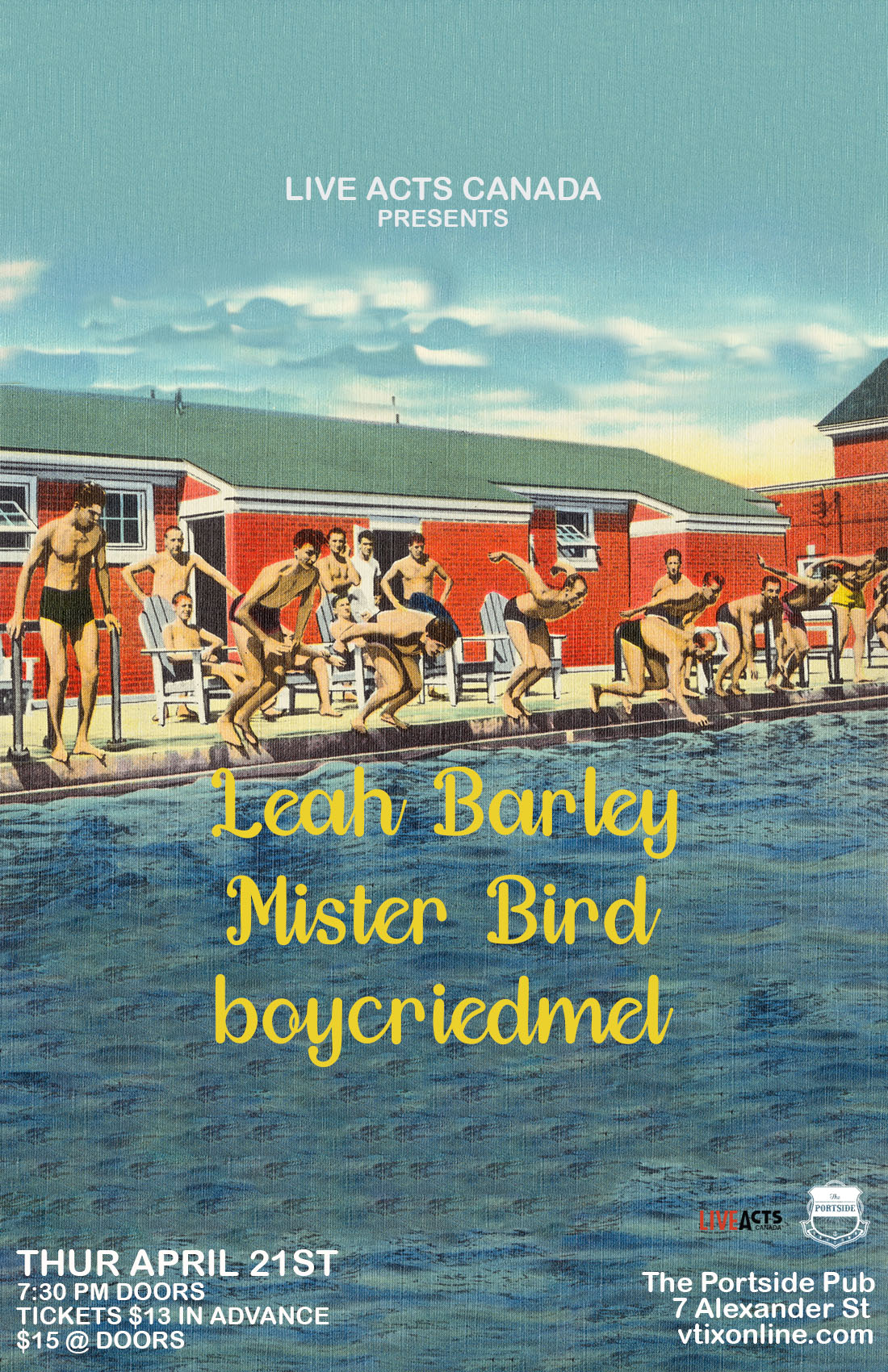 Leah Barley With Special Guests Mister Bird and boycriedmel
Thursday, April 21, 2022 | 7:30pm
The Portside Pub
Live Acts Canada Presents
Leah Barley With Special Guests Mister Bird + boycriedmel
The Portside Pub. Doors: 7:30PM/ 19+
Tickets $13.00 In Advance $15.00 @ The Door
THE PORTSIDE PUB, 7 Alexander St.
Leah Barley//
Vancouver-based singer/songwriter Leah Barley offers stirring original songs that evoke both the jubilation and heartbreak inherent to classic folk and country music. An accomplished banjo player as well as guitarist, Barley creates a sound as affecting today as it was a century ago.
Her first full-length album Bring Out Your Dead, released in October 2020, almost perfectly balances Barley's light-and-shade approach to songwriting. It's all a product of Barley's love of old-time country and bluegrass, which inspired her to pick up the banjo in her early twenties while living in Canmore, Alberta.
After a couple of months getting her feet wet at open mic nights, she released the first of three EPs in 2010 after moving to Vancouver. Since 2013, Barley has played in many parts of Canada, both solo and with other bands on the festival circuit, and was a featured performer at JUNOfest 2018, as well as on CBC Music.
Bring Out Your Dead will brilliantly serve as Leah Barley's calling card, and formally mark the arrival of a vital new voice in Canadian roots music.

Website & Socials: https://www.leahbarleymusic.com/
Mister Bird//
Wayfaring and whimsical by nature, weaving stories into melodies, in his own bluesy/folk, foot-tapping style. Mister Bird highlights the magic of the wild & the subtle miracles of everyday. Recognized for his heart moving performances, and his powerful & oh so gentle voice. Gracefully singing about the heavy truths of life, love and loss, bringing them to the light in song.
​Born and raised in the small mountain town of Canmore, Gareth grew up with the forest as his backyard. You can hear his love for nature pouring out through his music. Inspired by the starry night, old trees, moss-covered canyons and the way water sings. As soon as he could, he left home, with a backpack and an adventurous spirit to New Zealand. It was there where he got his first guitar. He had helped a friend build a fence in trade for an old dusty 5 string Yamaha. It wasn't before long he fixed the broken string and wrote a collection of unique folk songs. Like flowers blooming overnight a dream was born.
​ Gareth has travelled the world with his music, on a wing and a prayer. Playing all kinds of venues along the way. From street corners to stages, pubs, cafes, dive bars, outdoor festivals, house concerts, even on mountaintops! He returned to Canada in 2017 & continued performing, with the intention of finally recording some of his songs. In less than a week, in a small cabin below cedars by the sea, Gareth recorded his first full-length album titled " The Immeasurable Blue ". Its raw, original and as real as it gets. He released the album independently and hit the road, touring through Alberta and B.C.
He has since then released several singles, music videos and an EP titled " Dead Red Love ". Inspired by a classic heartbreak story, its personal, poetic and all about learning how to love again. Gareth is currently working on a new project titled "Heal your Mother". Focusing on climate change, excess, waste and the death of an outdated system. He continues to perform, singing, howling and telling stories in the Bow Valley and the surrounding area. His future goal is to further establish his presence in the Western Canadian music scene.
Website & Socials: https://www.misterbirdmusic.com/
​
boycriedmel//
born in San Jose, Costa Rica, raised in Edmonton, Alberta, CA and now based out of Vancouver, British Columbia, boycriedmel is a solo artist exploring her soul and sound.
Spotify: https://open.spotify.com/artist/02alr6nHA9jU328SdUvJxT
Youtube: https://www.youtube.com/channel/UCT5B7ibmbaNJ7sh3Wn1h4cQ
Instagram: boycriedmel