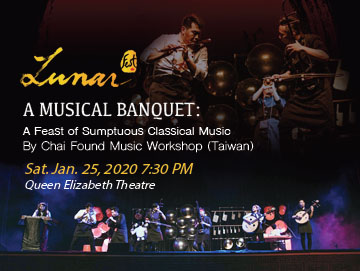 LunarFest Presents A Musical Banquet: A Feast of Sumptuous Classical Music
Saturday, January 25, 2020 | 7:30pm
Queen Elizabeth Theatre
630 Hamilton St, Vancouver, BC V6B 5N6
One of the most important Lunar New Year celebrations is having a grand feast with your friends and family. In Taiwan, street banquets are known for being sumptuous and delicious. World-renowned Chai Found Music Workshop brings their chamber-music interpretation to the Queen Elizabeth Theatre for the first time. Celebrate the Lunar New Year like no other with "A Musical Banquet: A Feast of Sumptuous Classical Music."
Since 1991, the Chai Found Music Workshop (CFMW) has been active in national and international music scenes. Over the past years, the group has been performing contemporary classical music as well as traditional Chinese and Taiwanese music in countless concerts in Taiwan, Asia, Europe, and the Americas. This has gained CFMW the reputation of being one of the foremost Sizhu (Chinese chamber music) ensembles in the world.
A partnership between Asian-Canadian Special Events Association, Canadian Heritage, Republic of China (Taiwan), Vancouver Civic Theatres, The Society of We Are Canadians Too
More information: lunarfest.org
Tickets can be picked up at the QET Box office prior to the show
Tickets will call starts at 6:30 PM
No Recording permitted during the performance. No Refunds or Exchanges.