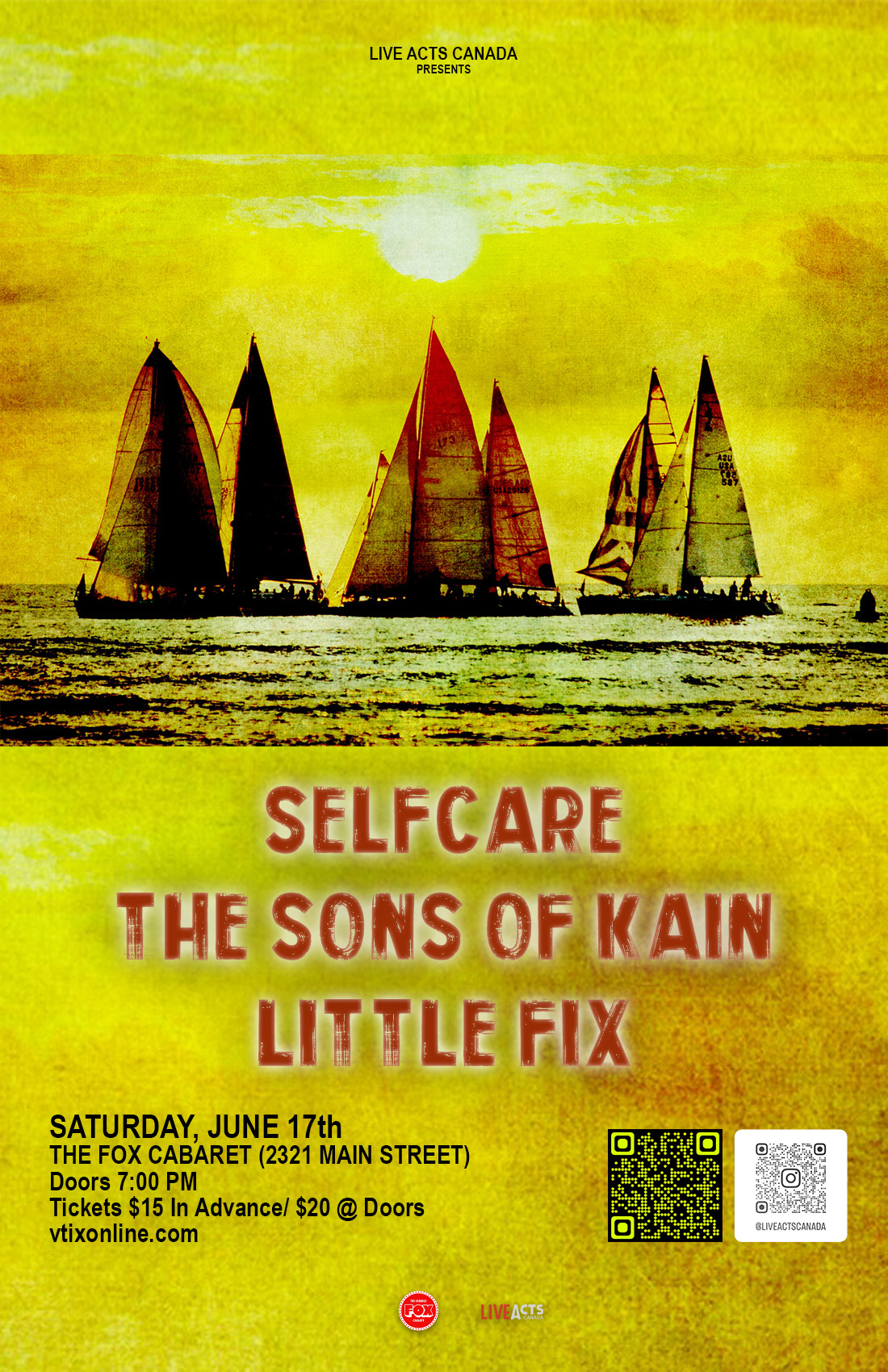 Lunchtime Band with Special Guests The Sons of Kain and Little Fix
Saturday, June 17, 2023 | 7:00pm
The Fox Cabaret
Live Acts Canada Presents:
Lunchtime Band with Special Guests The Sons of Kain and Little Fix
The Fox Cabaret. Doors: 7:00 PM/ 19+
Tickets $15.00 In Advance $20.00 @ The Door
THE FOX CABARET| 2321 Main St.
Lunchtime Band//
Lunchtime consists of, Luc Torreggiani singing along with rhythm guitar, Ruedi Mani on the bass, Michael Read on lead guitar, and Greg Johnston on the drums.
Our sound is constantly changing and our ideas are always bouncing and growing off of each other, resulting in an ethereal watery up-beat grimness with an unapologetic genre-bending sound, appealing to any audience we play for.
Facebook: https://www.facebook.com/lunchtime.band/
Instagram: https://www.instagram.com/lunchtime.band/
Bandcamp: https://lunchtimeband.bandcamp.com/
The Sons of Kain//
Solid backbeat rhythm section. Ecstatic lead guitar. Evocative vocals. The sonic vehicle for rock n roll!
Instagram: https://www.instagram.com/thesonsofkain/
Bandcamp: https://thesonsofkain.bandcamp.com/
Little Fix//
With the upcoming release of their first EP, Little Fix are an alternative rock band primed and ready to fire on all cylinders! The band was formed in 2016 by four friends, and local Vancouverites, determined to forge a new rock identity from their deep-seeded roots in writing and crafting music in Western Canada for the last 20 years. After a brief seclusion to assemble and mold their musical ideas, Little Fix have emerged with a full arsenal of material ready to give the people the fix they need. The resulting EP will be an exciting new sound, brought to life under the expert hand of producer Theo Goutzinakis, the co-founder of Juno-nominated punk band Gob.
Website & Socials - http://littlefix.ca/
Insta - https://www.instagram.com/ltlfix/
Facebook - https://www.facebook.com/LTLFIX/