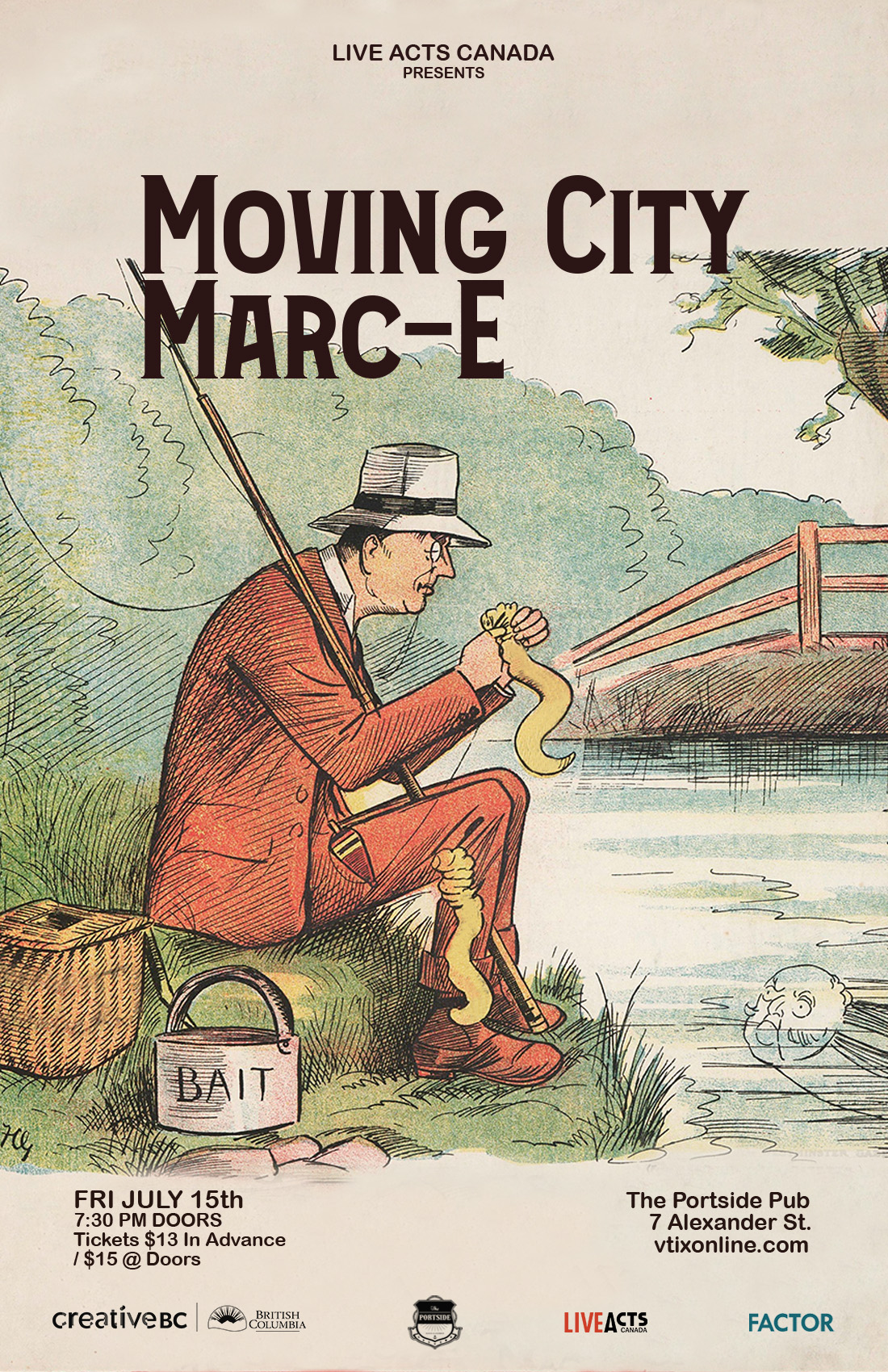 Moving City with Special Guest Marc-E
Friday, July 15, 2022 | 7:30pm
The Portside Pub
Live Acts Canada Presents -
Moving City With Special Guest Marc-E
Live From The Portside Pub. Doors: 7:30 PM/19+
Tickets $13.00 In Advance $15.00 @ The Door
THE PORTSIDE PUB. 7 Alexander St
Moving City//
Moving City are a remarkably gifted, Vancouver based duo that consists of music marvels Andrew Facciolo and Jules Logan Shaw. Their music is a cornucopia of warmth, depth and undeniable talent. There is something instantly addictive about their wildly distinctive work which is made even more impressive as they just released their debut record.
The 10 song offering entitled "2308" takes listeners on a scenic walk through the back alleys of vulnerable songwriting, moving instrumentation and stunning execution. Their sound is simultaneously heartbreaking yet uplifting, piercing their audience in all of the right places. They stir up an array of elusive emotion through the prism of achingly gorgeous music. Moving City is inspired by the fantastically fuzzy guitar riffs of Kurt Vile and the poetic stylings of Destroyer yet their music is completely authentic.
Andrew (lead vocals, guitar) and Jules (vocals, guitar) fatefully connected in 2013 while apartment hunting in the ever-expensive town of Toronto. The Barrie (Ontario) born boys have always been attracted to the artistic nature of big cities. If the Canadian housing crisis is good for one thing, it's bringing people together like these two otherwise relative strangers who decided to become roommates. They quickly discovered they share a similar unyielding and passionate creative vision. They didn't know exactly what they wanted but they knew they wanted to veer off the linear trajectory of normalcy together. So, they created an emotionally audacious band packed with celebrations of reverb magic and goosebump-inducing vocals. They found their sound in that phantom apartment that was numbered 2308. In true artist fashion, the two veered off in different directions down normal's highway for many years. This could be an otherwise sad story if they didn't end up in the same flipping apartment building in Vancouver in 2020, perhaps the only good thing to come out of this godforsaken year. It's a platonic rock and roll fairytale featuring a virus and housing epidemic. They quickly got to work while the rest of us slurped cereal in our PJ's and built this dynamite of a debut record.
2308 showcases this truly dynamic duo's infectious compatibility that you can almost taste throughout the album. The rather cinematographic material lends itself beautiful to endless afternoons in the living room, driving down a sun-infused dusty road and falling in and out of love. It's a gentle triumph of friendship, creative catharsis and finding your sound in 2308. Listeners will find parts of themselves they didn't know existed in this devastatingly beautiful debut record.
Web + Socials: https://www.movingcitymusic.com/
Marc-E//
Marc-E is a music producer, and performer home to Vancouver BC, Canada. His sound is a unique mix of world music and nature samples, with electronic, and organic drum rhythms.
Website - https://www.marc-e.net/
instagram - https://www.instagram.com/marc_e/