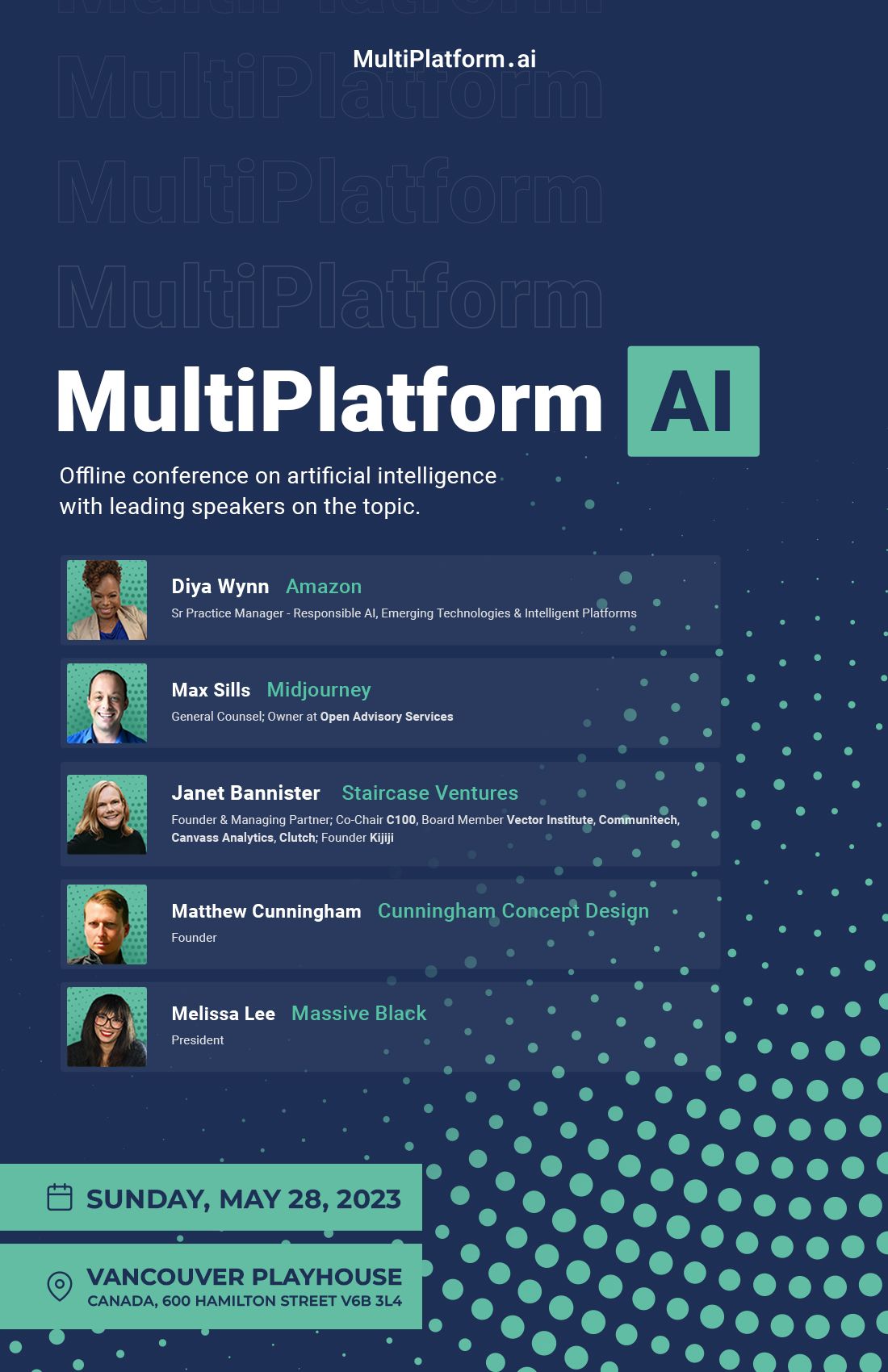 Multiplatform AI
Sunday, May 28, 2023 | 11:00am
VANCOUVER PLAYHOUSE 600 HAMILTON ST
VANCOUVER, BC V6B 2P1
Join us at the iconic Vancouver Playhouse for the AI Conference - a fusion of creativity, tech innovation, and thought-provoking insights. This event promises an unparalleled meeting of minds, where AI leaders and renowned concept artists will take you on a journey into the future of artificial intelligence.
Embark on exploring AI's pros and cons while learning from real-world case studies and best practices. Engage in intense discussions about the ethical dimensions of AI, its potential threats to humanity, and the laws that govern its use.
Hear directly from our distinguished guests as they share their experiences, insights, and opinions. Participate in a live Q&A session, where the leading experts in the field will address your burning questions.
Be part of a dynamic round table, where participants will work together to develop a mutually beneficial compromise for all stakeholders in the AI infrastructure. Unearth the concealed aspects of AI start-up development, learn how to evade common pitfalls, expedite your process, and establish a robust legal framework from the onset.
Meet our speakers:
Max Sills
General Counsel Midjourney
Owner Open Advisory Services
Diya Wynn
Sr Practice Manager - Responsible AI, Emerging Technologies & Intelligent Platforms
Amazon
Janet Bannister
Founder & Managing Partner Staircase Ventures
Founder Kijiji.
Co-Chair C100
Board Member Vector Institute, Communitech, Canvass Analytics, Clutch
Matthew Cunningham
Founder
Cunningham Concept Design
(Clients: Marvel, Universal Studios, DC, Netflix, Paramount, etc.)
Melissa Lee
President
Massive Black
(Projects: The Elder Scrolls, Night Forest, etc)
Event Schedule:
11:00-12:00 – Doors Open / Networking Session
Noon – Official Start of the Event
12:00-13:00 – Guests Introduction and Interview
13:00-15:00 – Guests Speeches
15:00-16:00 – Break / Networking Session
16:00-16:30 – Guests' Debates on AI Development Challenges
16:30-17:30 – Q&A/AMA Session with the Audience.
17:30-18:30 – AI Development Round Table
The AI Conference is not just an event - it's an opportunity to reshape your understanding of AI while influencing its trajectory. This is where the future of technology intertwines with creativity, resulting in an event that is as enlightening as it is captivating. Register today and reserve your place at the vanguard of AI discourse.
Take advantage of this unprecedented opportunity to be at the forefront of AI discourse. Immerse yourself in insightful discussions, gain from the wisdom of the industry's best, and have your voice heard in shaping the future of AI. This is your chance to redefine your perspective and impact the AI landscape. Secure your place at the AI Conference today - where creativity meets technology, and today's ideas shape tomorrow's reality. Take tickets now!