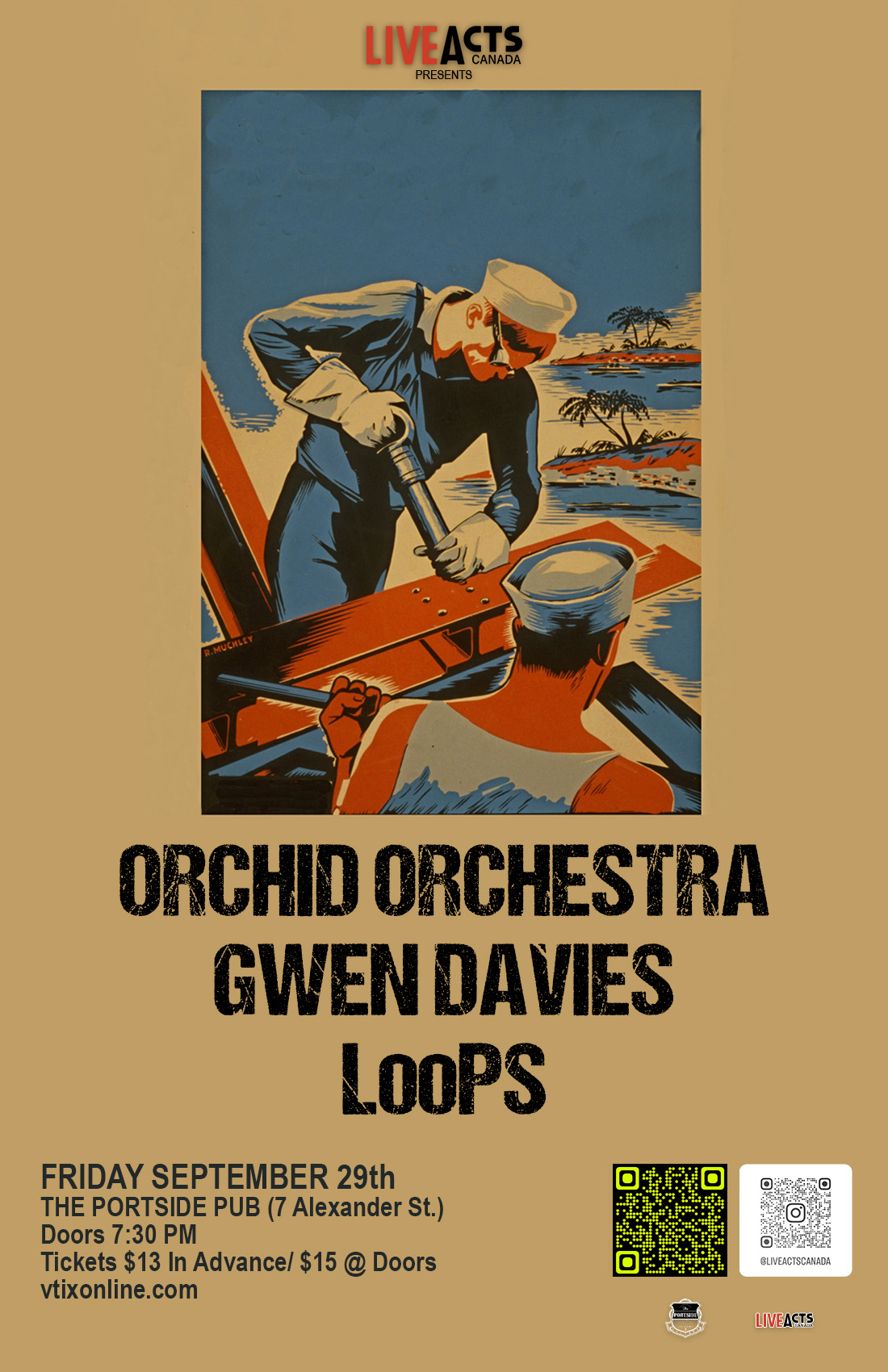 Orchid Orchestra with Special Guests Gwen Davies and LooPS
Friday, September 29, 2023 | 7:30pm
The Portside Pub
7 Alexander St, Vancouver, BC V6A 1E9
Live Acts Canada and We Outside Presents:
Orchid Orchestra with Special Guests Gwen Davies and LooPS
The Portside Pub. Doors: 7:30PM/ 19+
Tickets $13.00 In Advance $15.00 @ The Door THE PORTSIDE PUB, 7 Alexander St.
Orchid Orchestra //
Orchid Orchestra is a vibrant musical force hailing from Vancouver, Canada. With soul-stirring harmonies and emotional cadences, this six-member ensemble fuses elements of modern pop, hip-hop, and gospel to create a musical tapestry that invites their audience to connect on a new level.
United by a shared passion for vulnerability in their craft, the six members formed an unbreakable bond after meeting in an R&B/hip-hop choir and UBC School of Music, laying the groundwork for Orchid Orchestra's collaborative formation.
At the band's heart is songwriter, Rupert Hudson, who's initial journey of self-discovery led him to immerse himself in a meditation center. This two year period of stillness and reflection allowed him to tap into the wellspring of raw emotions that now infuse Orchid Orchestra's music with authenticity and vulnerability.
Instagram: www.instagram.com/orchid.orchestra
Gwen Davies //
Gwen Davies is a singer-songwriter from British Columbia, Canada. Their repertoire centres around a dreamy indie/folk pop genre, with themes of self-love, mental health, and connection. Their music has been compared to a young Joanie Mitchell, dodie, and Florence and the Machine. They've been described as determined, wise, and original.
Stream/Socials: linktr.ee/gwendavies
Instagram: www.instagram.com/gwendaviesofficial
LooPS //
Consisting of lead singer Kevin Roy and instrumentalist/vocalist Jon Fennell, L∞PS are a Canadian Acoustic-Pop duo based out of the Interior BC. Their debut LP "LooPS" was released in spring 2022, with the album singles "Parachute" and "Checking Out" preceding its launch. Recorded with BC Music Hall of Famer/Juno nominated producer Doug Cox, "LooPS" is a throwback to the classic albums in that it is a true 'no-skip' record, full of upbeat radio friendly jams and soulful story driven ballads.
Due to L∞PS' commanding stage presence, their LIVE performances are known for being both memorable and captivating for the audience. In addition to performing their own tracks, their unique and original takes on cover songs that include creative mashups of classics, always entertain the crowd! The duo perform an acoustic guitar and piano based style with loop pedals incorporated into their sets, and can be best described as a mix of Ed Sheeran/Lewis Capaldi but with harmonies. L∞PS have a library of literally hundreds of covers they perform from the 1960s to current top 40 hits.

Stream/Socials - linktr.ee/LooPShq
Instagram: www.instagram.com/official_loops