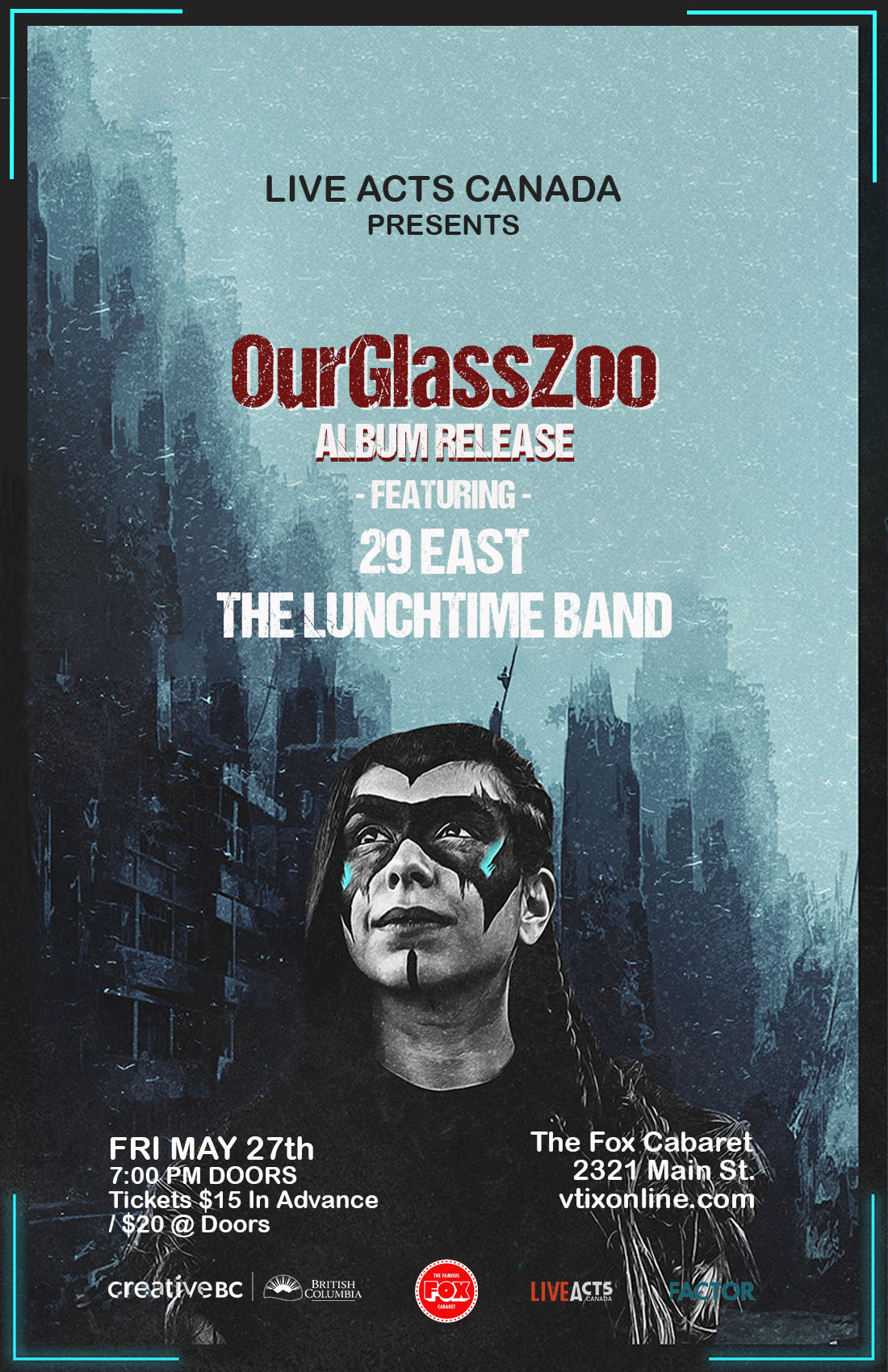 OurGlassZoo Album Release with Special Guests 29 East + The Lunchtime Band
Friday, May 27, 2022 | 7:00pm
The Fox Cabaret
Live Acts Canada Presents
OurGlassZoo Album Release with Special Guests 29 East + The Lunchtime Band
The Fox Cabaret. Doors: 7:00PM/ 19+
Tickets $15.00 in advance/ $20 @ the door
THE FOX CABARET, 2321 Main St.
OurGlassZoo//
Linktree - https://linktr.ee/ourglasszoo
Ourglasszoo: https://www.ourglasszoo.com/
A fresh mix of electronic rock with a few drops of synth pop are the secret ingredients of the Vancouver-based band 'OurGlassZoo."
Their debut EP in 2017 made it to the semi-finals of the biggest on-line song writing competition (ISC) which featured high end judges such as Lorde, Kaskade, Tom waits, Bastille and the late Chris Cornell. The songs 'Somehow Somewhere' and 'Listen' got radio play in both Italy and the UK in 2018.
The follow up EP 'Hindsight' was recorded at Monarch Studios with Juno award winning producer Tom Dorbzanski ('The Zolas') & Alex Penney released through Sony Orchard & Volunteer Media.
Since its release, 'Hindsight' has over 280K streams on Spotify while the songs 'Astronaut', 'Sins' and 'In your head' have enjoyed radio play in Italy, the USA and Canada.
The single 'Astronaut' featured the band's first official music video, which starred Georgie Daburas who plays Edward Spellman on the Netflix hit series 'Sabrina' and Karissa Ketter ('Kim Possible'), who was nominated for a Joey award for her performance in the video. It was nominated for 'best video' at the London Music Video Festival and has won 'best rock video' at the LA Music Awards.
The next year the band released its second music video for the song 'Sins' that is still enjoying great success in the film festival circuit. The video won prestigious awards at the Munich Music Video Awards, The Berlin Short Film Festival, Rome Music Video Awards and the Vancouver Independent Film Festival to name a few.
The band completed the recording of its first full length album entitled 'Aftermath' with the support of Creative BC in late 2021. The single 'Free' which includes a collaboration with Juno award hip hop artist Prevail ('Swollen Members') was released on February 25th and has since surpassed 20K streams on Spotify already.
'The track is set to be remixed by KutMusta Kurt ('Linkin Park' & 'Beastie Boys') and feature Canadian hiphop legend Moka Only.
OurGlassZoo's new single 'Here' is currently played on CBC radio one.
Social media & website links: https://linktr.ee/ourglasszoo
29 East//
29 East is a Vancouver based funk and alt-rock band that launched at the start of the end of the world. Having persevered through an inability to perform live, they focused all their efforts into writing, recording, mixing, gambling, takin' some L's, doing multiple PSA's and just having a good ol' time. After releasing their latest blood-pumpin' beast of a track "What Dream?", they've now transitioned their sights onto the stage and are coming soon to a theater near you. Having been dubbed as "A band like no other in Vancouver", 29 East is determined to give you the night of your life whether you're listening alone in your room or out just tryin' to snag a vibe. As they begin this new phase of their journey, the band looks forward to showing you that 4 unnecessarily tall men aren't necessarily intimidating. On guitar and vocals: The Suavior; Toze Campos. On vocals and guitar: The Shoulder-length Sheba; Cole Dine. On bass and vocals: The Human Bear; Daniel Hunter. And "Cody" on the drums. See you tonight.
Website - 29east.ca
Insta - https://www.instagram.com/29east/
Youtube - https://www.youtube.com/channel/UCEjWnZ44wMdyrN_ecJflgog
Facebook - https://www.facebook.com/29eastmusic
Spotify - https://open.spotify.com/artist/6njkL151lUZc76rguMj7z2?si=nmkP_k4jR62rwfjJTP3Ksg&dl_branch=1
Apple Music - https://music.apple.com/ca/artist/29-east/1514337861
The Lunchtime Band//
Lunchtime consists of, Luc Torreggiani singing along with rhythm guitar, Ruedi Mani on the bass, Michael Read on lead guitar, and Greg Johnston on the drums.
Our sound is constantly changing and our ideas are always bouncing and growing off of each other, resulting in an ethereal watery up-beat grimness with an unapologetic genre-bending sound, appealing to any audience we play for.
LinkTree (Music + Socials): https://linktr.ee/lunchtime.band?fbclid=IwAR0kL3Nr5E3r-MM09a54MOW7e_ls7BMYdoKxyluUE8q827sM_lKCeb0ok5M