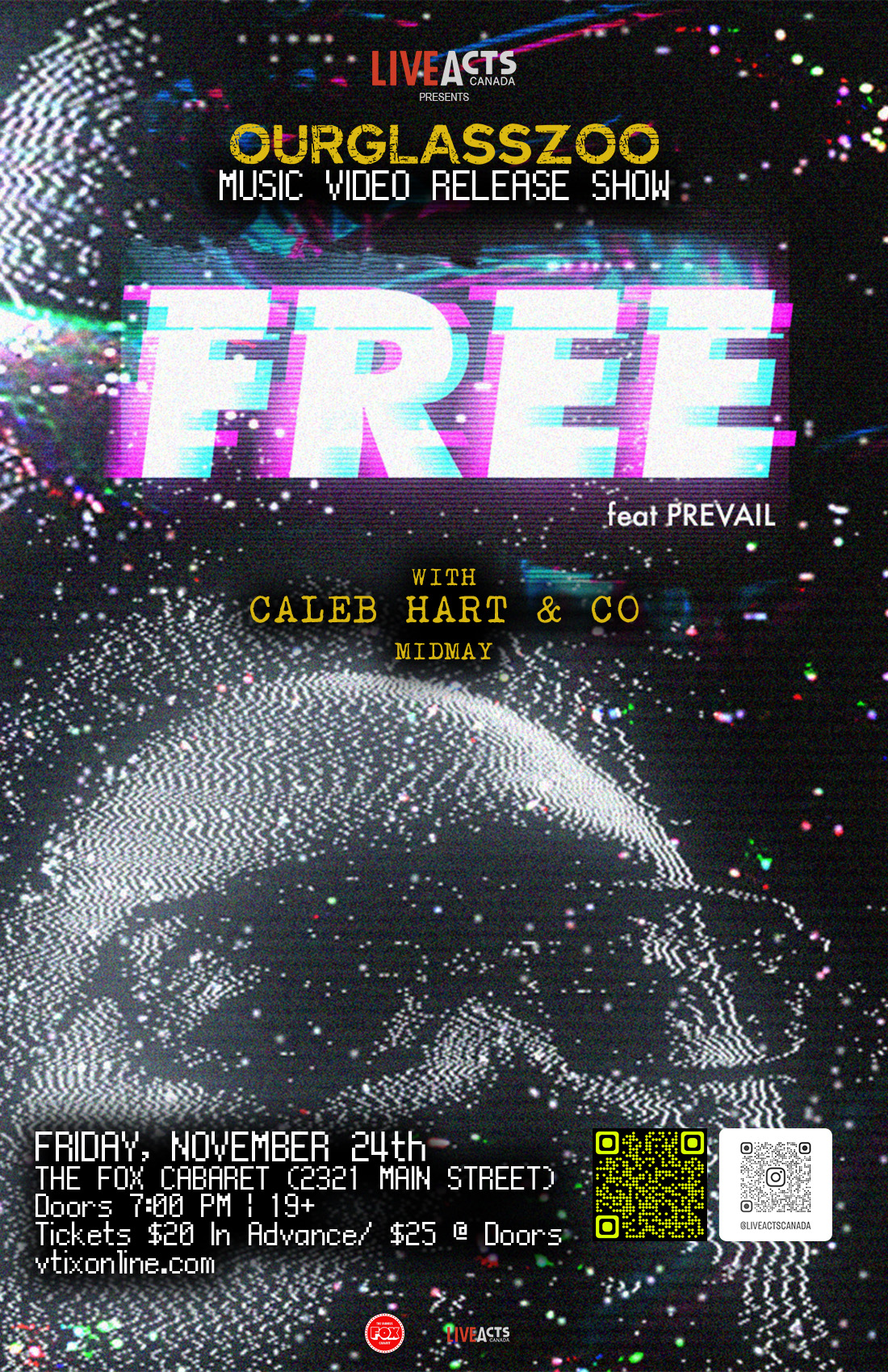 OurGlassZoo Music Video Release Show w/ Caleb Hart & Co and Midmay
Friday, November 24, 2023 | 7:00pm
The Fox Cabaret
2321 Main St, Vancouver, BC V5T 3C9
Live Acts Canada Presents:
OurGlassZoo Music Video Release Show w/ Caleb Hart & Co and Midmay
Doors: 7:00 PM/ 19+
THE FOX CABARET| 2321 Main St.
OurGlassZoo //
Links: linktr.ee/ourglasszoo
Vancouver-based band 'OurGlassZoo' brings a fresh blend of indie rock and hints of synth-pop to their music. Their debut EP in 2017 reached the semi-finals of the prestigious online song writing competition ISC. Ttheir EP 'Hindsight' through Sony Orchard & Volunteer Media, which has garnered over 350K streams on Spotify, with tracks like 'Astronaut,' 'Sins,' and 'In Your Head' receiving radio play in Italy, the USA, and Canada.
Their music videos for 'Astronaut' & 'Sins,' won accolades at the Munich Music Video Awards, The Berlin Short Film Festival, and the Rome Music Video Awards, and was nominated for a Leo Award.
In early 2022, 'OurGlassZoo' released their first full album, 'Aftermath,' with the support of Creative BC. The single 'Free' featured a collaboration with Juno award-winning hip-hop artist Prevail from 'Swollen Members,' with a remix by producer KutMasta Kurt, known for his work with 'Linkin Park' and 'Beastie Boys.' The band was hailed as a 'new breakout artist' by magazines like 'Exclaim!' and 'The Guardian' and was featured as 'Artist of the Week' by Earshot Distro, Canada's largest music distributor for university and community radio.
Currently, the band is recording its fourth album with the support of Creative BC and the BC government, with plans for a European tour in the coming spring.
Caleb Hart & Co //
Website: www.iamcalebhart.com

No matter how many changes the music industry experiences, the one thing that always remains, is the power of a passionate live show. Caleb Hart has the ability to bring something fresh, honest and powerful every time he steps on a stage. A natural born performer since he was a young boy growing up in the small Caribbean island of Tobago; Hart has been taking his music across Canada and around the world to Australia, USA, New Zealand, Europe, Africa & the Caribbean full time for the past decade, playing over 1100 shows. From his inception as Bravehart to his success with Tasman Jude, Caleb Hart has also managed to win prestigious awards from Edmonton Folk Fest, the Western Canadian Music Awards and much more.
With 6 Records under his belt, including chart topping albums with his former band Tasman Jude, Hart promised that his 6th release '11' alongside Trinidadian super Producer Aaron 'Track7' Peters would be the best portrayal of music and showmanship that he had ever delivered and on September 11th, 2019, that came true. The 'fam' (as he calls his fans) got treated to an 11 track album that spans numerous genres and topics. It racked up over 100,000 streams within the first few days of release.
​
Caleb is currently working on his 7th album with his new project Sonic Alley.
Midmay //
Links: linktr.ee/midmay
MidMay is a Vancouver-based Alternative-R&B group fronted by Tom Shand and Jacob Regehr. Tom & Jake have been collectively working together for over ten years. They have grown together as music professionals always working on other projects in the city, but now it is their time to shine.
The name MidMay came from their birthdays. Jacob, who would have been born just one day before Tom, but was born six weeks prematurely. Tom and Jake both sing, lending to the distinctive, full sound and diversity of genre from R&B, funk & soul to jazz and rock. MidMay combines their wide-range of musical influences into their sound - including, The Beatles, Anderson. Paak, Carole King, Donny Hathaway, Amber Mark and Stevie Wonder with their inspiration and deliberate, careful writing.
MidMay is transforming and pushing the bounds of Alternative R&B in Vancouver's post pandemic music scene.