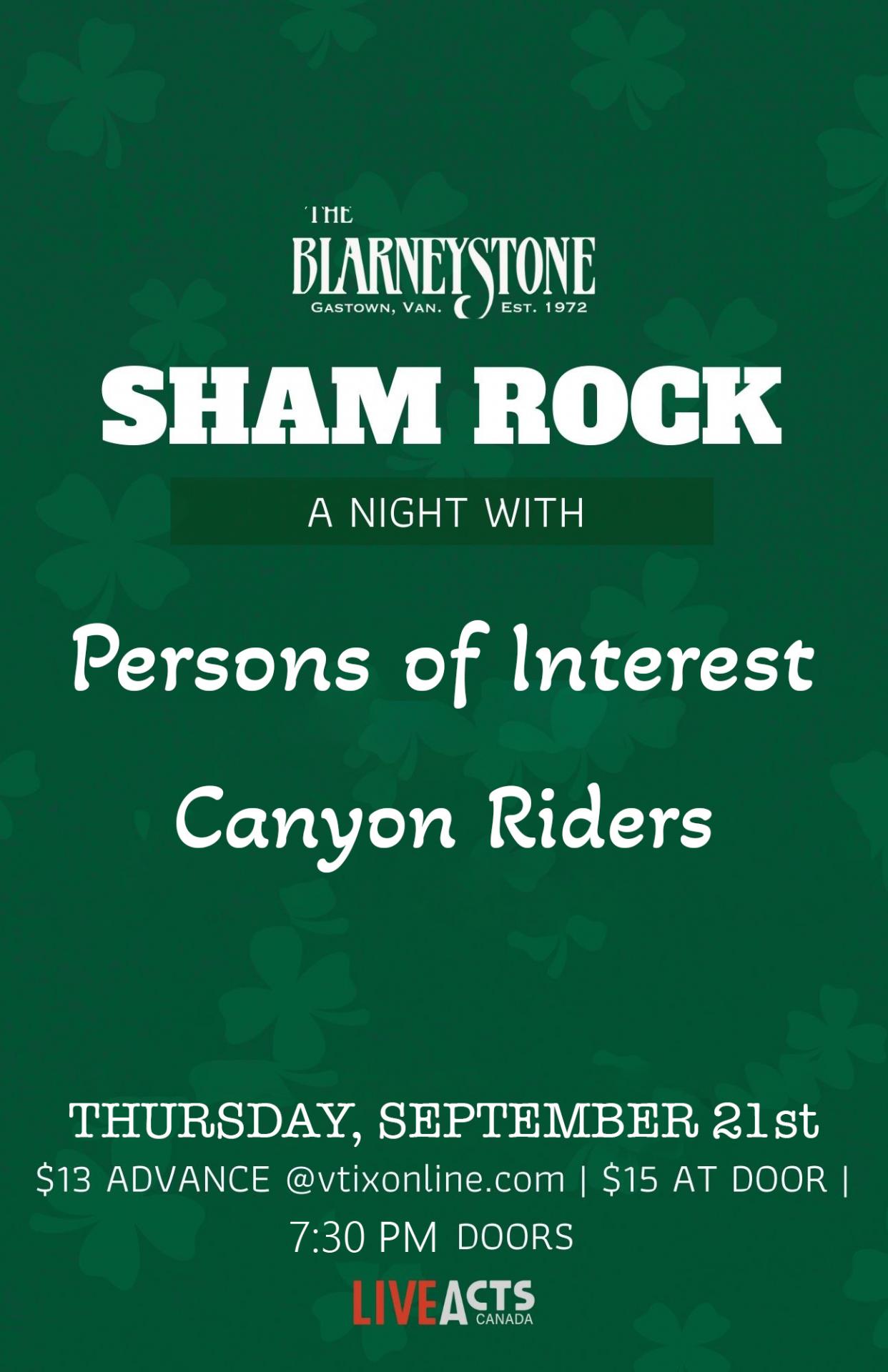 Persons of Interest with Special Guest Canyon Riders
Thursday, September 21, 2023 | 7:30pm
The Blarney Stone
216 Carrall St, Vancouver, BC V6B 2J1
Blarney Stone & Live Acts Canada Presents
Persons of Interest with Special Guest Canyon Riders
Doors 7:30 PM/ Tickets $13.00 In Advance $15.00 @ The Door

Persons of Interest//
We play an eclectic blend of musical styles including rock, rockabilly, punk, R&B, country, pop and Celtic for pubs, markets, weddings, you name it!
Persons of Interest hails from North Vancouver, British Columbia and plays an eclectic blend of musical styles including rock and roll, rockabilly, punk, R&B, country, pop and occasionally Celtic. We have been playing together for several years and like to get out of the garage once in a while to play pubs, local markets and any other place we think we will find enthusiastic music fans who want to dance and have a few laughs. Weddings, baby showers, funerals, you name it! We will try to keep our public appearances posted on this site and on our Facebook page. Come and check us out if you like fun, upbeat music and want to get out and shake your tailfeathers or your moneymaker or whatever other part of your anatomy you like to shake
Website - https://personsofinterestnv.com
Facebook - https://www.facebook.com/personsofinterestnv/
Instagram - https://www.instagram.com/personsofinterestmusicband/
Twitter - https://twitter.com/poi_nv
Canyon Riders //
Lenny and Pete connected with good friend and drummer Brett Hemminger, and in early 2022 the trio shared the stage for the first time as 'The Canyon Riders' performing at Patina Brewing Co. Brew House & BBQ in Port Coquitlam and later that same year at Fraser Mills Brewery in Port Moody. Performing as Lenny and Pete or The Canyon Riders; members of the band have been keeping busy with their regular Friday night slot at Fraser Mills, various gigs, private parties, and other fun stuff. Be on the lookout for Lenny and Pete busking at their favourite spots around town.
Website: thecanyonriders.com
Instagram: www.instagram.com/canyonridersmusic