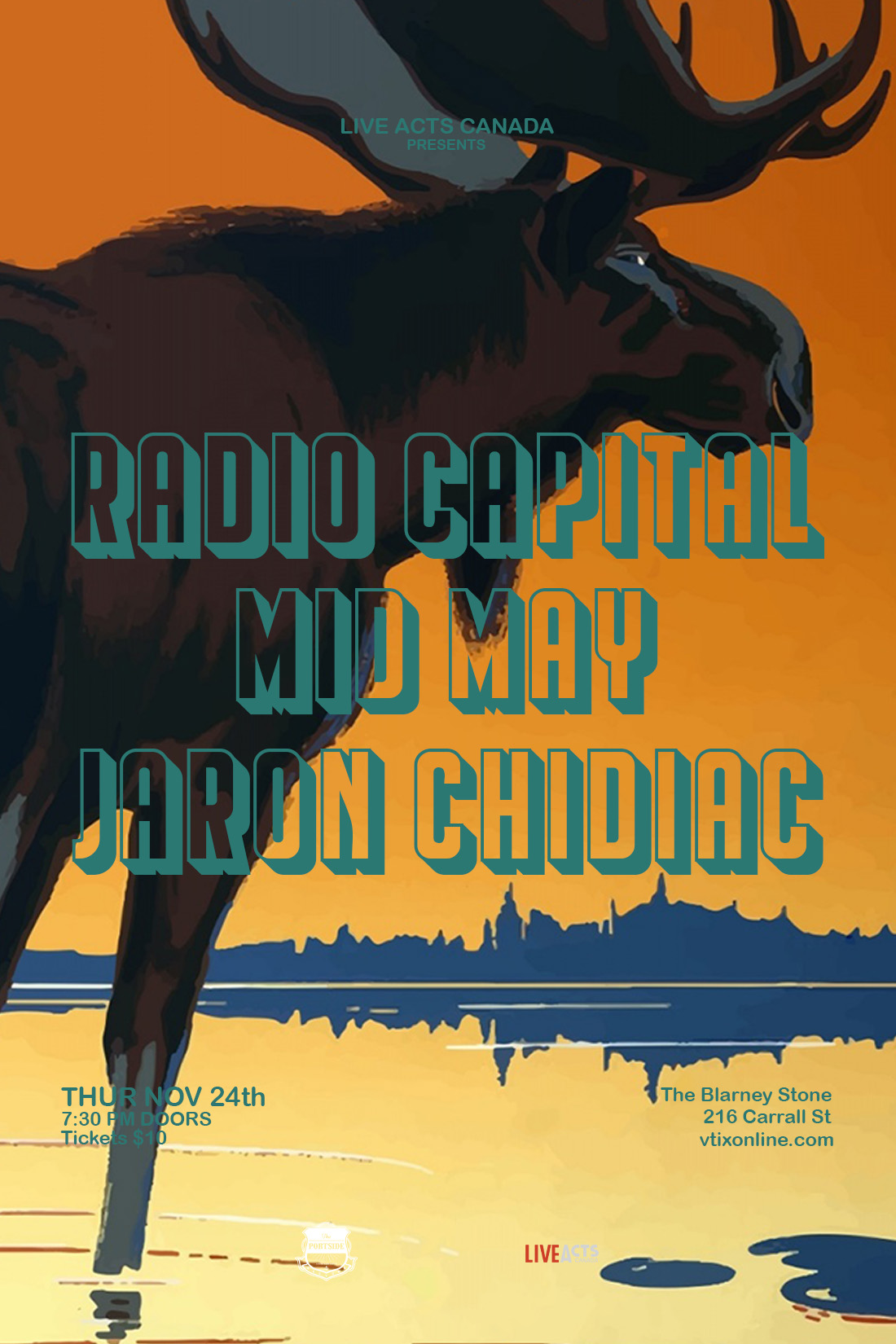 Radio Capital With Special Guests Mid May and Jaron Chidiac
Thursday, November 24, 2022 | 7:30pm
The Blarney Stone
Live Acts Canada Presents
Radio Capital With Special Guests Mid May and Jaron Chidiac
The Blarney Stone, 216 Carrall Street
Doors: 7:30 PM/ 19+
Tickets $10.00

Radio Capital//
Instagram - https://www.instagram.com/radiocapitalband/
Mid May//
Indie/Alternative R&B Band from Vancouver, B.C. Shand & Jake
Twitter - https://twitter.com/midmay_music
Instagram - https://www.instagram.com/midmay.music/
Facebook - https://www.facebook.com/midmaymusicproductions/
Linktree - https://linktr.ee/midmay
Jaron Chidiac//
Theatre kid turned folk-rocker, Jaron Chidiac, is gearing up to take the West Coast folk scene by storm. His classically trained, soul-drenched voice is a melodic force of nature, gliding effortlessly between poetic and gentle with a storm of rasp. The songs themselves are impressive compositions supplementing Jaron's powerhouse vocal performances. For just a man and his guitar, he encompasses the unique capacity to fill the space in your ears and soul.
Born and raised in Prince George, Jaron took to the musical theatre early in life and gained extensive stage experience with the Excalibur Theatre Company. After nearly a decade of performing, he bought his first guitar fresh out of high school and moved to Victoria a couple of years after. He continued to act and play, and he quickly became a regular on the local open mic circuit.
Three years into living in Victoria, out of work, and on a whim, Jaron moved to Vancouver. His experience in the theatre and playing the open mics gave him newfound confidence and set the stage for his entrance into the Vancouver scene. Shortly after moving, Jaron found himself in his first professional studio, where he would go on to meet his future bandmates in Belcarra. With Belcarra, Jaron recorded another EP, toured, and became finalists in the Best In Vancouver, performing alongside the likes of Hey Ocean and The Brevet.
Jaron recorded his first single, Sun Wolf, at legendary Warehouse Studios and released it in October 2019. Shortly after, Jaron began recording his debut EP at Armoury Studios. In 2021, Jaron received a Factor Canada Artist Development Grant for the EP. The first two singles, "Borders" and "Edge Of Us" are now available, with the remainder of the EP being released on September 9th, 2022. Keep an eye out for this Canadiana songbird as he will soon be imprinting you with his ferocious talent.
Website & Socials: https://www.jaronchidiacmusic.com/