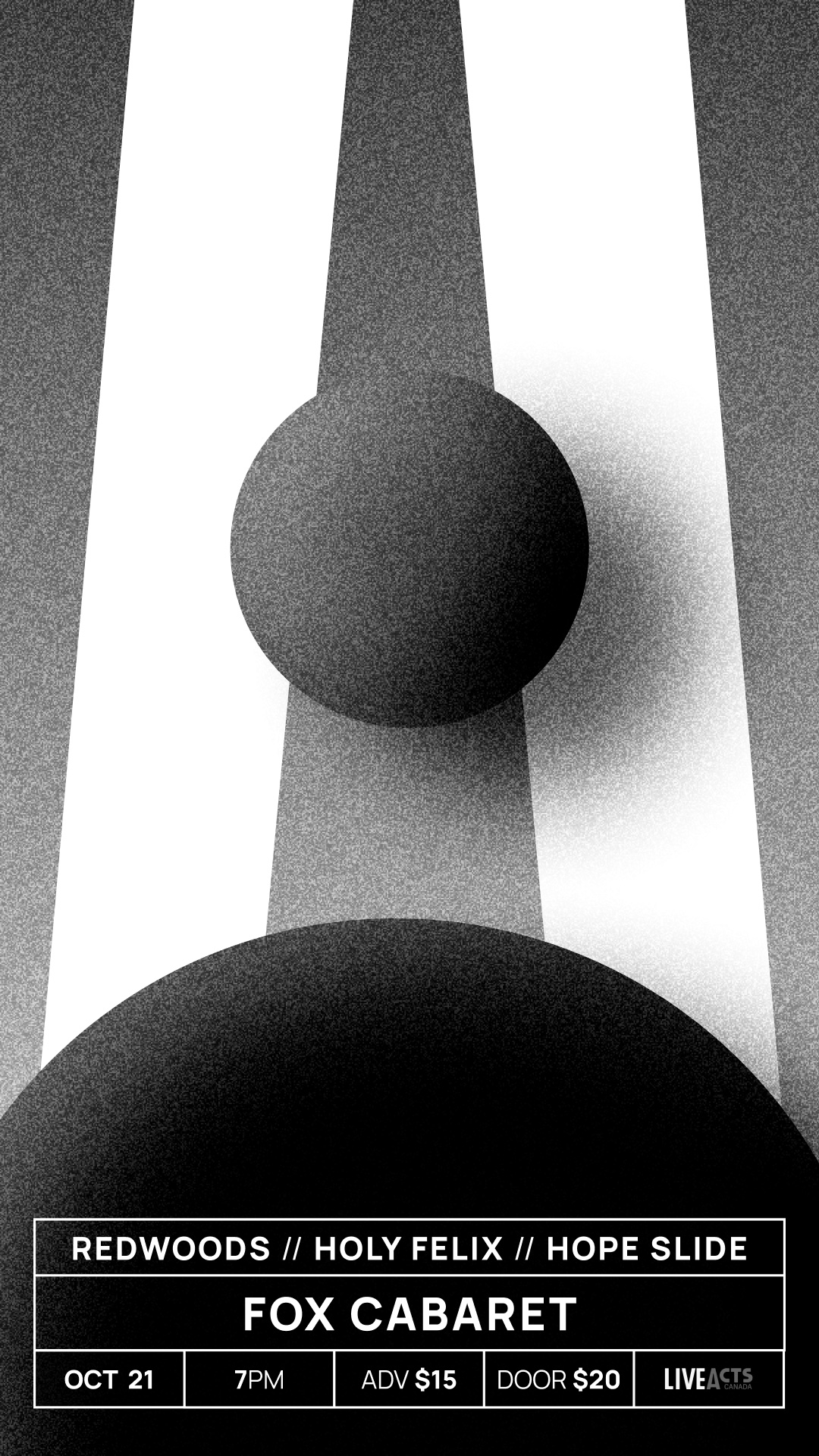 Redwoods with Special Guests Holy Felix and Hope Slide
Saturday, October 21, 2023 | 7:00pm
The Fox Cabaret
2321 Main St, Vancouver, BC V5T 3C9
Live Acts Canada Presents:
Redwoods with Special Guests Holy Felix and Hope Slide
The Fox Cabaret. Doors: 7:00 PM/ 19+
Tickets $15.00 In Advance $20.00 @ The Door
THE FOX CABARET| 2321 Main St.
Redwoods //
Redwoods is a hard rock band from Vancouver, Canada, formed in the early 2010s. They've found a way to blend the coolness of 70s rock, vibrance of 80s metal, and grit of 90s grunge into a diverse rock sound offering nothing short of excitement in today's music scene.
Stream/Socials: linktr.ee/redwoodsvancouver
Instagram: www.instagram.com/redwoodsvancouver
Holy Felix //
Based out of Vancouver, BC, Felix combines his soulful and sometimes tender voice with thrashing fuzz guitar and bombastic drum beats. Delivering a combination of heady Garage Rock, Motown worship and your favourite Electronic sounds. This is gritty alt rock laced with horror and hip-hop.
Stream/Socials: linktr.ee/holy.felix
Instagram: www.instagram.com/fe7ix
Hope Slide //
Originally a solo project born of vocalist/guitarist Calvin Jay's quarantine boredom, Hope Slide is now a six-piece collaborative art-rock band from Vancouver, BC. Featuring shoe-gaze inspired guitar, whimsical violin, and unique story-telling lyricism, Hope Slide creates music that sounds like a fable for adulthood.
Stream/Socials: hyperfollow.com/HopeSlide
Instagram: www.instagram.com/hopeslide