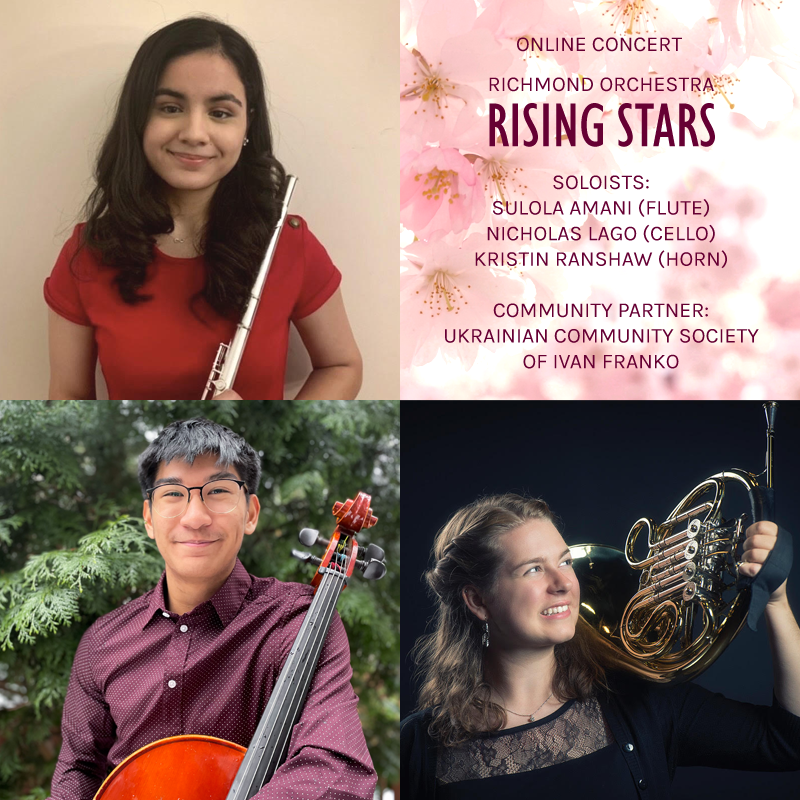 Rising Stars (Online Only)
May 3rd, 2022 to June 30th, 2022
Due to technical difficulties, the release has been pushed back to May 8th.
We genuinely apologize for the inconvenience this may cause in your viewing plans, but we hope that you will enjoy the show next week, instead.
Join the Richmond Orchestra in celebrating three "Rising Star" musicians! Enjoy various solo pieces and some classical favourites from the entire orchestra. Our community partner for this concert is the Ukrainian Community Society of Ivan Franko (Richmond).
Repertoire:
Mozart Flute Concerto in G major
Elgar Cello Concerto
Gliere Horn Concerto
The link to the video will viewabe until June 30th, so don't miss out.
We at ROCA are thankful for the community's ongoing support and both of these concerts directly helps us to continue to do our very best.
*Please allow for up to 12 hours for the viewing link to be sent to your email*