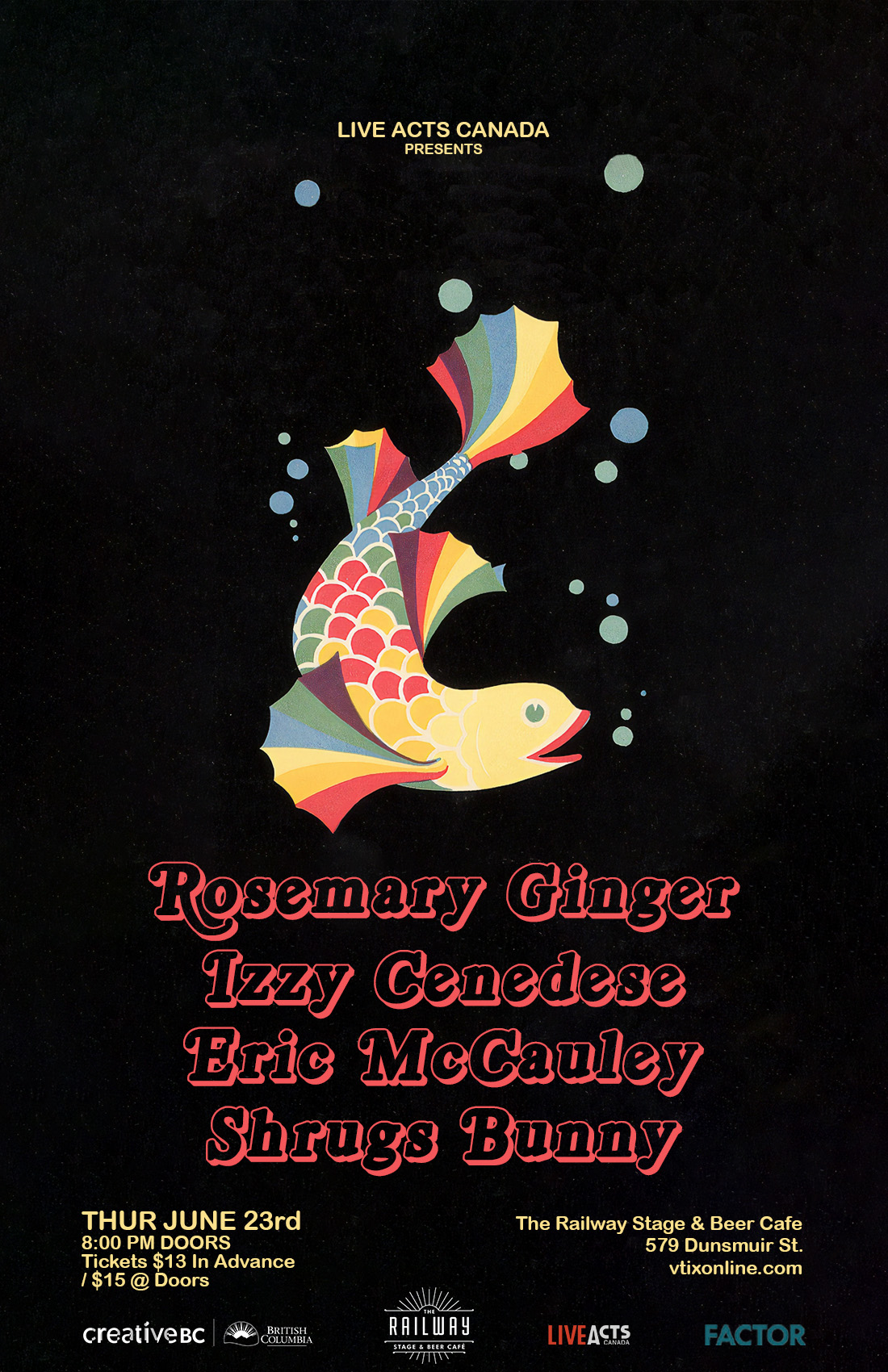 Rosemary Ginger with Special Guests, Izzy Cenedese, Eric McCauley and Shrugs Bunny
Thursday, June 23, 2022 | 8:00pm
The Railway Stage & Beer Café
Live Acts Canada Presents
Rosemary Ginger with Special Guests, Izzy Cenedese, Eric McCauley and Shrugs Bunny
Live From The Railway Stage & Beer Cafe. Doors: 8:00PM/ 19+
Tickets $13.00 In Advance $15.00 @ The Door
RAILWAY STAGE & BEER CAFE 579 Dunsmuir Street
Rosemary Ginger//
"Rosemary Ginger started out in 2020 as the solo bedroom-recording project of vocalist and keyboardist Adam Doucette. Since moving from Kelowna, BC, to Vancouver, the band has been joined by Carter Fortney (guitar), Elias Rieger (drums), Amy Tan (vocals) and Jack Zhao (bass) for their intimate and energetic live shows. The band's sound is a unique blend of indie rock, synthpop, and jazz harmonies, inspired by artists such as D'Angelo, Perfume Genius, and Bon Iver. Their debut EP, Still Water, is available on streaming services, and their second EP is slated for release this summer."
Bandcamp - https://rosemaryginger.bandcamp.com/
Izzy Cenedese//
Izzy Cenedese is a musician with a visceral writing style. Focusing on lyrics, they string stories together using a "freaky folky" sound mixed between sweet melodies. Izzy is the recipient of Said The Whales'2020 Young Artist Grant and has since been playing shows locally. They are now working on their artist collective "Freshly Squeezed"(named after their debut album), experimenting with a hyper pop alias, and hoping to put an album out soon.
Instagram - @freshly.squeezed.08
Eric McCauley//
Born in Newmarket, Ontario, Eric McCauley has created a massive list of original songs. Most of them he keeps locked up for a rainy day. Others he shares with the people he loves. He has written countless songs for others & enjoys creating several private demos to build enjoyable bodies of work. He has given back to several charities and helped some venues stay alive during Covid. He is a folk artist with a blend of Indie. When he's not doing originals he is strumming away in local pubs playing every cover he possibly can for 3 hour Acoustic gigs.

Website - https://www.reverbnation.com/ericmccauleymusic
Twitter - https://twitter.com/emccauleymusic

Shrugs Bunny//
Looney tunes played by a looney buffoon.
Instagram - @shrugsbunny

https://www.facebook.com/railwaySBC
https://www.twitter.com/railwaySBC
https://www.instagram.com/railwaySBC
For more information, email info @donnellygroup.ca