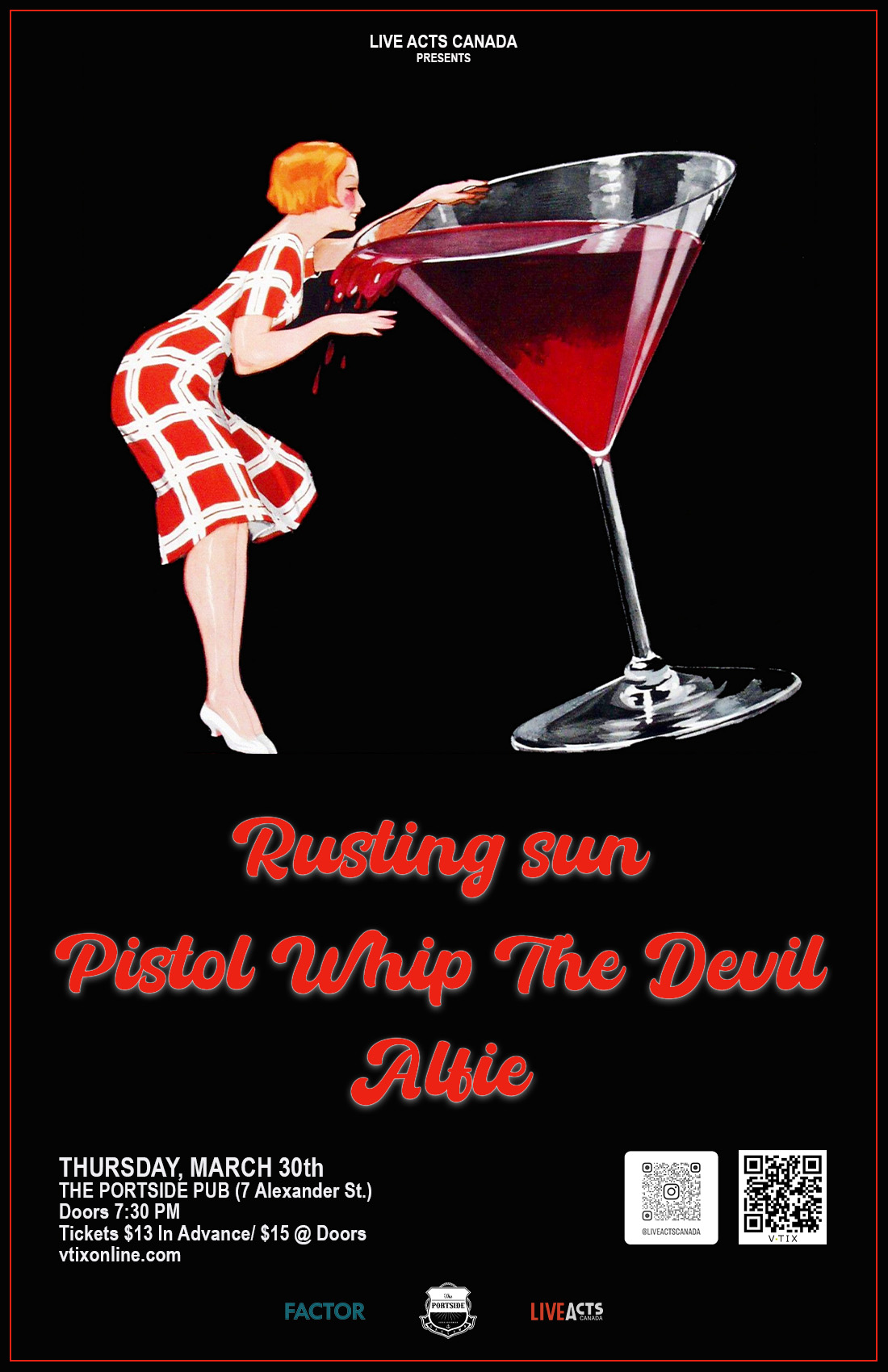 Rusting Sun With Special Guests, Pistol Whip The Devil, and Alfie
Thursday, March 30, 2023 | 7:30pm
The Portside Pub
Live Acts Canada Presents
Rusting Sun With Special Guests, Pistol Whip The Devil, and Alfie
Live From The Portside Pub. Doors: 7:30 PM/ 19+
Tickets $13.00 In Advance $15.00 @ The Door
THE PORTSIDE PUB, 7 Alexander St.

Rusting Sun//
Rusting Sun is an alt-country/rock band from Vancouver Canada. Their melodic, rhythmic, and dynamic sound weaves together seamlessly with stories drawn from lived experiences in the realms of addiction, mental health, melancholy, love, and loss. FFO: Ryan Adams, Thrice, Brian Fallon, Drive-By Truckers, Mike Ness, John Cougar, and Tom Petty.
Linktree - https://linktr.ee/rustingsun
Bandcamp - https://rustingsun.bandcamp.com

Pistol Whip The Devil//
All dressed up and nowhere to go! Pistol Whip The Devil was a band born in the pandemic; good friends and like-minded musicians were forced to take a break from projects, and with newfound time and a chance to explore different musical avenues, went back to their small-town roots to bring songs and stories of growing up in the country, family, friends, good times, bad times, and even a little bit about love. It's a badass country!
PWTD is ready to hit the road in the summer and bring some sweet licks and smooth vocals to bars, clubs, and festivals across the country. Welcome To The Show is available to stream, download and enjoy across all your favorite platforms, and the follow-up City With One Red Light is being recorded and almost ready for release! Keep up to date with show dates by subscribing.
Website & Socails - https://pistolwhipthedevil.com/

Alfie//