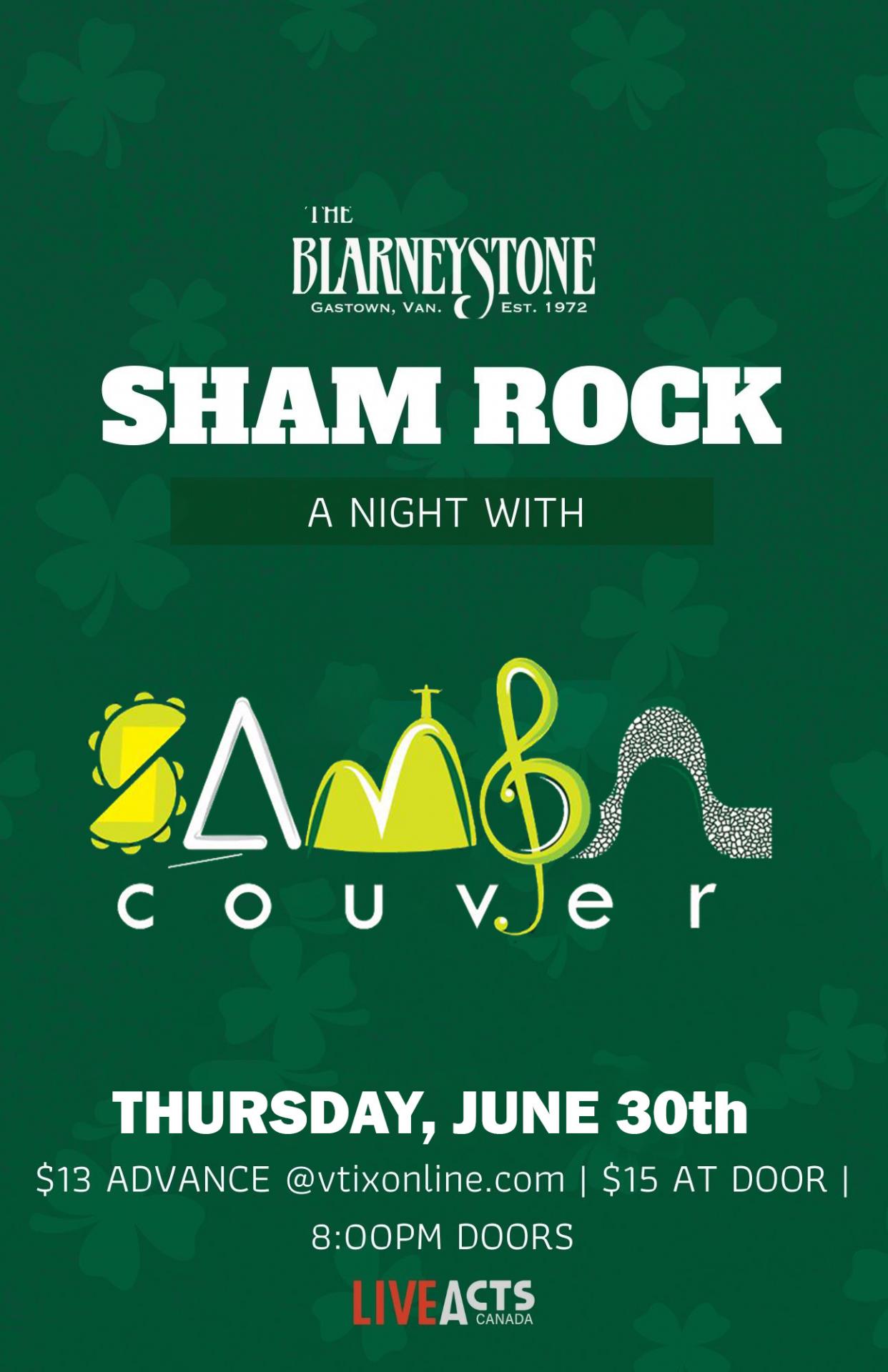 Sambacouver Live From The Blarney Stone
Thursday, June 30, 2022 | 8:00pm
The Blarney Stone Vancouver
Blarney Stone & Live Acts Canada Presents
Sambacouver Live From The Blarney Stone
Doors 8:00 PM/ Tickets $13.00 In Advance $15.00 @ The Door
Sambacouver//
Sambacouver is a Brazilian band that has been playing a pivotal role in bringing together the growing Brazilian community of BC. Apart from the parties they regularly promoted in several live-music-venues of Vancouver, they have also conducted free events in public spaces, such as beaches and parks, where their compatriots and other enthusiast of Brazilian culture can feel its joy and warmness.
Although Brazilians are formally Latin-Americans, we often do not feel contemplated by many activities directed to the Latin-American community. This is not a critique in itself, but a natural phenomenon, given that it is the only big country in Latin America that does not speak Spanish and it creates a barrier for further integration with other nationalities. Within this context, having a group that is able to connect Brazilians and promote our culture with such commitment and passion is really a gift.
Sambacouver has been probably around over 5 years and it has become a central reference of Brazilian culture in the province of BC. They have been invited to play in several festivals, including the annual Latin­ American festival Carnival del Sol.
By playing a wide variety of genres and rhythms from Brazil as well as creative arrangements of famous international pop songs originally written in English, they have been a bridge between Brazilians from different regions of the country and people from many nationalities.
It is a cliche that music is an universal language capable of connecting people from all walks of life. But their additional effort of mixing Brazilian elements with the music widely known in English certainly contributes to a great result of cross cultural integration.
Website & Socials - https://www.sambacouver.com/
Youtube - https://www.youtube.com/watch?v=dNzVjd1SeLE&ab_channel=Sambacouver