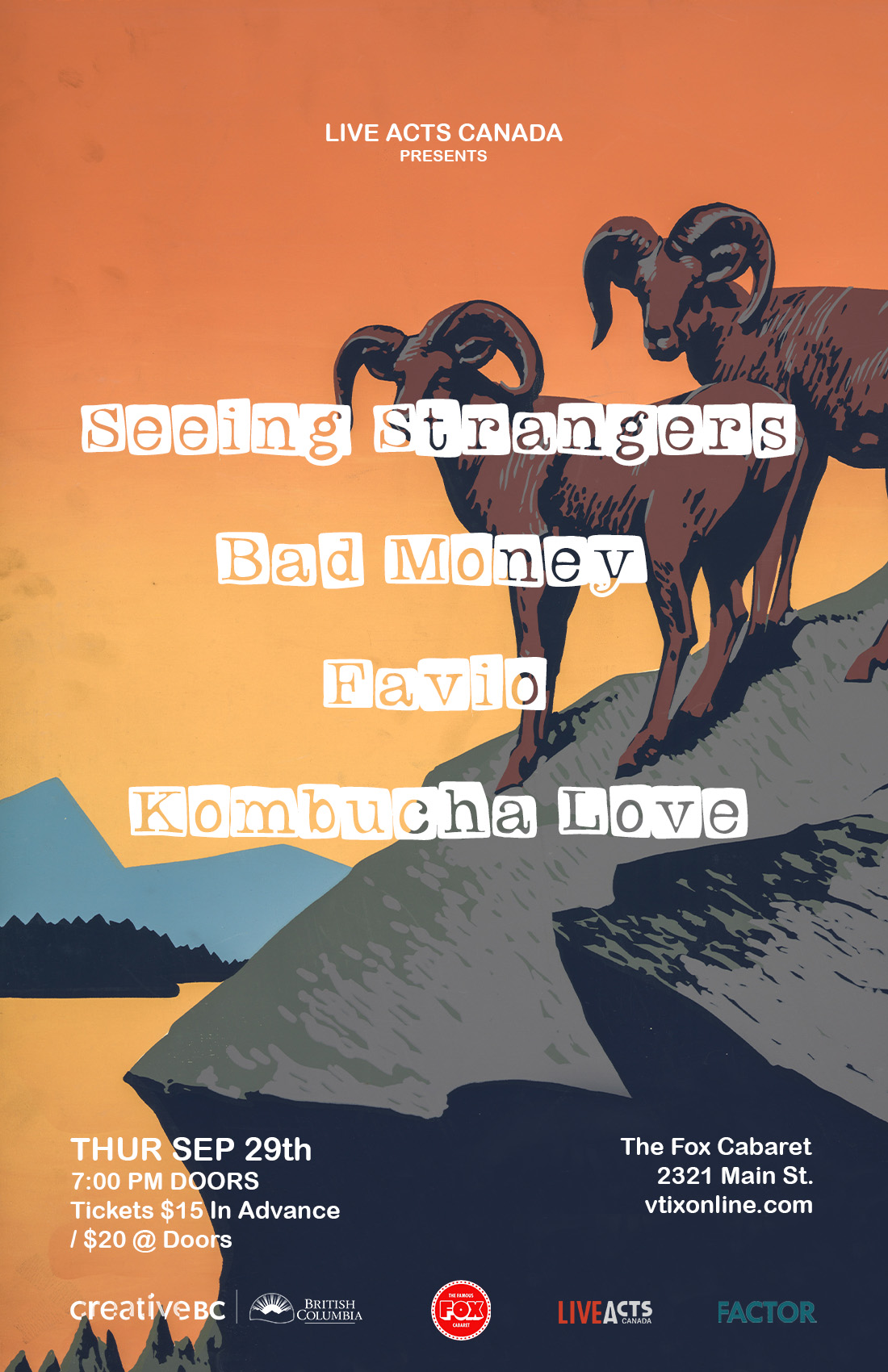 Seeing Strangers with Special Guests Bad Money, Favio, and Kombucha Love
Thursday, September 29, 2022 | 7:00pm
The Fox Cabaret
Live Acts Canada Presents
Seeing Strangers with Special Guests Bad Money, Favio, and Kombucha Love
The Fox Cabaret. Doors: 7:00PM/ 19+
Tickets $15.00 in advance/ $20 @ the door
THE FOX CABARET, 2321 Main St.
Seeing Strangers//
A trio built through the last few unusual years with a focus on bringing people together again. Playing R&B, hip-hop, and indie-rock inspired music, Seeing Strangers is about finding new friends in the crowd. Through their interactive stage performances, Seeing Strangers creates memorable moments going beyond the music alone.
Bad Money//
Bad Money — BADMONEY is an up-and-coming funk/rock trio, born on the streets of Vancouver. Led by Terran's explosive bucket drumming, and the unique pairing of Gabriel and Emmett's voices, BADMONEY creates music that is both soulful and energetic.
LinkTree - https://linktr.ee/BADMONEYBAND
Youtube - https://www.youtube.com/channel/UCcf2azRHlL6bOMOAKXMkl3w?app=desktop
FAVIO//
Overthinking since 1998. Peruvian-based artist FAVIO creates a blend of dance-influenced pop music with modern tropical vibes in the form of a one-man band.
LinkTree - https://linktr.ee/musicbyfavio
Spotify - https://open.spotify.com/album/4dt5wvxzl3HJMvRv2lQC6r
Kombucha Love//
Based in Vancouver, Kombucha Love is an emerging young band consisting of 5 fun-loving party college friends. Vocalist Sayana brings soulful performances backed up by Rishab's energetic drumming, sexy bass grooves from Callum, Eren serenading the crowd on keys, and Iain with his raw talent on the Mandolin and guitar. Best described as Indie rock / pop, Kombucha Love is down to earth good times.