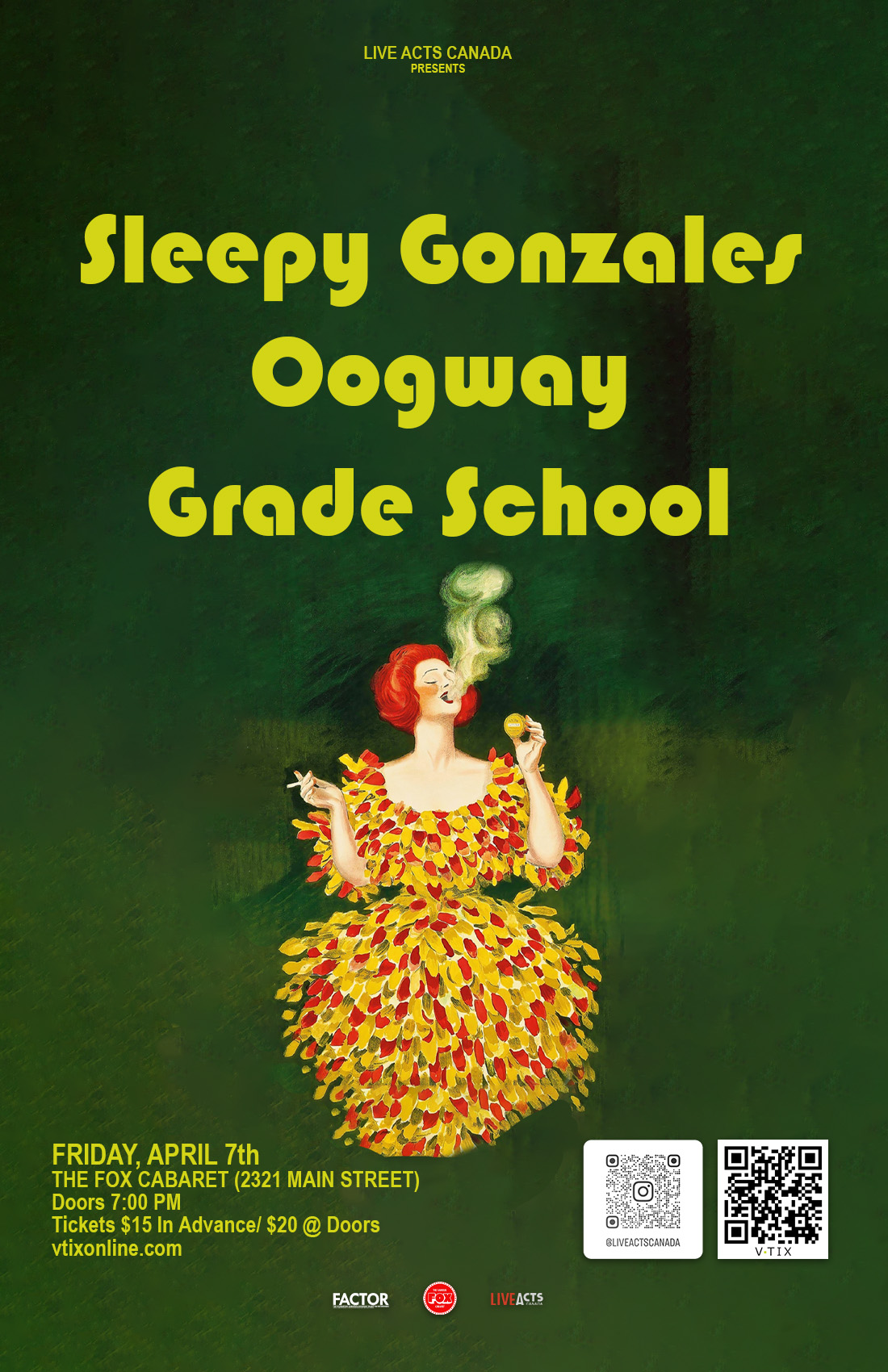 Sleepy Gonzales with Special Guests Oogway and Grade School
Friday, April 7, 2023 | 7:00pm
The Fox Cabaret
Live Acts Canada Presents:
Sleepy Gonzales with Special Guests Oogway and Grade School
The Fox Cabaret. Doors: 7:00 PM/ 19+
Tickets $15.00 In Advance $20.00 @ The Door
THE FOX CABARET| 2321 Main St.
Sleepy Gonzales//
Brought to you from Surrey, BC. Sleepy Gonzales is made up of long-time buds Ally, Nick, Beni, and Cristian. The band has toured all over North America, playing for hundreds in iconic venues such as Vancouver's "Commodore Ballroom," LA's "Troubadour," and New York's "Bowery Ballroom." Sleepy Gonzales provides versatile sounds from the chillest of shoe gaze, to the loudest ruckus of punk noise that has captured the enthusiasm of many. They are about as real as it gets! Sleepy Gonzales released LP, Slow Apocalypse, in 2020 and is working on their new EP. The first single, Skylight, is to be released in Spring 2023!
Facebook - https://www.facebook.com/sleepyg123/
Instagram - https://www.instagram.com/sleepygonzales/
Website - https://sleepyfuckinggonzales.com/
Oogway//
Instagram - https://www.instagram.com/oogway_the_okay/
Grade School//
Instagram - https://www.instagram.com/gradeschool23/
LinkTree - https://linktr.ee/gradeschool