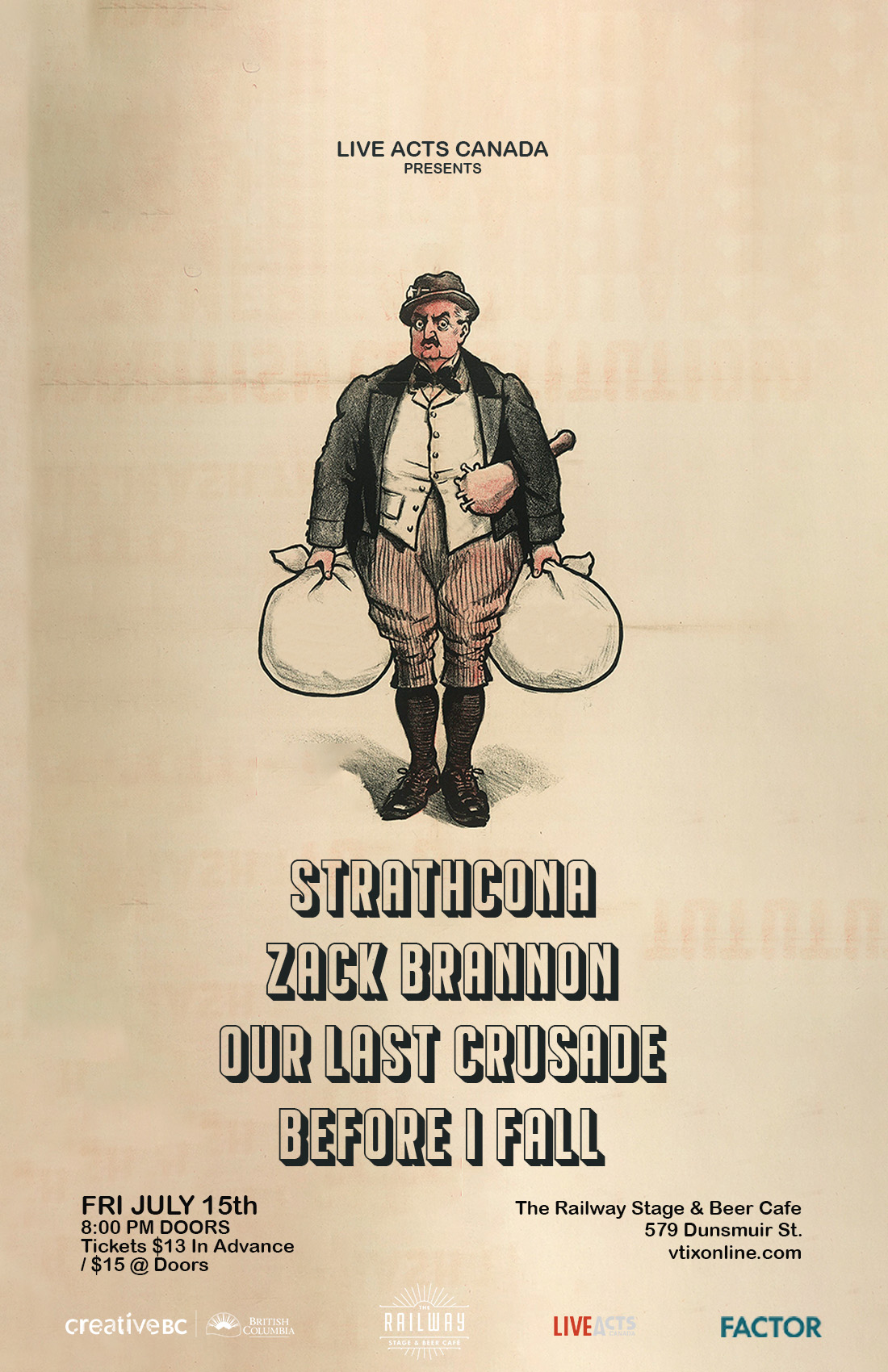 Strathcona with Special Guests, Zack Brannon, Our Last Crusade, and Before I Fall
Friday, July 15, 2022 | 8:00pm
The Railway Stage and Beer Cafe
Live Acts Canada Presents
Strathcona with Special Guests, Zack Brannon, Our Last Crusade, and Before I Wake
Live From The Railway Stage & Beer Cafe. Doors: 8:00PM/ 19+
Tickets $13.00 In Advance $15.00 @ The Door
RAILWAY STAGE & BEER CAFE 579 Dunsmuir Street
Strathcona//
Emerging from the West Coast of B.C., Strathcona's grooves takes us from the hills to the highways, and from the beach to the bars. With songs drawing from life's experiences such as "Thief", to fantastic time zone stretching songs like "Midnight at the Oasis" and others. Strathcona is willing to go there. After playing in Vancouver's rock scene for the past few years, Strathcona has the energy and inspiration needed to transport you from the garage to Jupiter.
Website - http://strathconarock.com/?fbclid=IwAR1Dv2JoBbHg6g9YKo-BY7eISL92bMcOmkjRaNR379VLapMVwWawlXVxSEw
Facebook - https://www.facebook.com/StrathconaBand/
Zack Brannon//
Starting Guitar at the age of 12 Zack began his adventure into what would be his first and final choice of career. Since the beginning he has always been drawn to the virtuosic side of music taking inspiration from artists like Joe Satriani, John Petrucci, and now more recent players like Tom Quayle, Guthrie Govan. Much like the players he looks up to Zack enjoys and engages with almost all styles of music and is always striving for maximum versatility. Since 2015 Zack has been writing and recording music for his self titled Progressive Metal project formally known as "Eleji". He is to release an instrumental debut album early 2021 full heavy grooves and complex passages titled "Black Skies & Searchlights"
Website - https://zackbrannon.com/
Instagram - https://www.instagram.com/zack.brannon/?hl=en
Facebook - https://www.facebook.com/zackbrann0n
Bandcamp - https://zackbrannon.bandcamp.com/
Our Last Crusade//
Brought together by a passion for heavy songs, Our Last Crusade utilizes extended range instruments to craft their take on metal. The band released their EP "THE NAIVETY SCENE" in 2020 followed by a string of singles in 2021. "We want to play the music that we love, and we want to play it for as many people as possible. This is our crusade."
Bandcamp - https://ourlastcrusade.bandcamp.com/
Facebook - https://www.facebook.com/ourlastcrusade/
Twitter - https://mobile.twitter.com/ourlastcrusade
Before I Fall//
Ascending from various towns of Alberta, "Before I Fall," comes together to bring you their ideas and values, through their vision of a "genre-less," sound.
Facebook - https://www.facebook.com/BeforeIFallMusicAB/
https://www.facebook.com/railwaySBC
https://www.twitter.com/railwaySBC
https://www.instagram.com/railwaySBC
For more information, email info @donnellygroup.ca