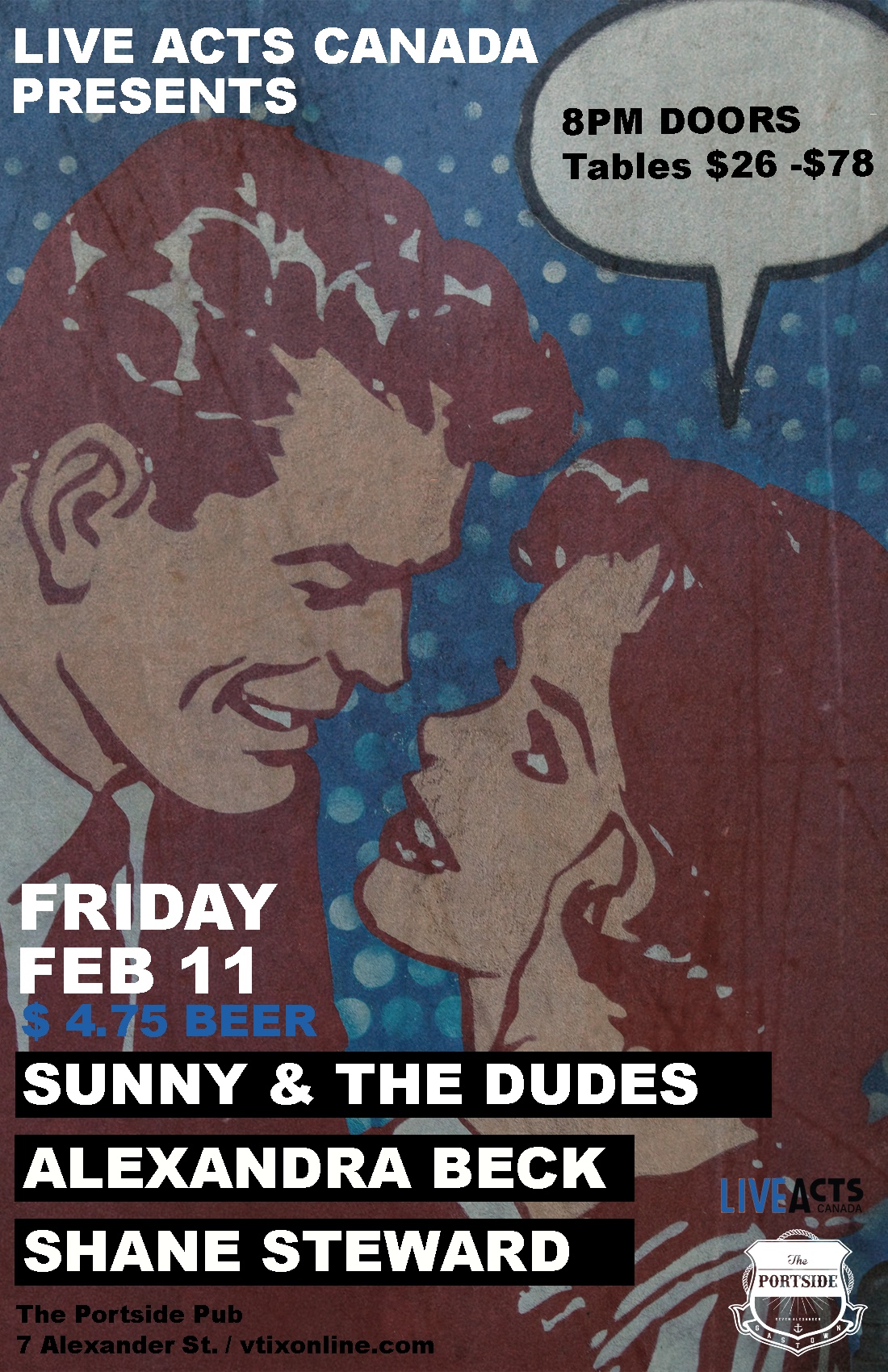 Sunny & The Dudes With Special Guests Alexandra Beck + Shane Steward
Friday, February 11, 2022 | 8:00pm
The Portside Pub
How To Purchase Tickets:
*Enter the number one into the box associated with the seat or table you would like to purchase, then click find tickets. Once entered, you should be braught to the checkout page where you can enter your billing information. We try and update our ticket inventory regularly, however, if the table or seat says "unavilable" go back to the first page and select a different seat or table.
Live Acts Canada Presents
Sunny & The Dudes With Special Guests Alexandra Beck + Shane Steward
The Portside Pub. Doors: 8:00PM/ 19+
Tickets $13.00 In Advance $15.00 @ The Door
THE PORTSIDE PUB, 7 Alexander St.
*Please note, stage four COVID restrictions are being implemented. You must have proof of full COVID-19 vaccination, via your passport and a second peice of government issued photo ID.
Sunny & The Dudes//
USING THEIR PACIFIC WEST COAST SURROUNDINGS, SUNNY & THE DUDES EMBODY A UNIQUE SOUND THAT FUSES INDIE SURF-ROCK WITH BLUES. WITH INFLUENCES LIKE ALLAH-LAS, OCEAN ALLEY, SHAKEY GRAVES, AND THE FLAVOUR OF THE WEEK, THEIR SOUND IS FRESH AND POWERFUL, BLENDING CLASSIC AND NEW-SCHOOL SONGWRITING TECHNIQUES. THE GROUP IS COMPOSED OF DAVE VALADE (LEAD VOCALS & LEAD GUITAR), MATT PORTEOUS (KEYS AND RHYTHM GUITAR), SUNNY PETRISOR (BASS), AND DAN KAWASOE (DRUMS). SUNNY & THE DUDES FORMED IN JANUARY OF 2019, AND HAVE SINCE PLAYED VARIOUS EVENTS AND SHOWS THROUGHOUT VANCOUVER, RECENTLY TAKING PART IN THE BEST IN VANCOUVER COMPETITION HOSTED BY LIVE ACTS CANADA. THE BAND IS CURRENTLY FOCUSSING ON WRITING AND RECORDING THEIR FIRST ALBUM, WHICH WILL BE APPEARING ON ALL STREAMING SERVICES IN THE SUMMER OF 2020.
Web & Socials: https://www.sunnyandthedudes.com/
Instagram: https://instagram.com/sunnyandthedudes?utm_medium=copy_link
Alexandra Beck//
Alexandra Beck is a fun loving, stage zealous Canadian R&B Soul Recording Artist. She hails from Vancouver, Canada. Alexandra is proud of her powerful vocals, and high frequency sound. Coming from a tiny white girl's body, most don't expect a voice like hers- but Alexandra is proud that she is defying the boundaries, and definitions of what she believes should be in music. Alexandra's innate sense for creating catchy melodies, without needing any instrumentation, is her strength as a songwriter.
Alexandra has performed on several big stages in North America. Her highlights include: Canadian Music Week 2021, The Historic Bitter End (Lady Gaga has frequented this stage!!!) in New York City 2019, and being selected by "Pitch Perfect's" Musical Director for a vocal solo, amongst a mass choir at NYC's Lincoln Centre, in 2018. Alexandra is also proud that she was a regional finalist in the Jim Beam/Canadian Music Week National Talent Competition 2020.
Alexandra has been working hard in the studio on her debut album for much of 2021. With heavy influences from early 2000's R&B and Pop, as well as many modern and timely productions, she has been particularly excited for this upcoming release. She is grateful to be working closely with Grammy nominated record producer & songwriter, Roy Hamilton III. She believes that this new direction is most aligned with where she's going as an artist.
Spotify: https://open.spotify.com/artist/3TgCyVirCFvAxyuztntwFA
Instagram: https://www.instagram.com/alexandramariabeck/?hl=en
Website: https://alexandrabeckmusic.com/
Shane Steward//
Shane Steward is a seasoned musician of 15 years from Canada.Shane first became fascinated with music, when he heard the scores of Danny Elfman and John Williams, at the tender age of six. Since then, he has written and performed music with both bands, and as a solo musician, and is currently working on a metal musical for future release.
Youtube: https://www.youtube.com/shanesteward
Insta: sagicalstudio