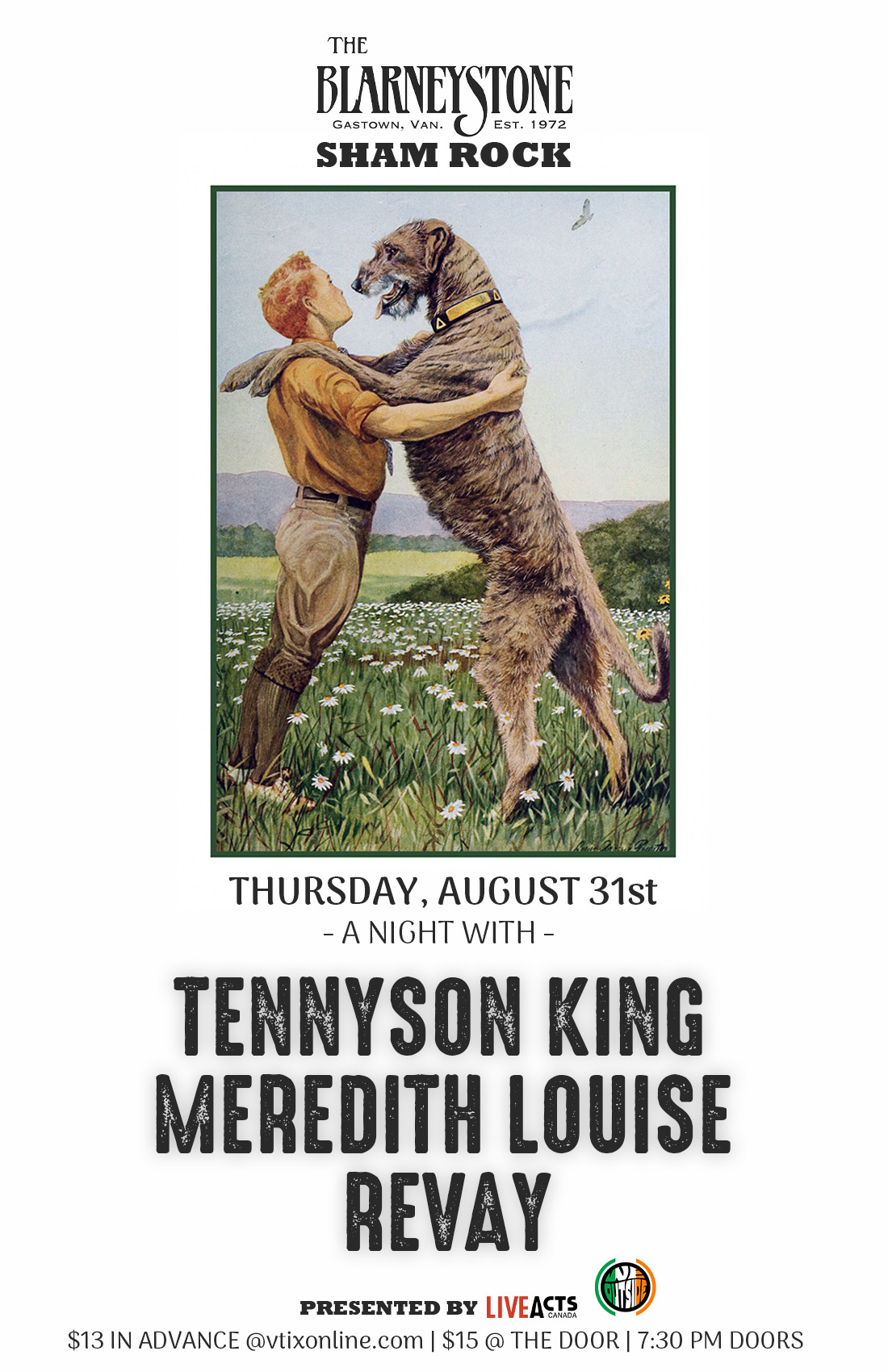 Tennyson King with Special Guests Meredith Louise and Revay
Thursday, August 31, 2023 | 7:30pm
The Blarney Stone
216 Carrall St, Vancouver, BC V6B 2J1
Blarney Stone/Live Acts Canada/We Outside Presents
Tennyson King with Special Guests Meredith Louise and Revay
Doors 7:30 PM/ Tickets $13.00 In Advance $15.00 @ The Door
Tennyson King //
A traveler at heart, Tennyson writes chill soundtracks to rich, diverse landscapes as he explores the world's beauty, making connections with people, nature, and wildlife along the way. Having toured in Canada, Australia, China, Hong Kong, Brasil and Southeast Asia, Tennyson has captured audiences worldwide with his reverberant and earthy folk-rock blend, jovial personality, and intimately humorous lyrical storytelling. His raw, gritty, and organic sound makes the soul feel wild and the heart comforted.
Stream/Socials: biglink.to/TKhawtlinks
Instagram: www.instagram.com/tennysonking
Meredith Louise //

Meredith Louise is a singer, songwriter, musician and Registered Music Therapist currently residing on the unceded lands of the Musqueam, Tsleil-Waututh and Squamish First Nations (Aka Vancouver, Canada). Hailing from Melbourne, Australia, Meredith combines infectious grooves with words that make you think, creating a sonic tapestry of jazz, neo-soul, R&B, and folk. Her strong vocals and colourful lyrics create rich imagery that takes the listener on a journey into the human condition. Intrigued by stories and the common threads that weave us together, Meredith writes songs about people, places and landscapes, and how we can find our way back to our truth.
Stream/Socials: linktr.ee/meredithlouisemusic#
Instagram: www.instagram.com/meredithlouisemusic
Revay //
Revay grew up during the prime era of soundcloud where rappers and singers were constantly uploading their own music. She became inspired to write, record, and share her own music on the platform which allowed to quickly build her fan base. She has released over fifteen tracks and continuously strives to make timeless pieces. Falling in love with her creative process is what allows Revay to make music each day. Going into the depths of her despair to the sound of music is what allows her to heal, imagine and dream. As an artist Revay feels it is her responsibility to create music which provokes, inspires, and connects.
Stream/Socials: linktr.ee/alwaysrevay
Instagram: www.instagram.com/alwaysrevay