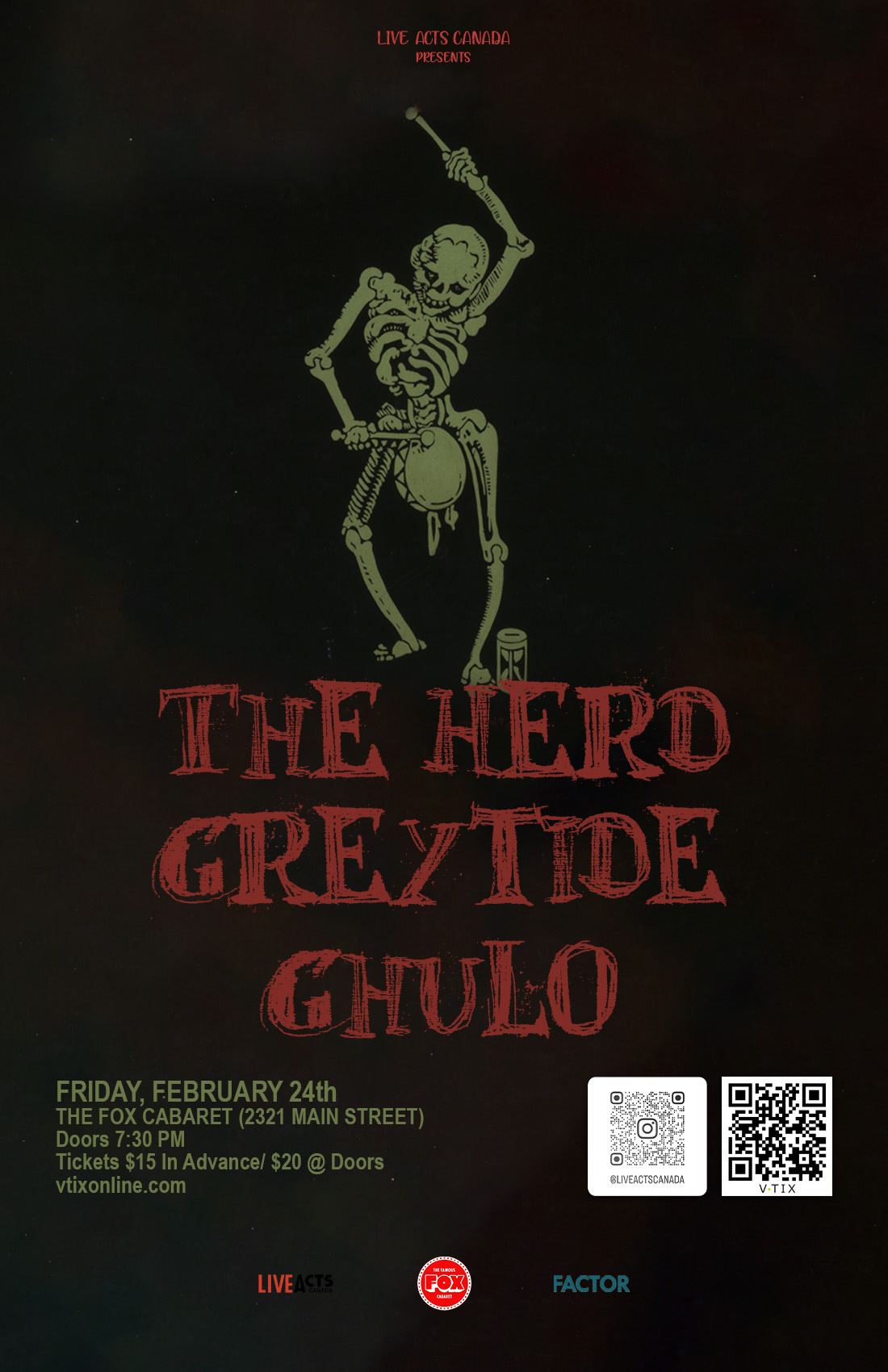 The Herd with Special Guests Greytide and Ghulo
Friday, February 24, 2023 | 7:30pm
The Fox Cabaret
Live Acts Canada Presents
The Herd with Special Guests Greytide and Ghulo
The Fox Cabaret. Doors: 7:00 PM/ 19+
Tickets: $15.00 in advance/ $20 @ the door
THE FOX CABARET, 2321 Main St.
The Herd//
Not just a band but a rocking good time. see us live!!
Facebook - https://www.facebook.com/TheHerdTheBand/
Greytide//
Greytide is a Vancouver-based 5-piece hard rock band. Founded in 2018, the band members met through a UBC music club and started jamming shortly after realizing they were messaging the wrong Tom (drummer) for almost a month. Having a wide range of musical influences from the likes of Pink Floyd to Alter Bridge and Metallica, Greytide prides itself in writing songs that are unique and have incorporated in the elements from various different genres. Greytide played numerous shows from its inception through 2020 before the COVID pandemic and is ready to once more burst into the local music scene in Vancouver. Greytide's debut EP was recorded at Monarch Studios with Juno award-winning producer Tom Dorbzanski (The Zolas) & Alex Penney and will be released in August 2022.
Instagram - https://www.instagram.com/greytide.music/
Facebook - https://www.facebook.com/Greytide.music
Ghulo//
Founded in Vancouver in 2016, Ghulo rocks so you don't have to.
Facebook - https://www.facebook.com/GhuloOfficial/