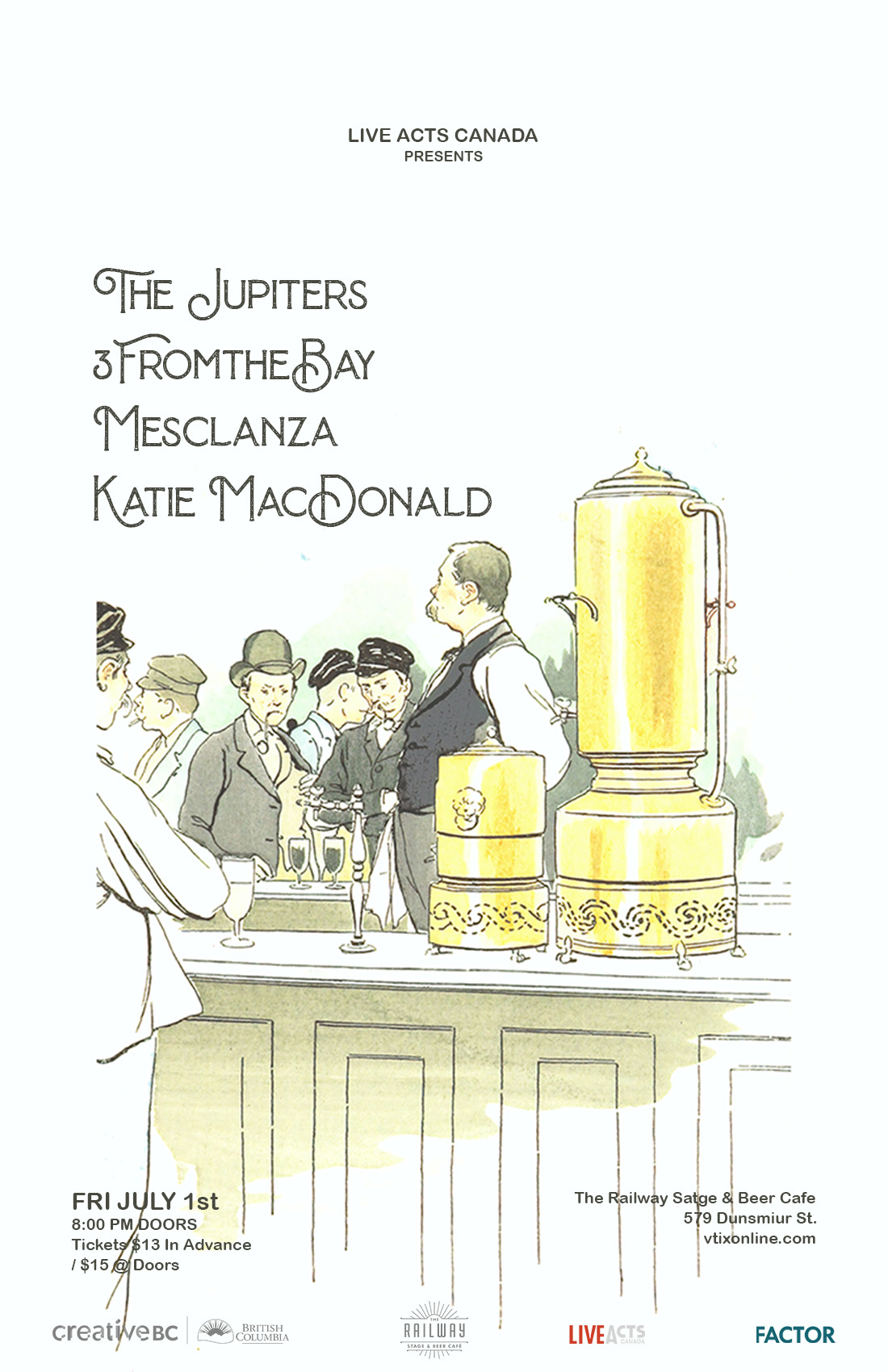 The Jupiters With Special Guests, 3Fromthebay, Mesclanza, and Katie MacDonald
Friday, July 1, 2022 | 8:00pm
The Railway Stage & Beer Cafe
Live Acts Canada Presents
The Jupiters With Special Guests, 3Fromthebay, Mesclanza, and Katie MacDonald
Live From The Railway Stage & Beer Cafe. Doors: 8:00PM/ 19+
Tickets $13.00 In Advance $15.00 @ The Door
RAILWAY STAGE & BEER CAFE 579 Dunsmuir Street
The Jupiters//
What started as a school project spiralled out of control and became The Jupiters. Taking inspiration from one end of the musical spectrum
to the next, The Jupiters channel their diverse influences, flowing from soulful vocal melodies and pop hooks to pulsing guitars and cutting grooves. Featuring Mandukhai on vocals and piano, Adriana
Abreu on vocals and guitar, Cristobal Jara on bass, Aden Goertzen on drums and Graham Wall on guitar, The Jupiters are wielding their diverse musical backgrounds to create what can only be described
as music soup. Really yummy music soup.
Website & Socials - https://www.facebook.com/events/2922390261334939
Instagram: https://www.instagram.com/jupiterstheband/

Facebook: https://www.facebook.com/TheJupitersMusic/
3Fromthebay//
3fromthebay is a rock band based out of Vancouver formed by three Brazilian-born buddies who have been playing together since college.
They draw their influences from The Strokes, Kings of Leon, Interpol, Nirvana, Foo Fighters, and Brazilian music like forró and bossa nova to craft fast and punchy, but also mellow and calm original songs.
Website - 3fromthebay.com
Instagram - www.instagram.com/3fromthebay

Mesclanza//
A world wide blend made of Spanish, Canadian, and Italian music. Come to dance / vente a bailar / vieni a ballare!!
Youtube - https://www.youtube.com/channel/UCs9GomcmE5J9Gytjrs7KbpA
Facebook - @Mesclanza
Linktree - https://linktr.ee/Mesclanza
Katie MacDonald//
Katie MacDonald is a Vancouver based indie pop artist. She crafts reflective and deeply honest music that communicates matters of the heart. Originally from Manitoba, Katie has performed at many festivals and events across the prairies including the Winnipeg Folk Festival young performers program, Harvest Moon festival and Minnedosa Rock Festival.
Website & Socials - https://www.katiemacmezzo.com/
https://www.facebook.com/railwaySBC
https://www.twitter.com/railwaySBC
https://www.instagram.com/railwaySBC
For more information, email info @donnellygroup.ca