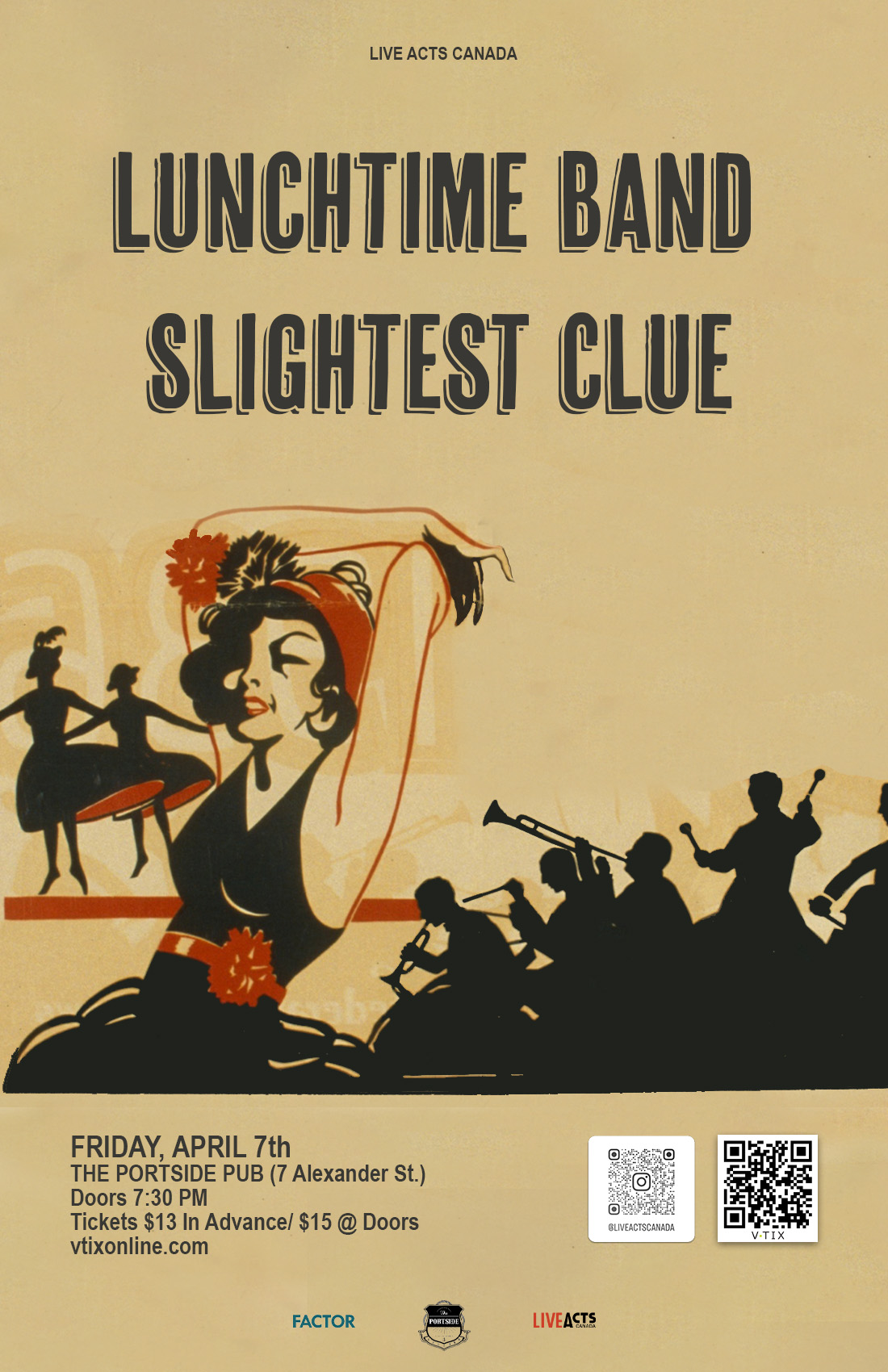 The Lunchtime Band with Special Guest Slightest Clue
Friday, April 7, 2023 | 7:30pm
The Portside Pub
Live Acts Canada Presents
The Lunchtime Band with Special Guest Slightest Clue
The Portside Pub. Doors: 7:30PM/ 19+
Tickets $13.00 In Advance $15.00 @ The Door
THE PORTSIDE PUB, 7 Alexander St.
Lunchtime Band//
Lunchtime consists of, Luc Torreggiani singing along with rhythm guitar, Ruedi Mani on the bass, Michael Read on lead guitar, and Greg Johnston on the drums.
Our sound is constantly changing and our ideas are always bouncing and growing off of each other, resulting in an ethereal watery up-beat grimness with an unapologetic genre-bending sound, appealing to any audience we play for.
Facebook - https://www.facebook.com/lunchtime.band/
Instagram - https://www.instagram.com/lunchtime.band
LinkTree - https://linktr.ee/lunchtime.band
Slightest Clue//
Born from the bedroom and bred into an energetic four-piece live act, Vancouver-based Slightest Clue marries the sounds of post-punk and alt-rock into a unique hybrid of dark, heavy pop. Fusing jazz chords and melancholic melody with shifting dynamics, Slightest Clue believes in playing their hardest to earn your ears and connect with you as though you're simply having a conversation with a close friend.
Spotify - https://open.spotify.com/artist/4KlsPb31tYyGZGJt4FUaWP?si=SA5fY7ScSpuycQqI84s-hg&nd=1
Instagram - https://www.instagram.com/slightestclue/
Youtube - https://www.youtube.com/channel/UCQ_wNLHJhjXQ6_gStpbyt9w
Facebook - https://www.facebook.com/SlightestClueBand/