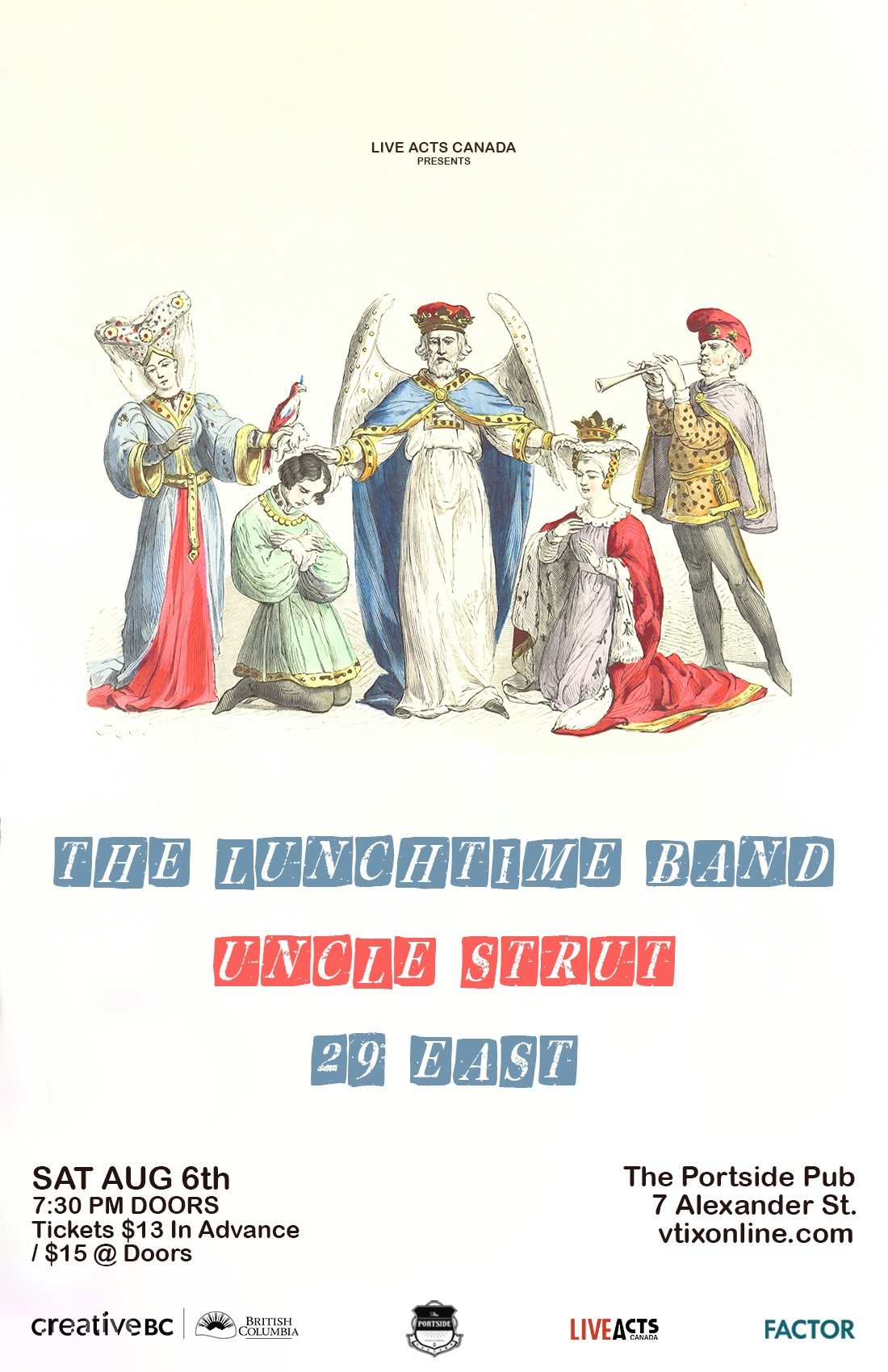 The Lunchtime Band With Special Guests Uncle Strut and 29 East
Saturday, August 6, 2022 | 7:30pm
The Portside Pub
Live Acts Canada Presents
The Lunchtime Band With Special Guests Uncle Strut and 29 East
The Portside Pub. Doors: 7:30PM/ 19+
Tickets $13.00 In Advance $15.00 @ The Door
THE PORTSIDE PUB, 7 Alexander St.
The Lunchtime Band//
Lunchtime consists of, Luc Torreggiani singing along with rhythm guitar, Ruedi Mani on the bass, Michael Read on lead guitar, and Greg Johnston on the drums.
Our sound is constantly changing and our ideas are always bouncing and growing off of each other, resulting in an ethereal watery up-beat grimness with an unapologetic genre-bending sound, appealing to any audience we play for.
LinkTree (Music + Socials): https://linktr.ee/lunchtime.band?fbclid=IwAR0kL3Nr5E3r-MM09a54MOW7e_ls7BMYdoKxyluUE8q827sM_lKCeb0ok5M
Uncle Strut//
Emerging from the post-pandemic scene of Vancouver, Uncle Strut strives to reinvigorate rock n' roll with exciting new flavors of sound. Combining classic rock, funk, modern indie rock, and psychedelia, Uncle Strut forges its own sonic path and gets the crowd grooving in the process.
Linktree (web + socials): https://linktr.ee/unclestrut
29 East//
29 East is a Vancouver based funk and alt-rock band that launched at the start of the end of the world. Having persevered through an inability to perform live, they focused all their efforts into writing, recording, mixing, gambling, takin' some L's, doing multiple PSA's and just having a good ol' time. After releasing a myriad of singles ranging from the sweet and dulcet tones of "Ebb & Flow" to the tongue-in-cheek musings on toxic masculinity in their upbeat "What Dream?", they've now transitioned their sights onto the stage and are coming soon to a theater near you. Having been dubbed as "A band like no other in Vancouver", 29 East is determined to give you the night of your life whether you're listening alone in your room or out just tryin' to snag a vibe. As they begin this new phase of their journey, the band looks forward to showing you that 4 unnecessarily tall men aren't necessarily intimidating. On guitar and vocals: The Suavior; Tozé Campos. On vocals and guitar: The Shoulder-length Sheba; Cole Dine. On bass and vocals: The Human Bear; Daniel Hunter. And "Codyonthedrums". See you tonight.
Website: https://29east.ca/#
Facebook: https://www.facebook.com/29eastmusic
Instagram: https://www.instagram.com/29east/