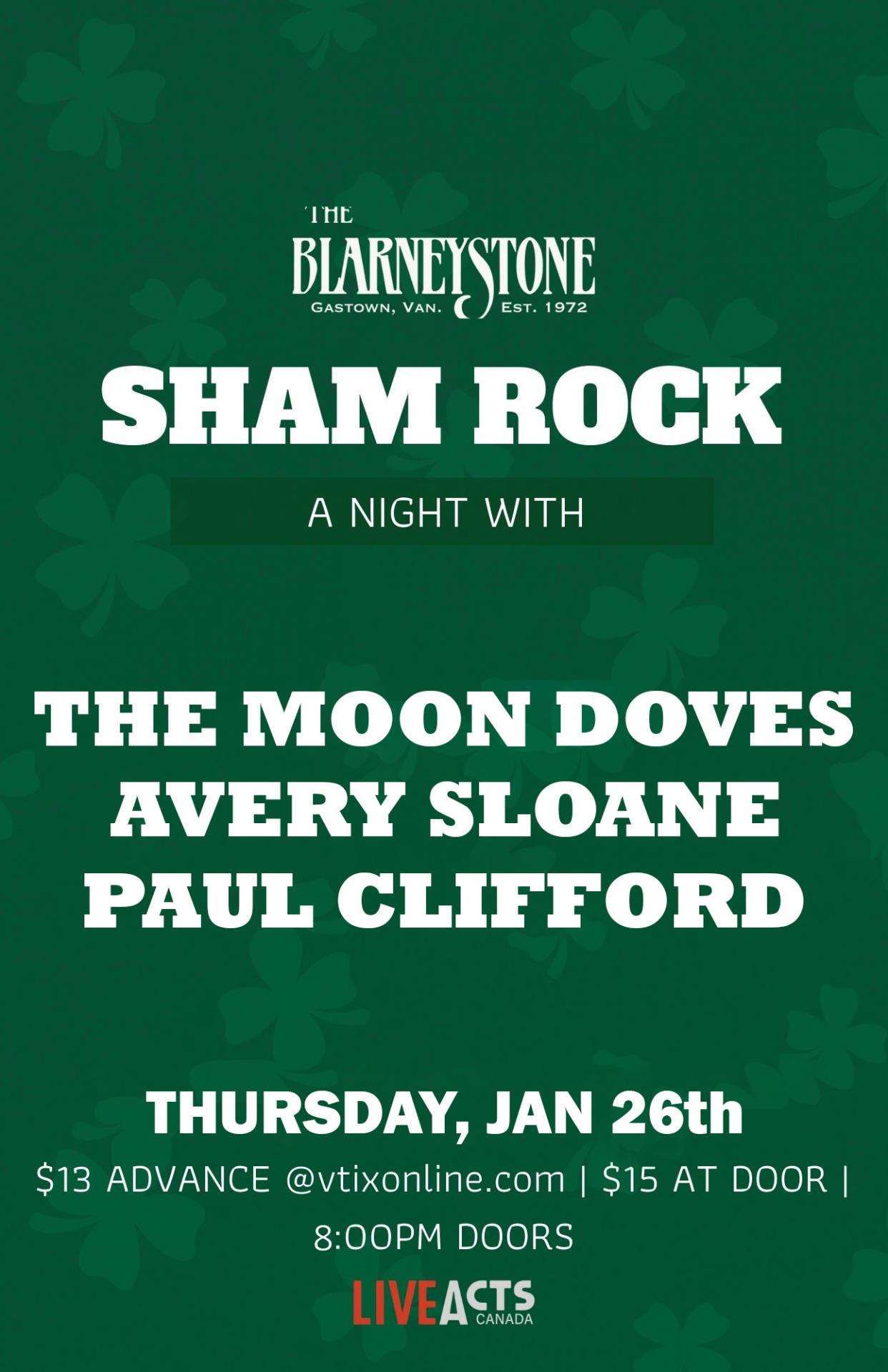 The Moon Doves With Special Guests, Avery Sloane, and Paul Clifford
Thursday, January 26, 2023 | 7:00pm
The Blarney Stone
Blarney Stone & Live Acts Canada Presents
The Moon Doves With Special Guests, Avery Sloane, and Paul Clifford

Doors 7:30 PM/ Tickets $13.00 In Advance $15.00 @ The Door

The Moon Doves//
A local group formed by five long-time friends, aiming to blend both the classic and the contemporary in hopes of creating something fresh, but most importantly, meaningful.
Facebook - https://www.facebook.com/themoondoves/
Bandcamp - https://moondoves.bandcamp.com/music?fbclid=IwAR3gE5POyl5i9hmsf-eM9guK-kpQfRJQ2hqWgWY1Ze3n7DE9EyISQUQ2Qfg

Avery Sloane//
Avery Sloane first picked up a guitar at the age of seven and had written her first song by the end of the next year. Born into a musical family, Avery was lucky to have inspiration and encouragement daily, forming her drive to pursue music. She's previously been a part of Vancouver's music scene as a member of other bands but is now taking on the city in her own way. Her melancholy lyrics often pair with energetic beats and distorted guitar, creating a listening environment that leaves you wondering what's coming next.
Website & Socials - https://www.averysloanemusic.com/

Paul Clifford//
Paul Clifford - A Vancouver-based musician originally from the U.K. Paul brings his unique style and blend of melodies and vocals while creating original and cover tracks. A He draws his influences from artists such as Bon Iver and Ben Howard to name a few.
A previous top 16 Canadian Idol finalist now resides in Vancouver busking for a living and continuing to work on multiple music projects. 2022 will see Paul record and release some new music to share on all platforms. Look out for Paul performing in and around Vancouver while sharing the stage with other local musicians.
Instagram - https://www.instagram.com/paulcliffordmusic/
Facebook - Facebook.com/Paulcliffordmusic