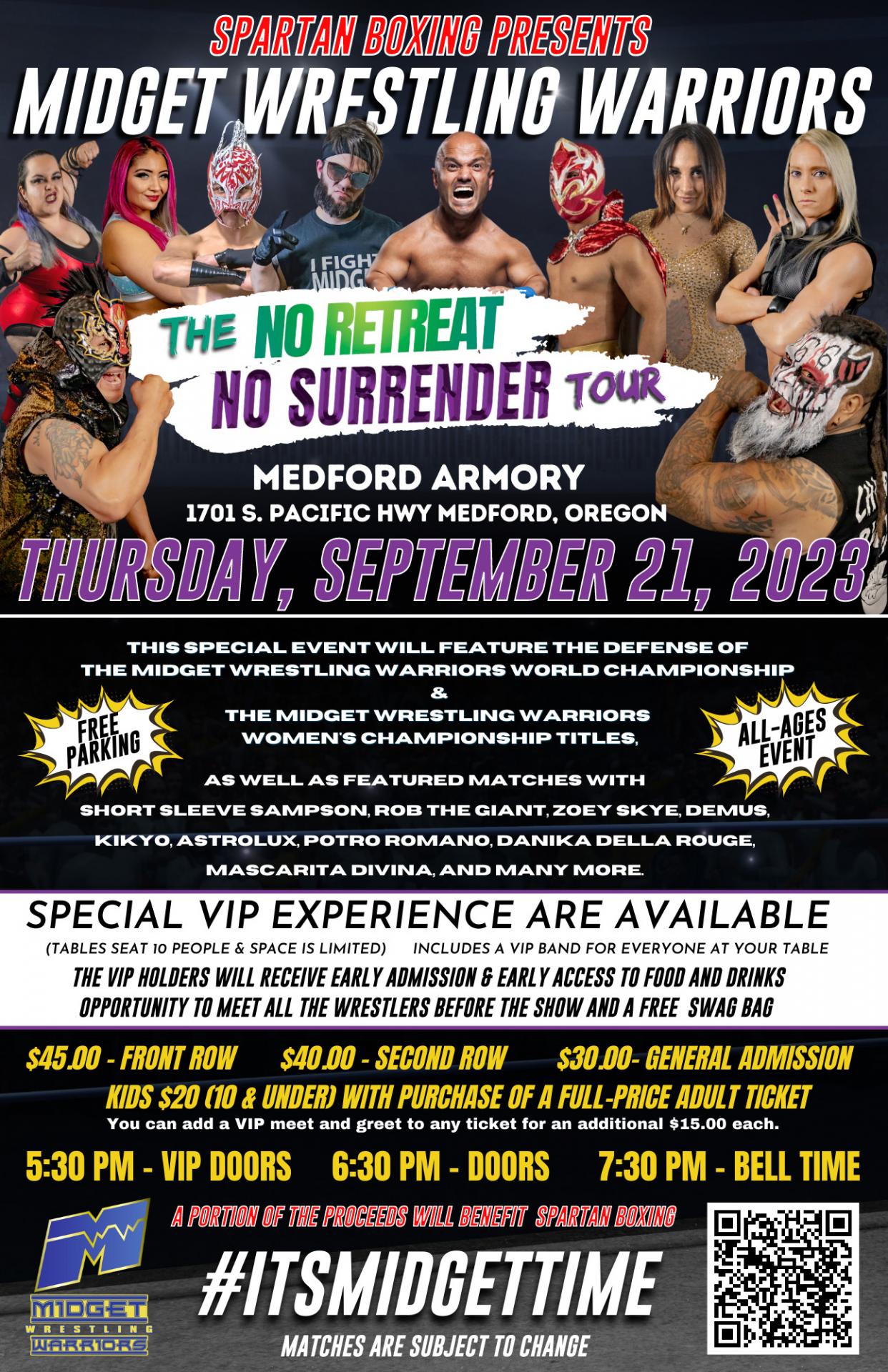 MIDGET WRESTLING WARRIORS PRESENTS
THE NO RETREAT, NO SURRENDER TOUR
Thursday, September 21, 2023 | 7:30pm
MEDFORD ARMORY 1701 S. PACIFIC HWY
MEDFORD, OREGON
The Midget Wrestling Warriors will be live and in action, as they invade the Medford Armory on Thursday, September 21, 2023.
Medford, Oregon, are you ready!?!?!? This will be the first appearance of the Midget Wrestling Warriors at the Medford Armory and wrestling fans can expect to see an all-star lineup!
At this special event, you will see the Midget Wrestling Warriors World Championship and the Midget Wrestling Warriors Women's Championship titles defended! You will also see Short Sleeve Sampson, Rob the Giant, Zoey Skye, Demus, Kikyo, Astrolux, Potro Romano, Danika Della Rouge, Mascarita Divina, and so much more!!!
Tickets for this event:
$1,000 - Table (seats 10 people) includes a VIP band for everyone at your table
$45.00 - Front Row
$40.00 - Second Row
$30.00 - General Admission
$20.00 - Child General Admission (Kids 10 years and under)
$15.00 - VIP meet and greet for an additional $15.00 each. (Will not grant entry on its own!) The VIP holders will receive early admission into the building at 5:30pm, a free program and the opportunity to meet all the wrestlers before the show.
This VIP event will happen between 5:30 to 6:30pm.
5:30pm - VIP Doors
6:30pm - Doors
7:30pm - Bell Time
This is an all-ages event that you do not want to miss! We look forward to seeing you all there!
#ItsMidgetTime
Matches are subject to change