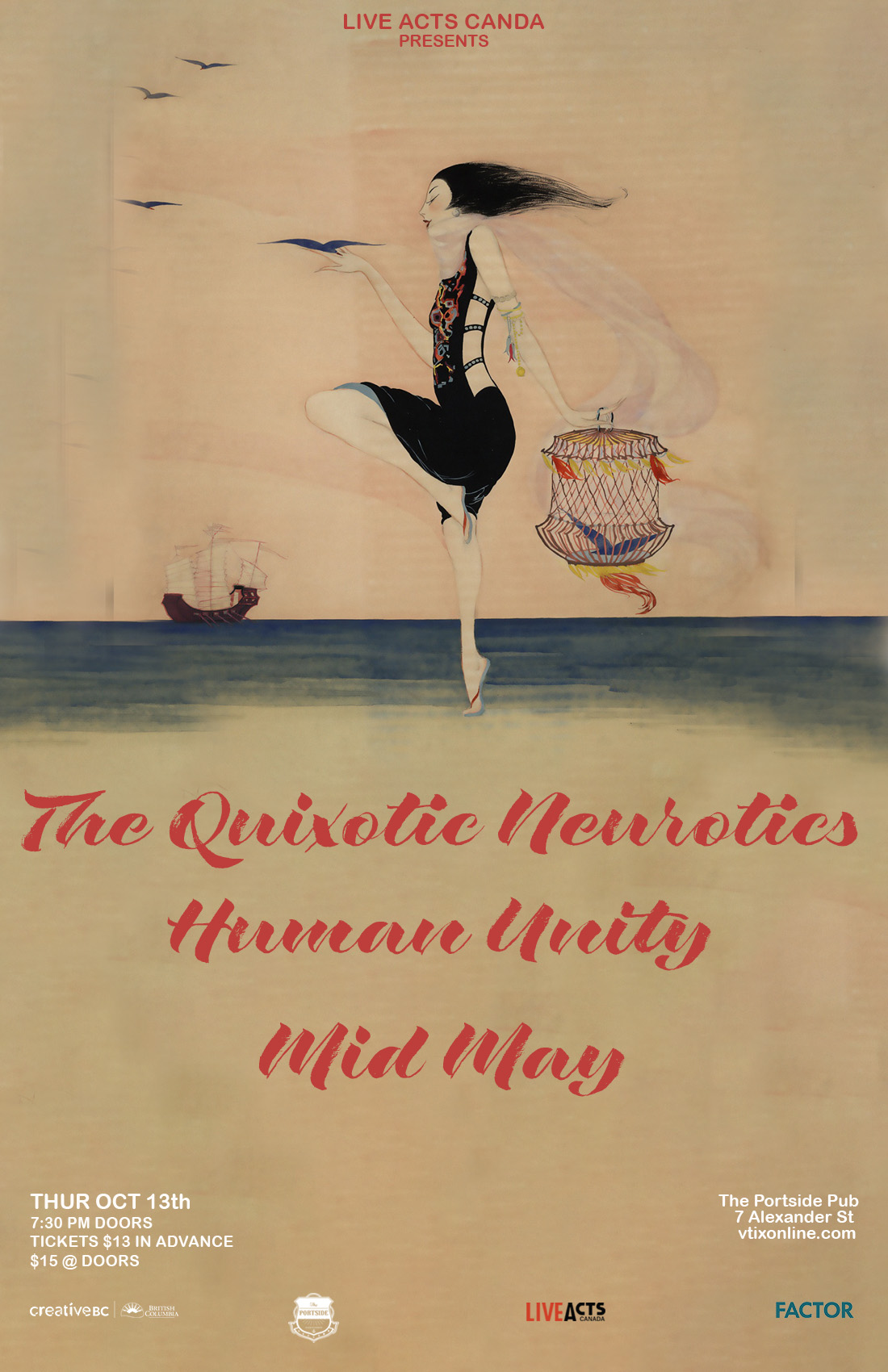 The Quixotic Neurotics with Special Guests Human Unity and MidMay
Thursday, October 13, 2022 | 7:30pm
The Portside Pub
Live Acts Canada Presents:
The Quixotic Neurotics with Special Guests Human Unity and MidMay
The Portside Pub. Doors: 7:30PM/ 19+
Tickets $13.00 In Advance $15.00 @ The Door
THE PORTSIDE PUB, 7 Alexander St.
The Quixotic Neurotics//
The Quixotic Neurotics are from Vancouver BC. Their uplifting performance style is best described as "inspiring folk-rock storytelling", and their influences include Pink Floyd, Led Zeppelin, Daniel Lanois, Black Rebel Motorcycle Club, The Tea Party, and Thrice. The idea for the band has been swirling around since about 2005, but began to form into The Quixotic Neurotics in 2016. In April 2017, they played a sold-out headlining gig at Studio Records, they headlined at The Roxy Cabaret in December 2017, and opened for Daniel James at the legendary Railway Club (now the Railway Stage & Beer Cafe) in January 2018.
Facebook - https://www.facebook.com/TheQuixoticNeurotics/
Human Unity//
MidMay//
Indie/Alternative R&B Band from Vancouver, B.C. Shand & Jake
Twitter - https://twitter.com/midmay_music
Instagram - https://www.instagram.com/midmay.music/
Facebook - https://www.facebook.com/midmaymusicproductions/
Linktree - https://linktr.ee/midmay