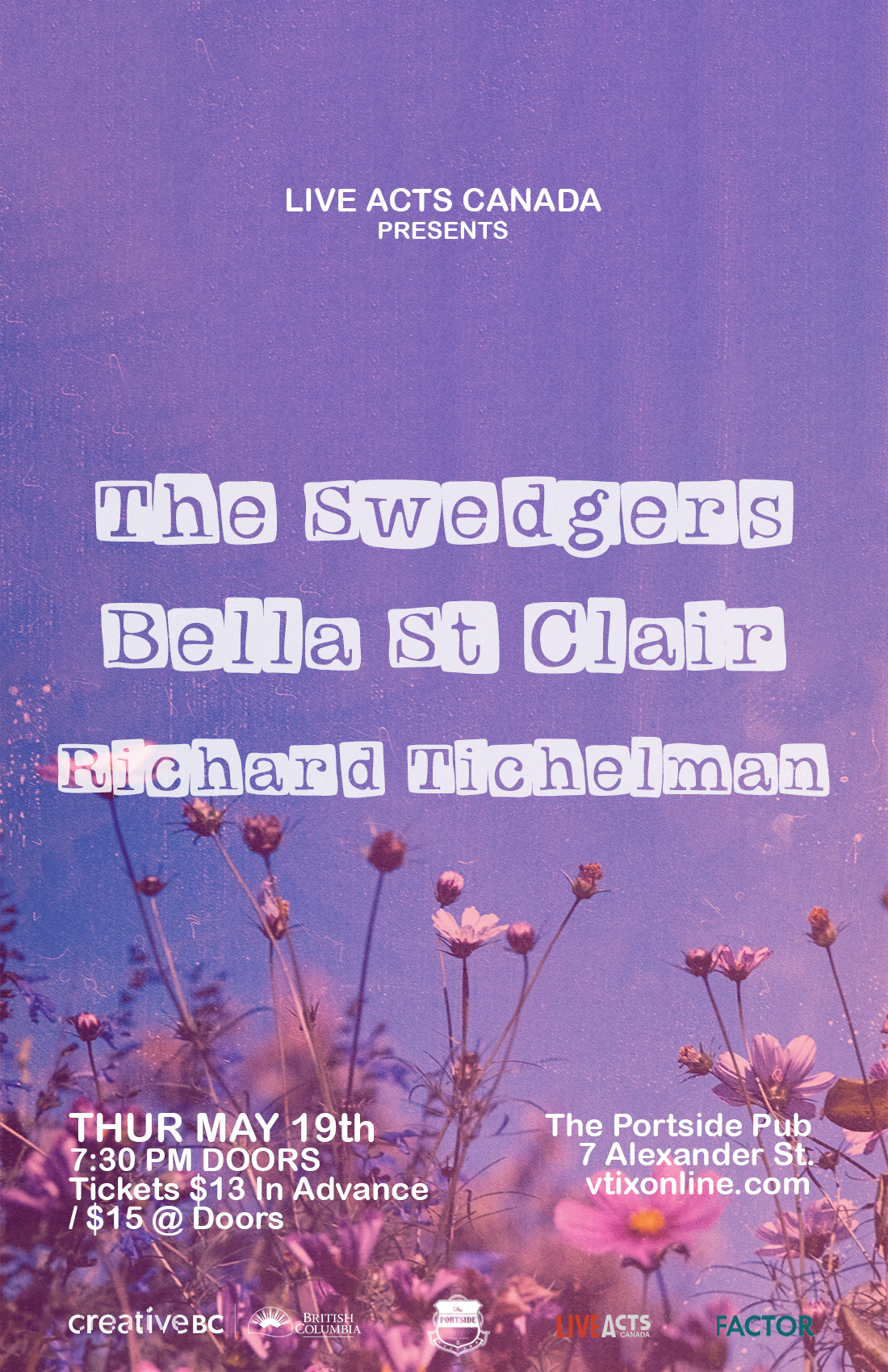 The Swedgers With Special Guests, Bella St. Clair, and Richard Tichelman
Thursday, May 19, 2022 | 7:30pm
The Portside Pub
Live Acts Canada Presents
The Swedgers With Special Guests, Bella St. Clair, and Richard Tichelman
The Portside Pub. Doors: 7:30PM/ 19+
Tickets $13.00 In Advance $15.00 @ The Door
THE PORTSIDE PUB, 7 Alexander St.
The Swedgers//
An Englishman, Scotsman and Irishman walk into a bar...and form a band. Vancouver-based but hailing from Ireland, Scotland, England and Canada, the Swedgers are a band born from a mutual love of scandalously good tunes. From the Rolling Stones to Hall & Oates, from the Cult to the Cure, no musical stone is left unturned by this five-piece who's eclectic setlist is carved from the rock of what a good party should sound like. Known for their energetic live shows, the Swedgers bring the bangers and more.
Bella St. Clair//
your source of music, art & chaos.
LinkTree - https://linktr.ee/thebellastclair?fbclid=IwAR1PY2jDT9oq4ftPCHza-DbgvsjsifYeh13ArY9EFcL1GNvU8QSRaVYVFes
Richard Tichelman//
The first thing that grabs you is the voice. Soulful, rich, and indifferent to gravity, it soars over melodic, detailed pop that's unlike anything you've heard before but something you instantly want to hear again. Richard's playful personality and undeniable charm has captured the hearts of the internet, bringing in over 10k Instagram followers this year as well as 200k YouTube views. His fans love to engage with all of his content and his accounts are constantly growing.
This charismatic pop recording artist, singer/songwriter and guitarist builds on a CV already stacked high with countless accolades and awards, two EPs, and performances on marquee stages from Toronto to Los Angeles and many points in between as both headliner and sought-after supporting artist.
Richards debut single 'Proud' garnered lots of buzz as well as over 365k streams on all platforms and his follow up single 'The One' was met with equal enthusiasm with over 300k streams so far. Both songs are Semi-finalists in the 2020 International Songwriting Competition. With his newest single 'Hands' dropped on April 2nd and an album anticipated to drop fall of 2021. You can expect more great things to come from this multifaceted pop star in the making.
Website & Social Links: http://richardmusicofficial.com/