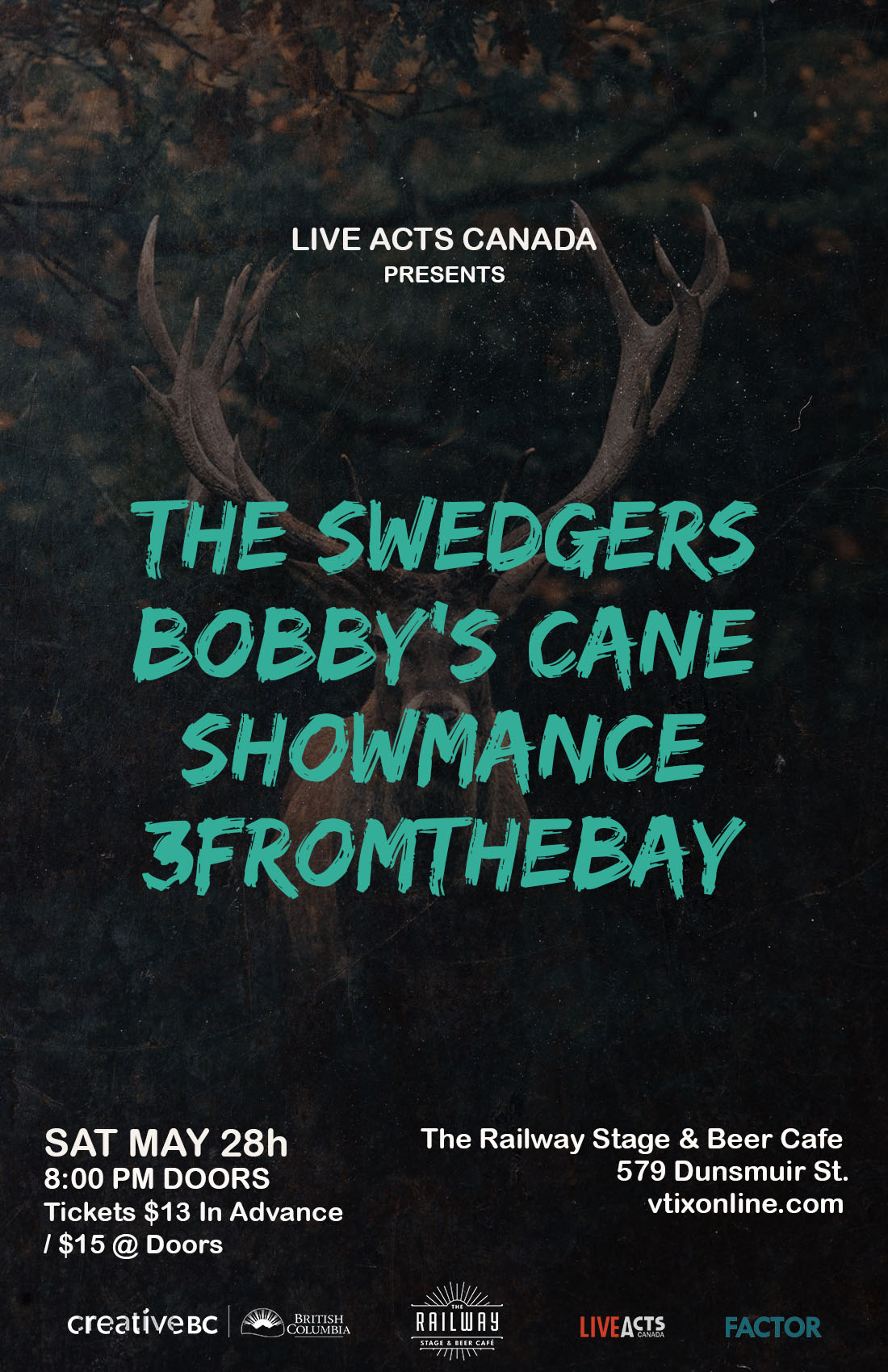 The Swedgers With Special With Special Guests, Bobby's Cane, Showmance, and 3fromthebay
Saturday, May 28, 2022 | 8:00pm
The Railway Stage & Beer Cafe
Live Acts Canada Presents
The Swedgers With Special With Special Guests, Bobby's Cane, Showmance, and 3fromthebay
Live From The Railway Stage & Beer Cafe. Doors: 8:00PM/ 19+
Tickets $13.00 In Advance $15.00 @ The Door
RAILWAY STAGE & BEER CAFE 579 Dunsmuir Street
Swedgers//
An Englishman, Scotsman and Irishman walk into a bar...and form a band. Vancouver-based but hailing from Ireland, Scotland, England and Canada, the Swedgers are a band born from a mutual love of scandalously good tunes. From the Rolling Stones to Hall & Oates, from the Cult to the Cure, no musical stone is left unturned by this five-piece who's eclectic setlist is carved from the rock of what a good party should sound like. Known for their energetic live shows, the Swedgers bring the bangers and more.
Bobby's Cane//
Bobby's Cane is a four-piece Rock band fronted by guitarist and singer Bobby Jeboult, who despite being blind has kept leading the band to higher heights with his powerful vocals, and captivating songwriting and lyrics.
Bandcamp - https://bobbyscane.bandcamp.com/?fbclid=IwAR2hqdtC3rMQGN691oOcjUeQ4GIsdzeNCCLRPhvLQ0IHk2IZNt4JfMXkv0U
Insta - bobbyscane
Showmance//
Bandcamp - https://showmancexo.bandcamp.com/track/23-superconductor
3fromthebay//
3fromthebay is a rock band based out of Vancouver formed by three Brazilian-born buddies who have been playing together since college.
They draw their influences from The Strokes, Kings of Leon, Interpol, Nirvana, Foo Fighters, and Brazilian music like forró and bossa nova to craft fast and punchy, but also mellow and calm original songs.
WEBSITE - 3fromthebay.com
INSTAGRAM - www.instagram.com/3fromthebay

https://www.facebook.com/railwaySBC
https://www.twitter.com/railwaySBC
https://www.instagram.com/railwaySBC
For more information, email info @donnellygroup.ca