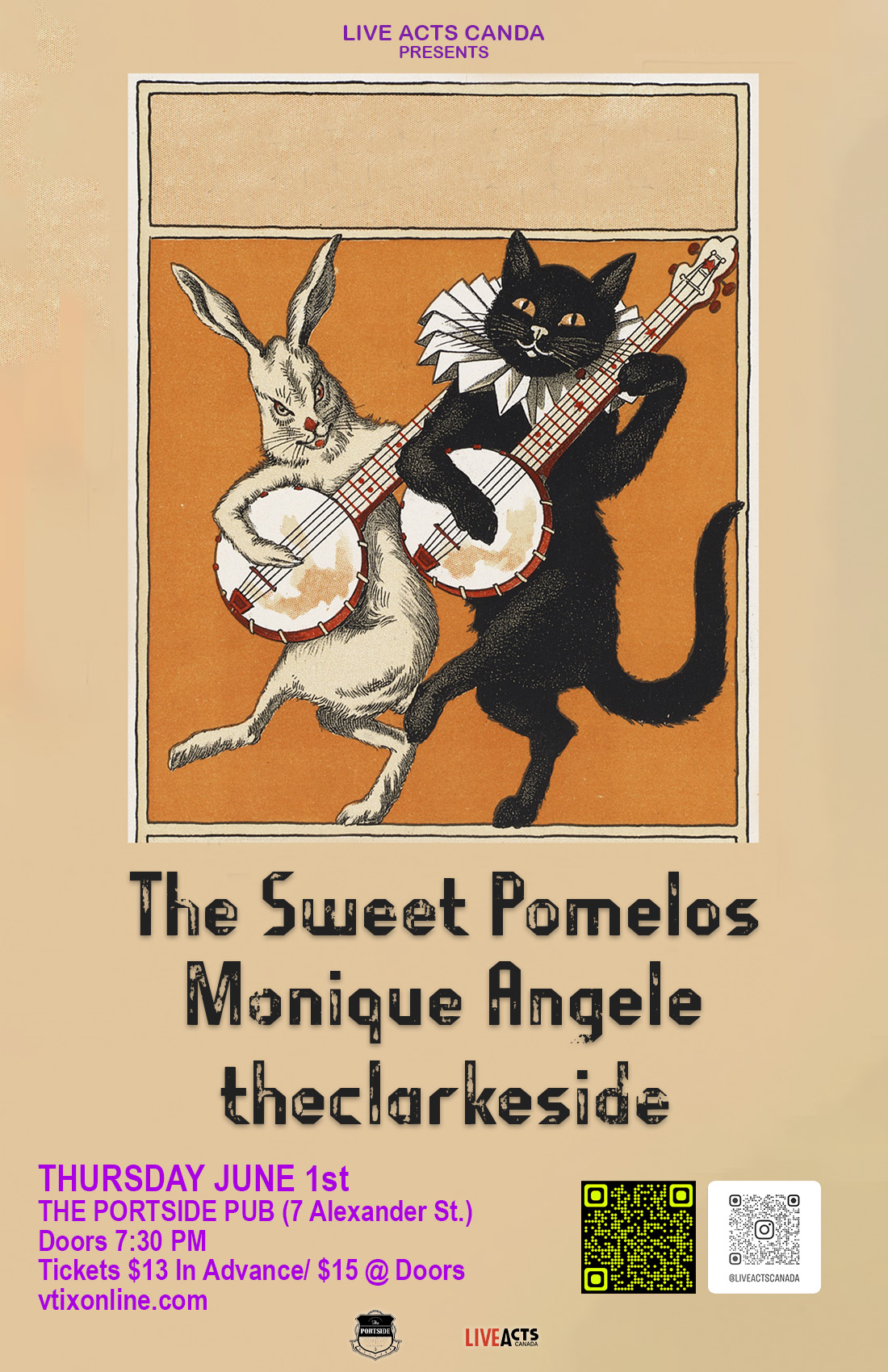 The Sweet Pomelos with Special Guests Monique Angele and theclarkeside
Thursday, June 1, 2023 | 7:30pm
The Portside Pub
7 Alexander St., Vancouver, BC V6A 1E9
Live Acts Canada Presents
The Sweet Pomelos with Special Guests Monique Angele and theclarkside
The Portside Pub. Doors: 7:30PM/ 19+
Tickets $13.00 In Advance $15.00 @ The Door
THE PORTSIDE PUB, 7 Alexander St
The Sweet Pomelos //
A Vancouver-based band creating edgy lounge music not regarding citrus.
Instagram - https://www.instagram.com/thesweetpomelos/?hl=en
Stream/Socials - https://linktr.ee/TheSweetPomelos
Monique Angele //
Operatic piano-pop singer-songwriter
Stream/Socials: https://linktr.ee/monique_angele
theclarkeside //
Join theclarkeside! The solo act from Port Moody, BC. Poet, drummer, singer, dancer but most of all an entertainer. His energy captivates any crowd and all listeners. 2022 brought the release of four remix singles leading to a full-length album in early 2023. So what's next? Further singles, collaborations, music videos, and subsequent albums of original dance, EDM, and rock music.
Finding the confidence to perform his digital designs, he hopes to bring his vision of a fully independent artist to venues across the lower mainland.
Spotify - https://open.spotify.com/artist/1OkTAKkTFPJDme8LOk0Fns?si=Tt2NY0dnQXWi0CGmQ_Dexw
Instagram - https://instagram.com/the_clarkeside?igshid=ZGUzMzM3NWJiOQ==