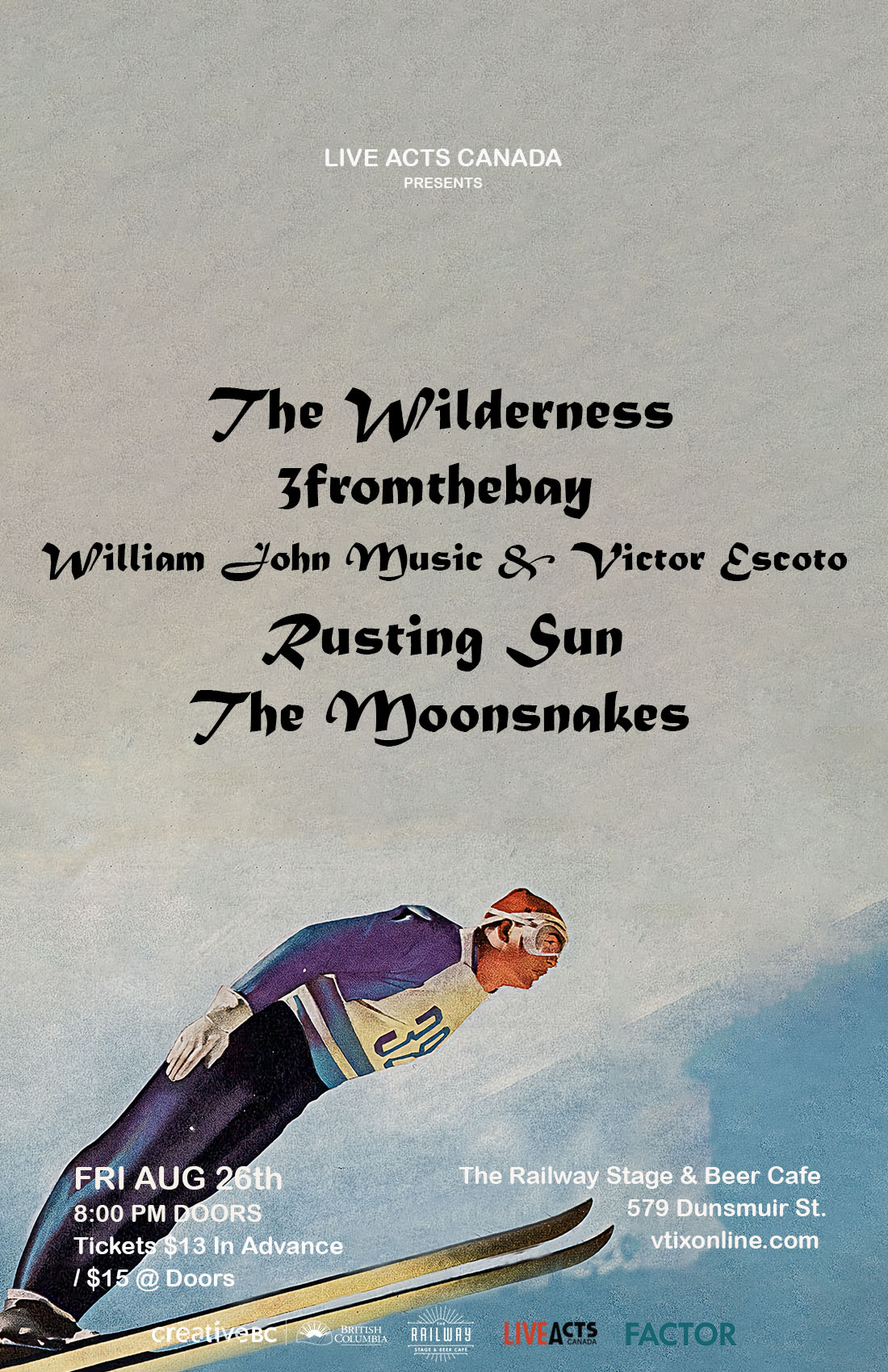 The Wilderness with Special Guests 3fromthebay, William John Music & Victor Escoto, Rusting Sun, The Moonsnakes
Friday, August 26, 2022 | 8:00pm
The Railway Stage and Beer Cafe
Live Acts Canada Presents
The Wilderness with Special Guests 3 From the Bay, William John Music & Victor Escoto, Rusting Sun, The Moonsnakes
The Railway Stage and Beer Cafe. Doors: 8:00PM/ 19+
Tickets $13.00 In Advance $15.00 @ The Door
THE RAILWAY STAGE AND BEER CAFE, 579 Dunsmuir St
The Wilderness//
The Wilderness is a sextet based in Kingston, ON that has a massive and mighty sound - a propulsive and potent indie-rock-fusion with the live energy of an arena-rock band, the lyrical eloquence of Canada's folk heroes, and the musical precision of a hardened touring outfit. Featuring driving guitars, lush vocal harmonies, soaring saxophones, and heavy synthesizers, the Wilderness bring their own diverse musical backgrounds to a shared experience that evokes a sense of community, camaraderie, and forward momentum. Pre-pandemic, The Wilderness has been known in Kingston as one of the hardest working bands around, playing almost 500 shows, independently releasing three albums and nine singles, earning Indieweek 2019's Best Emerging Artist Award, and charting on the NACC's top 200 for seven consecutive weeks. Post-pandemic, the band is continuing to earn that moniker the old fashioned way; by climbing in their tour-van and playing their hearts out wherever the road will take them.
Website - https://thewildernessband.com/
Facebook - https://www.facebook.com/thewildernesskingston
Instagram - https://www.instagram.com/thewildernesskingston/
Twitter - https://twitter.com/TheWildernessON
Youtube - https://www.youtube.com/channel/UCI_DdLHfhXvy2dPcnvStoDg
3fromthebay//
3fromthebay is a rock band based out of Vancouver formed by three Brazilian-born buddies who have been playing together since college.
They draw their influences from The Strokes, Kings of Leon, Interpol, Nirvana, Foo Fighters, and Brazilian music like forró and bossa nova to craft fast and punchy, but also mellow and calm original songs.
Website - 3fromthebay.com
Instagram - www.instagram.com/3fromthebay
William John Music & Victor Escoto//
Soundcloud - https://soundcloud.com/williamjohnmusic
Bandcamp - https://williamjohnmusic.bandcamp.com/
Instagram - https://www.instagram.com/vescoto_drums/
Rusting Sun//
The Moonsnakes//
Snow-soaked psychedelia with a reminiscence of the late 90's Canadian rock grunge can describe the sound of The Moonsnakes. A Calgary, AB based band that draws from influences such as The Tragically Hip to the sultry croonings of Mac Demarco. Recently releasing a set of singles the band is embarking on a late summer Western Canadian Tour wrapping up in Victoria, BC.
Instagram - https://www.instagram.com/themoonsnakes/
Spotify - https://open.spotify.com/artist/2745ocJZQnrEu0xIoV9TOi?si=JKRDpr2dTcKABs5esxEBbw
https://www.facebook.com/railwaySBC
https://www.twitter.com/railwaySBC
https://www.instagram.com/railwaySBC
For more information, email info @donnellygroup.ca