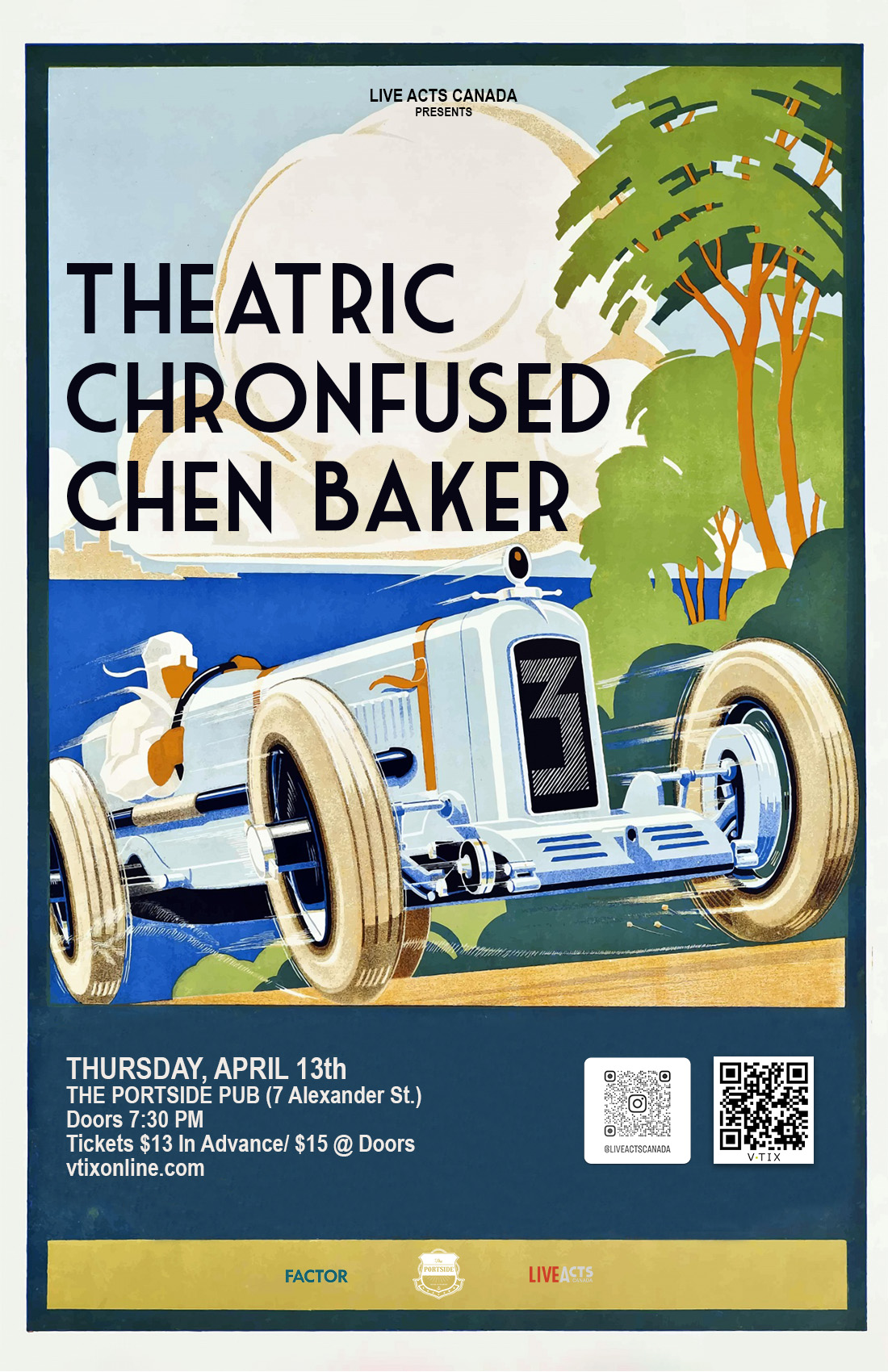 Theatric With Special Guests, Chronfused, and Chen Baker
Thursday, April 13, 2023 | 7:30pm
The Portside Pub
Live Acts Canada Presents
Theatric With Special Guests, Chronfused, and Chen Baker
The Portside Pub. Doors: 7:30 PM/ 19+
Tickets $13.00 In Advance $15.00 @ The Door
THE PORTSIDE PUB, 7 Alexander St.

Theatric//
Theatric display both style and substance within their expressive catalog of music. Though Lillie Trimble (singer), Chris Ng (lead guitarist), Tim Troupe (rhythm guitarist), and Taji Wamai (drummer) are new to the Vancouver music scene, the pop quartet performs with an intensity and maturity beyond their years.
Despite their identity as a pop act, the members of Theatric are not afraid to combine ambitious live musicianship with catchy songwriting and modern production. Theatric cite both 70s and 80s icons like Michael Jackson, Prince, and Whitney Houston and contemporary pop stars like Bruno Mars and The Weeknd as sources of inspiration, which inspires them to blend funk and rock elements into their accessible brand of songwriting.
Theatric's upcoming conceptual EP "When the World Gets Louder" fuses upbeat synth-pop with anthemic rock & roll. In their first project, the group aims to initiate listeners into their cinematic soundscapes whilst addressing complex topics such as mental health issues and toxic relationships.
Website and Socials - https://theatricband.com/

Chronfused//
Chronfused is a performance artist who uses improvised live looping and audience inspiration to create captivating moments. A self-described "theater kid" Chronfused spent their youth on stage in (chief dry geese territory) Yellowknife until migrating to so-called Vancouver where a love of improv and collaboration has given Chronfused a performance style in silly and sublime moments.
Bandcamp - https://chronfused.bandcamp.com/
Facebook - https://www.facebook.com/Bechronfused/

Chen Baker//