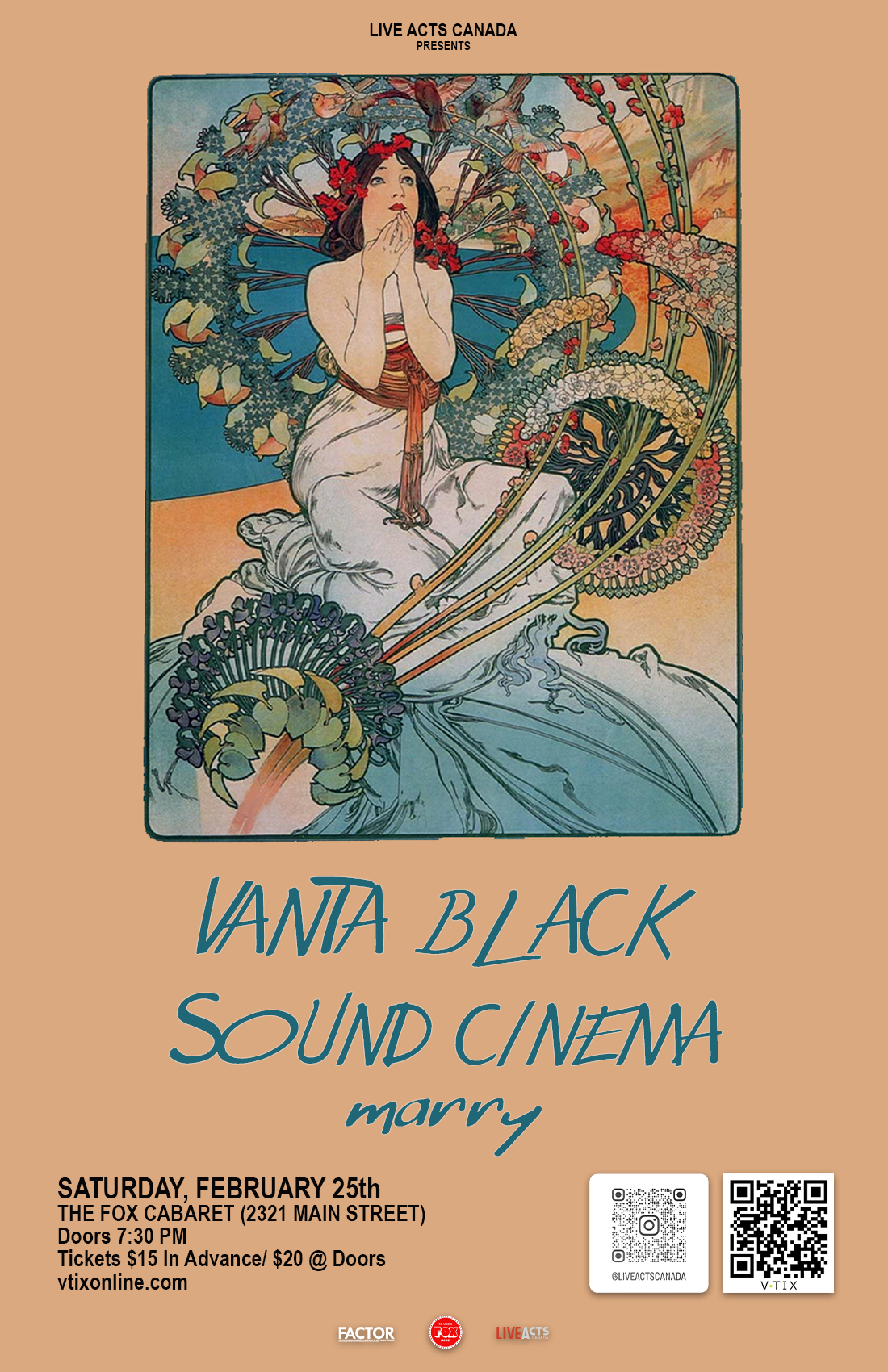 Vantablack with Special Guests, Sound Cinema, and marry
Saturday, February 25, 2023 | 7:00pm
The Fox Cabaret
Live Acts Canada Presents
Vantablack with Special Guests, Sound Cinema, and marry
The Fox Cabaret. Doors: 7:00 PM/ 19+
Tickets: $15.00 in advance/ $20 @ the door
THE FOX CABARET, 2321 Main St.

Vantablack//
Lose yourself in the heavy-hitting, yet soothing melodies and riffs of Vantablack. With a concoction of influences ranging from Queens of the Stone Age, Soundgarden, and Rage Against The Machine, Vantablack touches on all of the grungy garage sounds of pure rock and roll. This Canadian-based band is sure to energize and intrigue as they strive to create original sounds and riffs that keep you coming back for more.
Apple Music - https://music.apple.com/ca/artist/vantablack/1537005476
Spotify - https://open.spotify.com/artist/4enMavEDwc71B3h0OgWVuh?si=RKy8juKkRzaDLzl7gJBkGA
Facebook - @vantablack.project
Insta - vantablack.band

Sound Cinema//
An evolution of the groups "The Strange" and "45 Spacer", Sound Cinema was formed in 2019 by brothers Jack (vocals and guitar) and Patrick Di Blasio (piano and drums) along with Shawn Heeren (bass). Sound Cinema blends contemporary pop-rock and EDM. Since its inception, the band has played gigs at notable venues like the Pacific Coliseum in Vancouver, British Columbia, and the Whiskey a Go-Go in Los Angeles, California. The brothers first played together at an elementary school talent show and spent their high school years crafting their sound in garages and basements – even while prompting neighbors to throw beer bottles across the street at the source of the noise. The band has opened for artists Shaun Frank, Joey Badass, and GoldLink and won Battle of the Bands in Los Angeles.
The band plans to release their second EP in early September.
Website - https://www.soundcinemaband.com/
Facebook - https://www.facebook.com/soundcinemaband/
Instagram - https://www.instagram.com/soundcinemaband/
Twitter - https://twitter.com/soundcinemaband
Spotify - https://open.spotify.com/artist/7cMNnZbeBu9MF3mKoeKWR3

marry//