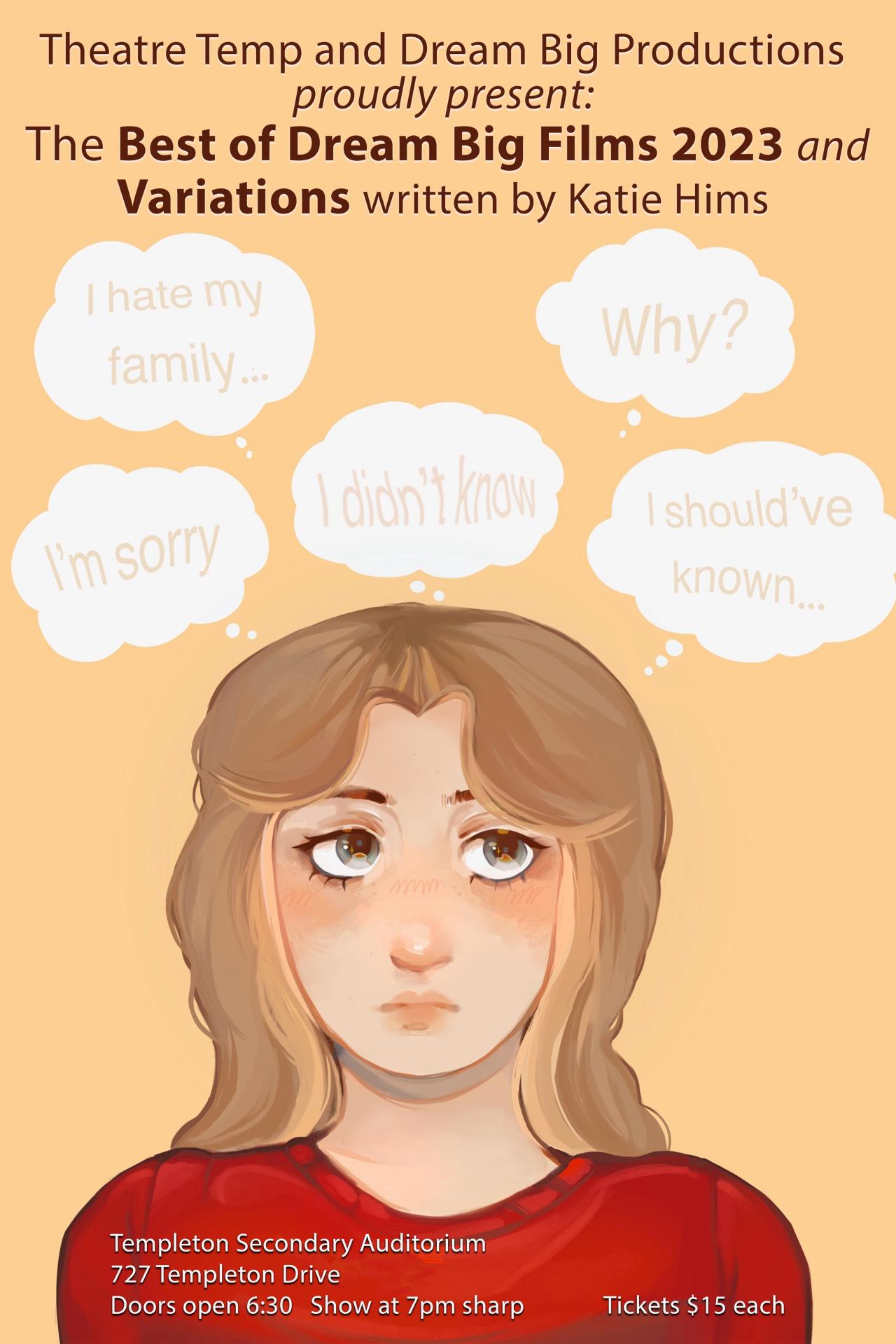 THEATRE TEMP AND DREAM BIG PROUDLY PRESENT
VARIATIONS AND THE BEST OF DREAM BIG FILMS 2023
Wednesday, December 6, 2023 | 7:00pm
727 TEMPLETON DRIVE - VANCOUVER BC
WELCOME TO OUR FIRST THEATRE AND FILM SHOWCASE OF THE 2023-24 SCHOOL YEAR! This year we have had a busy start with a Film and Theatre trip to the Big Apple to watch some of our Best films in Times Square at the All American High School Film Festival and our Theatre Company has been working since the second week of school with auditions and set building etc. Our students have been so busy - some in both programs - and we have all hit the ground running!
Tonight begins with a variety of some of the Nominated films from the All American High School Film Festival, the BC Student Film Festival and those made in classes. Students who work in the Dream Big After School Film Program work with script mentors and other film mentors to give them insight in to their process. We are excited to show you the product of their hard work.
Following the films, you will enter the drama Studio to watch Variations by Katie Hims. Every year in the UK, the Arts program commisions 10 playwrights to write a play just for teens. Variations is the story of 13 year old Alice who wishes her life were completely different. She wakes up one morning to find that her life is different. In fact, it's so different that all she wants to do is go back to normality. But how does she do that?
Please join us in celebrating our amazing theatre and film students! You won't be disappointed!
FILMS begin promptly at 7pm and Doors open at 6:45pm.