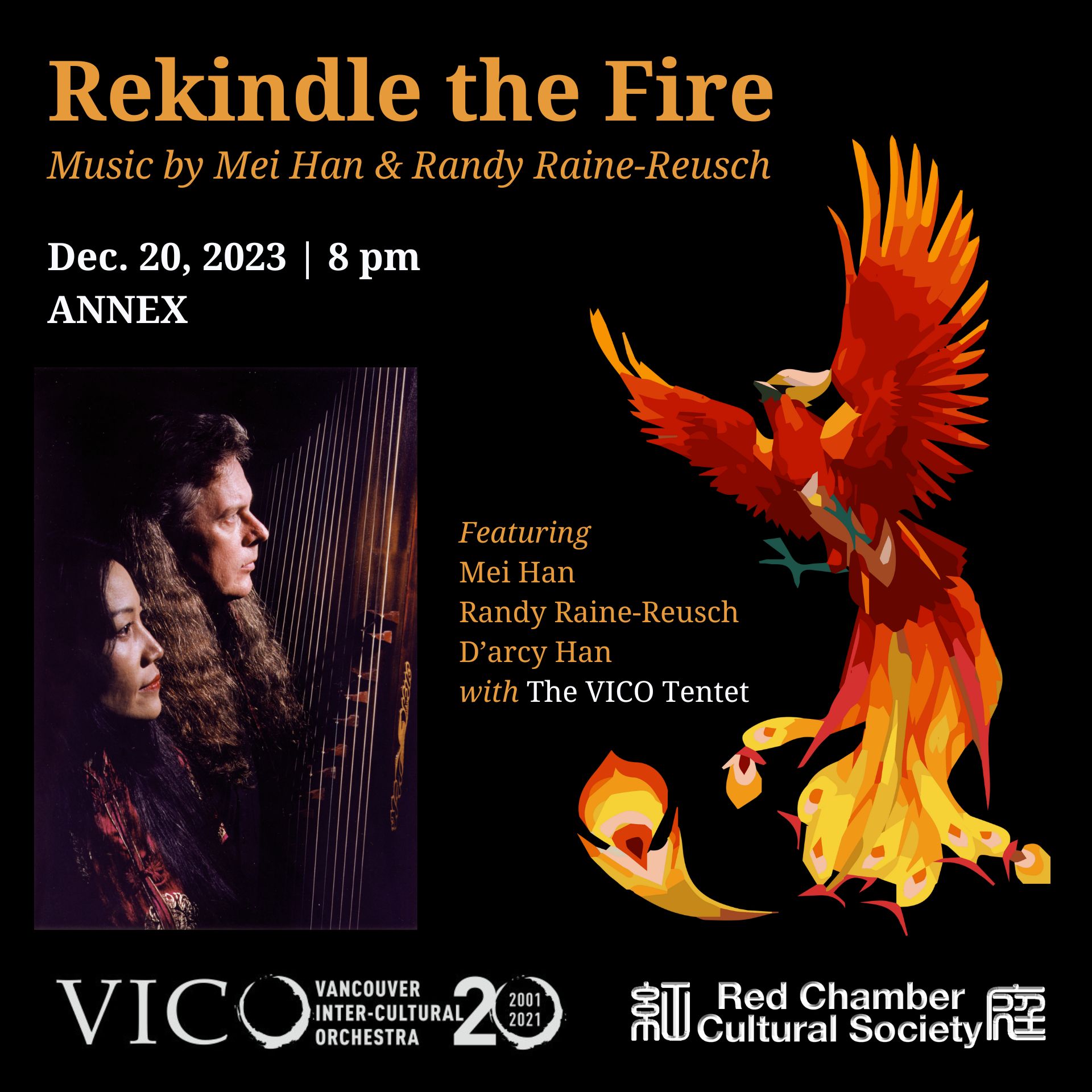 The VICO and Red Chamber Cultural Society present
REKINDLE THE FIRE
Wednesday, December 20, 2023 | 8:00pm
ANNEX
823 Seymour Street, Vancouver BC, V6B 3L4
The Vancouver Inter-Cultural Orchestra (VICO) and Red Chamber Cultural Society are proud to present "Rekindle the Fire": a Winter Solstice concert celebrating the music of Mei Han and Randy Raine-Reusch, two virtuoso performers who explore the potential of improvisation – a driving creative force in musical cultures from all over the world – in compositions for a range of different ensemble configurations.
On Dec. 20, the VICO Tentet will join Han (zheng), Raine-Reusch (winds and strings), and special guest vocalist D'arcy Han, to perform the world premieres of new works by Vancouver composers Lisa Cay Miller and John Oliver, alongside a selection of Raine-Reusch's rarely-performed distinctive graphic scores for non-western instruments. Also featured: new orchestral arrangements of the duo's repertoire by Mark Armanini, Moshe Denburg, and Farshid Samandari.
"Developing repertoire that integrates both score-based and aural / improvisatory musical traditions and techniques from all over the world has been a major artistic focus for the VICO since its inception," says VICO Artistic Director Mark Armanini. "We are fortunate to be able to collaborate on this concert presentation with Mei Han and Randy Raine-Reusch, two artists who have a long association with the VICO (as founding roster members back in 2001), and who actively work towards an intercultural understanding of the performer as composer."
Mei Han (Ph.D) is heralded as a leading performer of the contemporary zheng, with deep roots in traditional Chinese aesthetics. Randy Raine-Reusch is an improvisationally-based composer and concert artist who studies and performs on an astonishing variety of non-western instruments. Together, they combine improvisational structures, contemporary performance techniques, and extended listening practices with ancient Asian musical philosophies to create a unique artistic expression.

"…the United Nations of music" (CBC Radio)
"Music that sounds like Vancouver looks (The Georgia Straight)
******
The VICO respectfully acknowledges that our work takes place on the traditional, unceded territories of the Coast Salish people, in particular the Musqueam, Squamish, and Tsleil-waututh Nations.
We are also grateful to the following funders and community partners for their support of this project:
Canada Council for the Arts
BC Arts Council & the Province of British Columbia
The City of Vancouver - Cultural Services
Stir Vancouver
The Georgia Straight