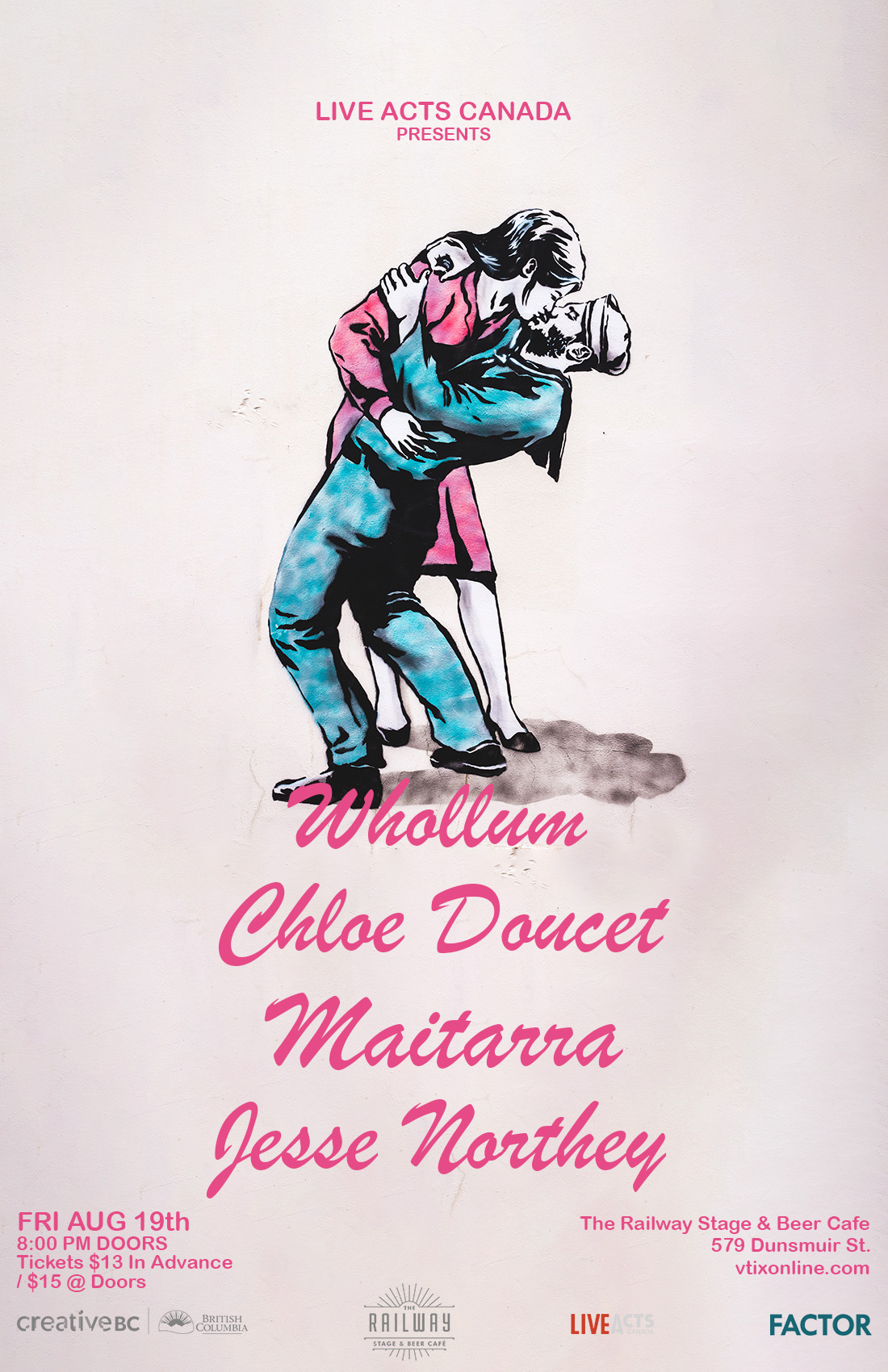 Whollum with Special Guests, Chloe Doucet, Maitarra, and Jesse Northey
Friday, August 19, 2022 | 8:00pm
The Railway Stage and Beer Cafe
Live Acts Canada Presents
Whollum with Special Guests, Chloe Doucet, Maitarra, and Jesse Northey
Live From The Railway Stage & Beer Cafe. Doors: 8:00PM/ 19+
Tickets $13.00 In Advance $15.00 @ The Door
RAILWAY STAGE & BEER CAFE 579 Dunsmuir Street
Whollum//
Four guys from Salmon Arm, making Salmon Arm music.
Instagram - https://www.instagram.com/notwhollum/
Facebook - https://www.facebook.com/whollum/
Chloe Doucet//
Toronto-based singer-songwriter Chloë Doucet seems to have been hand-selected by the ghost of George Harrison to reinvigorate the classic notion of guitar-driven rock & roll. While what we now refer to as "classic rock" tends to feel plodding and steeped in nostalgia, Doucet's incandescent vocals, scrappy guitar riffs and meditative, often whimsical lyrics look toward a fresh & rebellious future while simultaneously paying homage to her beloved lo-fi past.
Website - https://chloedoucet.com/
Instagram - https://www.instagram.com/chloeeeee.ca/
Maitarra//
Vancouver Island-based Indie Rock Band with Folk roots.
Instagram - maitarraband
Spotify - https://open.spotify.com/artist/47733qPESjC1yVC6Ef8v1c?si=fVFF6BfCStKy8StfoBVZfg&nd=1
Jesse Northey//
If one was to analyze the DNA of Jesse Northey music, its double helix might look an awful lot like a sharp insider's take on the world of capital "P" pop songcraft. A decade and change into his career, Northey has long established his own voice as a songwriter, but the music palpably pulses with inspiration from the decades' worth of tune-smiths that have come before him. In tandem with lyrics that explore the myriad ways in which we need to dismantle the artifice of masculinity, societal norms, and creativity-sapping careerist ambitions, this is music firmly rooted in the classics, but cut with a clear-eyed contemporary viewpoint.
Website - https://www.jessenorthey.com/home
Instagram - https://www.instagram.com/jessedandelion/
Youtube - https://www.youtube.com/channel/UCelWLidPZ1DeOUrWjmagm6A
https://www.facebook.com/railwaySBC
https://www.twitter.com/railwaySBC
https://www.instagram.com/railwaySBC
For more information, email info @donnellygroup.ca