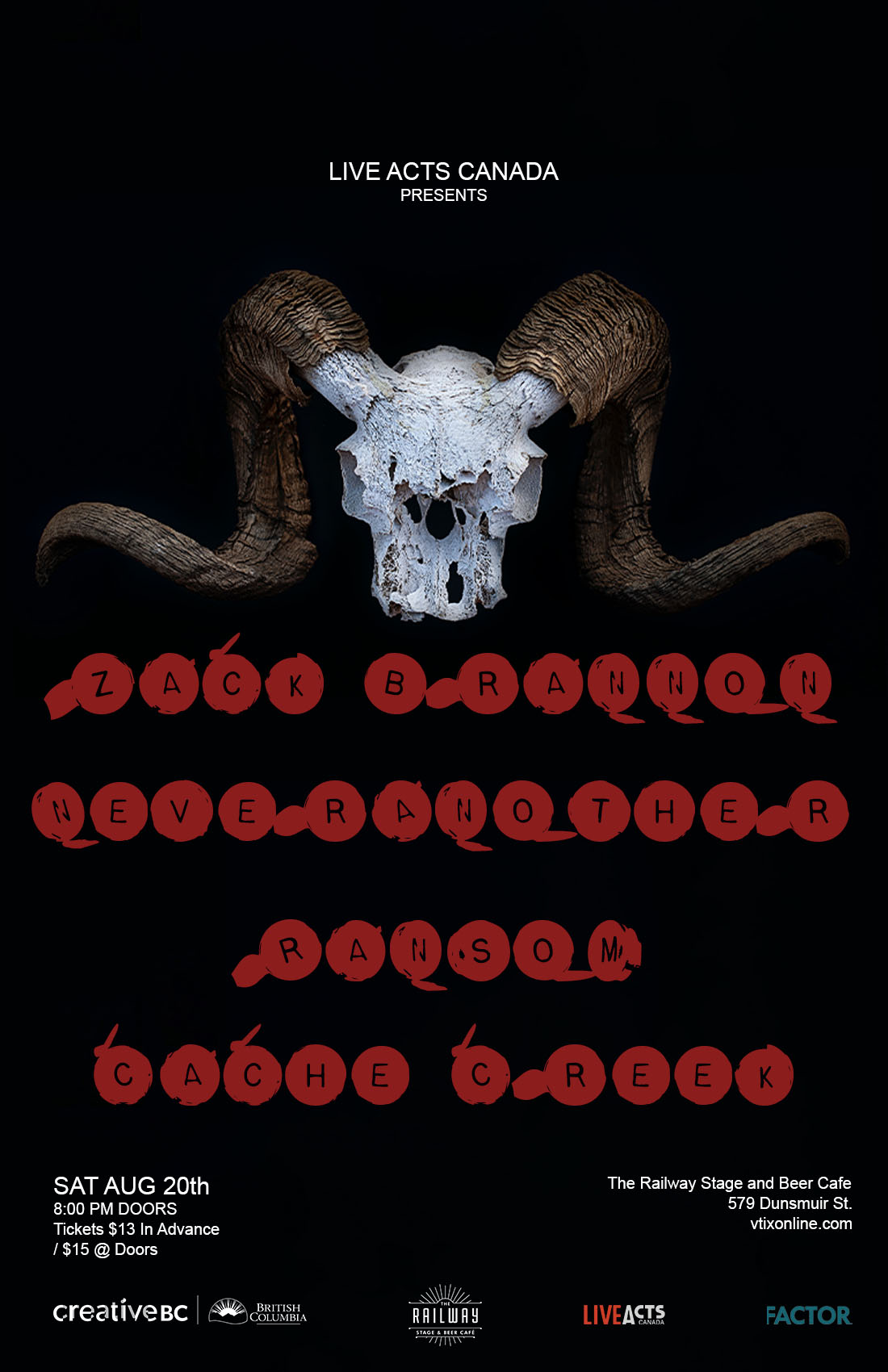 Zack Brannon With Special Guests, Ransom, Never Another, and Cache Creek
Saturday, August 20, 2022 | 8:00pm
The Railway Stage and Beer Cafe
Live Acts Canada Presents
Zack Brannon With Special Guests, War For Your Money, Ransom, and Cache Creek
Live From The Railway Stage & Beer Cafe. Doors: 8:00PM/ 19+
Tickets $13.00 In Advance $15.00 @ The Door
RAILWAY STAGE & BEER CAFE 579 Dunsmuir Street
Zack Brannon//
Starting Guitar at the age of 12 Zack began his adventure into what would be his first and final choice of career. Since the beginning he has always been drawn to the virtuosic side of music taking inspiration from artists like Joe Satriani, John Petrucci, and now more recent players like Tom Quayle, Guthrie Govan. Much like the players he looks up to Zack enjoys and engages with almost all styles of music and is always striving for maximum versatility. Since 2015 Zack has been writing and recording music for his self titled Progressive Metal project formally known as "Eleji". He is to release an instrumental debut album early 2021 full heavy grooves and complex passages titled "Black Skies & Searchlights"
Website - https://zackbrannon.com/
Instagram - https://www.instagram.com/zack.brannon/?hl=en
Facebook - https://www.facebook.com/zackbrann0n
Bandcamp - https://zackbrannon.bandcamp.com/
Ransom//
Ransom is a Canadian heavy Rock/Glam metal band from Vancouver B.C., composed of Jesse Ransom (vocals), Marc (Hard) Hadd (guitar), & Kyle Wylde (drums)
Spotify - https://open.spotify.com/artist/5eHgnRpi5RmXdOZewS0TKz
Facebook - https://www.facebook.com/VancityRansom
Bandcamp - https://vancityransom.bandcamp.com/
Never Another//
NEVERANOTHER, formed in 2010 by guitarist, singer/songwriter Rick Lemperes.
Was always a part of a few music scenes throughout the years. Playing in band projects dating back to '82. towards the end of 2010, 3 other musicians from previous projects came into the NEVERANOTHER picture and nothing has been the same since.
4 Heavy Rockin', hard workin', veteran musicians, have been writing, recording and performing live since just after the dinosaur ages. NEVERANOTHER has a lot of the 80's & 90's Metal era still trapped inside and itching to get out..
The 1st NEVERANOTHER 5 song CD entitled "@ The End" was released Halloween 2011, we quickly slapped it together .. It became #1 on so many internet radio stations, media platforms, and several other promotional websites.
Website - https://www.neveranotherband.com/
Bandmix - https://www.bandmix.ca/neveranother/
Cache Creek//
Like a River, Cash Creek is a winding journey through a diverse musical landscape. Each member's individual styles and influences join together to create a distinctive, smooth-yet-edgy, mile-wide sound. At the center are three guys whose friendship and musical ventures span four decades. From calm and tranquil to rough and rowdy, this is no "flash flood".
Website - https://cashcreekband.com/
https://www.facebook.com/railwaySBC
https://www.twitter.com/railwaySBC
https://www.instagram.com/railwaySBC
For more information, email info @donnellygroup.ca