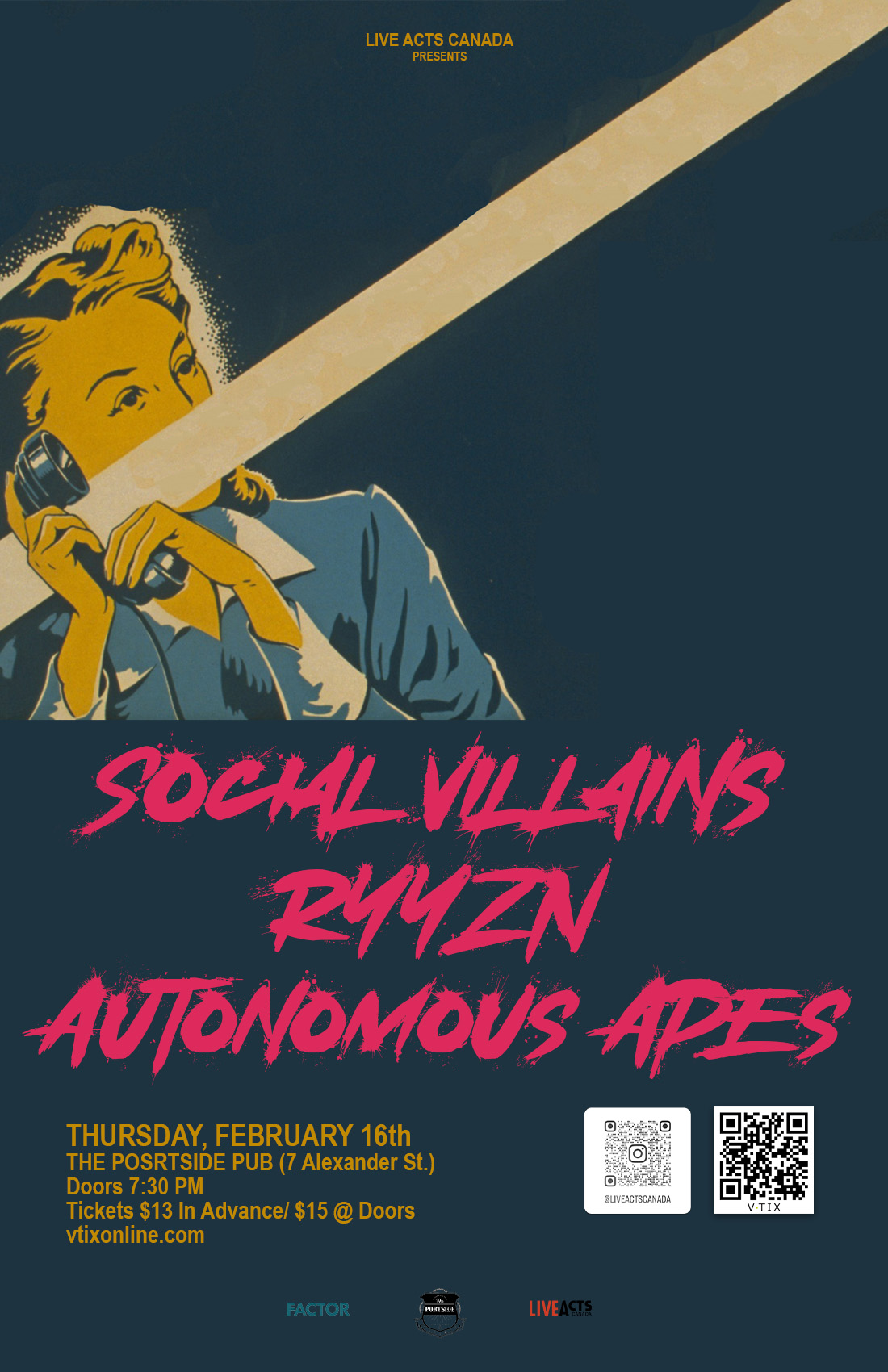 Social Villains with Special Guests RYYZN and Autonomous Apes
Thursday, February 16, 2023 | 7:30pm
The Portside Pub
Live Acts Canada Presents:
Social Villains with Special Guests RYYZN and Autonomous Apes
The Portside Pub. Doors: 7:30PM/ 19+
Tickets $13.00 In Advance $15.00 @ The Door
THE PORTSIDE PUB, 7 Alexander St.
Social Villains//
Combining energetic performance with raw passion, the Social Villains and their music are keeping the spirit of '90s alternative rock alive for today's generation. Since forming in Vancouver, BC, in 2020, the members of Social Villains have focused on writing original material for their first LP while tearing it up playing classics from the '90s and early '00s bands that inspired them.
After their debut concert at The Roxy in Vancouver was cancelled due to the worldwide COVID 19 pandemic, the band went into the studio to start recording. Their first release, the three-track teaser Vol. 1, is just the beginning. Keep your ears open for a full-length studio release from the Social Villains later this year!
Website - http://www.socialvillains.ca/
Facebook - https://www.facebook.com/TSVBAND
Instagram - https://www.instagram.com/socialvillainstheband/
RYYZN//
RYYZN is an alternative pop duo from Vancouver, Canada consisting of members Jessie Elias and David York. Their sound is a blend of alternative pop and hip
Facebook - https://www.facebook.com/RYYZN/
Instagram - https://www.instagram.com/weareryyzn/
Autonomous Apes//
Autonomous Apes is a rock band born as a result of a loving relationship between 90s grunge era and Russian Eternal Depression.
Autonomous Apes was formed in Russia, Saint Petersburg in 2020 by the lead singer and guitar player Egor Kopshar. After recording and releasing their first EP - "To My Anima", Egor Kopshar moved to Canada, Vancouver where he assembled Autonomous Apes 2.0! Not long after, Autonomous Apes started infiltrating Vancouver's underground scene. Autonomous Apes 2.0 fell apart and Egor Kopshar was left alone yet again.
Join us to see where this winding road will lead Autonomous Apes.
Spotify: https://open.spotify.com/artist/3BHMwta7XjfnRSM6hOoC5x
Instagram - https://www.instagram.com/autonomous_apes