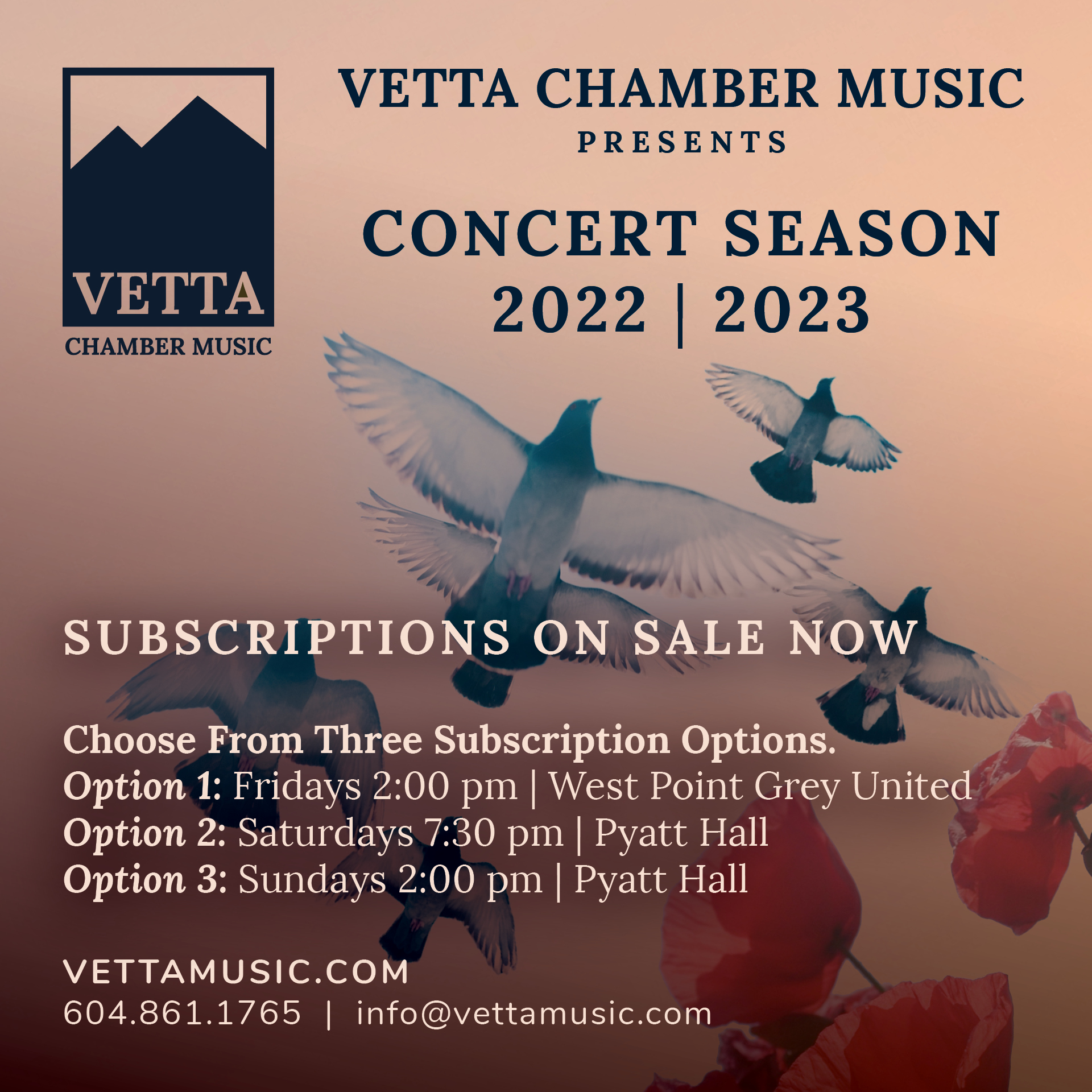 no longer on sale as the first concert dates are past
Presented by Vetta Chamber Music
2022-2023 Season Subscription Page
If you have any questions regarding ticket purchases, please call Vtix Toll Free - 1-888-961-6111, Ext 101
*Please note! Tickets will be available for pickup at the box office/ticket table at the first concert of the season.
2022-2023 Vetta Chamber Music 37th Season Subscription Concerts:
Subscriptions:
VETTA Friday Afternoons
2:00 pm, West Point Grey United Church
4595 West 8th Avenue (at Tolmie), Vancouver
Dates: Oct 14 | Dec 2 | Jan 27 | Mar 3 | Apr 28
______________________________________
VETTA Saturday Evenings
7:30 pm, West Vancouver United Church (Dec 3 at Kay Meek)
2062 Esquimalt Ave, West Vancouver (Dec 3 Kay Meek 1700 Mathers Ave West Vancouver)
Dates: Oct 15 | Dec 3 | Jan 28 | Mar 4 | Apr 29
______________________________________
VETTA Sunday Afternoons
2:00 pm, Pyatt Hall
843 Seymour Street, Vancouver
Dates: Oct 16 | Dec 4 | Jan 29 | Mar 5 | Apr 30
*3 different subscriptions. (different days, times, and venues)
*Subscription price $120
*The $7.50 Web Fee associated with any Donations will be refunded.
5 Concerts
Concert 1 | Inspiration
This opening concert of the Vetta Chamber Music 2022-2023 season features two of Vancouver's own - pianist extraordinaire Jane Coop and composer Marcus Goddard with music inspired by other composers, literature and the muses. Works by von Bingen, Goddard, Janacek and Brahms.
Concert 2 | Bach & Mendelssohn
This program explores the deep connections between Bach and Mendelssohn performed by our all-woman ensemble, back by popular demand. This set of concerts is the second in our mentorship program, a new initiative. Four of our players are young professionals or university students just beginning their careers as professional musicians. We welcome them to the Vetta stage!
Concert 3 | Romanticism Unleashed
We are delighted to have the dynamic duo from Barcelona, Kai Gleusteen and Catherine Ordronneau, join us for a classic program of romantic chamber music. Works by Franz Schubert, Clara Schumann, Franz Liszt and Robert Schumann.
Concert 4 | Joan and Joe
Violinist Joan Blackman teams up with Joe Trio: Cameron Wilson, violin/arranger, Charles Inkman, cello and Allen Stiles, piano. Joe Trio has delighted audiences across Canada and beyond with an inimitable and irreverent classical crossover style.
Concert 5 | Wartime Masterpieces
Join Joan Blackman, violin, Jane Hayes, piano, and VSO principal cello, Henry Shappard for a journey back to the first half of the twentieth century and three composers deeply affected by world wars. Works by Britten, Shostakovich and Ravel.

Vetta Chamber Music